If we didn't enjoy our journey, how much can we enjoy our adventure?
Air Canada operates one daily, daytime transatlantic flight from Toronto. Almost all other eastbound transatlantic flights, North America to Europe, are red-eyes leaving sometime in the evening and arriving in the morning in Europe. This is great for having a connecting flight in Europe, but leaves us jet-lagged and results in us spending the first day in Europe sleeping a lot.
Public transit access is improving to Toronto's airport with the addition of the UP train from Union station to Terminal 1, that is great if you live, or need to visit downtown Toronto. For us though, it's not a time saving method to the airport. Instead we took a taxi, that allowed us to arrive with time to enjoy the extras that were included in our fare, namely access to the Maple Leaf Lounge.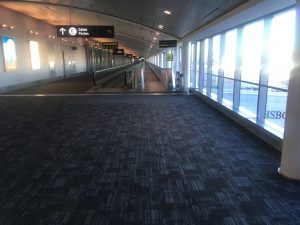 Check-in was quick, as there were 5 employees for 4 passengers, including us. We had our luggage tagged, and confirmed to the agent that we each wanted our own windows seat. Security was speedy as well, largely because I think we arrived after the early morning Caribbean flights, and before the Asian bound flights.
Terminal 1 in Toronto is designed that International flights depart from the end of one pier, the other is for domestic flights. This means it can be a long walk from security to the departure area if the moving sidewalks are not working. Given the distance, the terminal has two kinds, a regular moving sidewalk, and a high speed version. This morning, the high-speed sidewalk was operating and we breezed over the US departure gates below.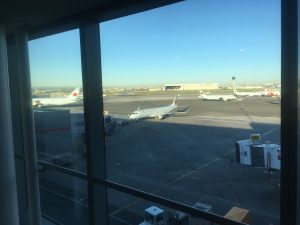 Upon arrival to the departure gates, and shops, she made a dash to explore duty free. We found a last minute gift for her relatives, and then headed up the escalator to Air Canada's Maple Leaf lounge.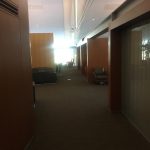 Maple Leaf Lounge
Our time in the lounge confirmed that we were after Caribbean flights and before the Asian flights as maybe 10 other passengers were in the lounge at the time.
The space is typical in that there is seating around the bar & buffet area, several seating areas, including a quiet area, and a business centre complete with computers and a printer. For this time in the morning we had plenty of space.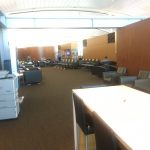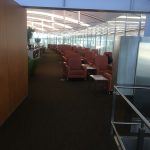 The Maple Leaf Lounge for international departures has no office like ceiling, and instead is open to the terminal ceiling. This helps to make the space feel open, and also having lots of glass walls provides almost uninterrupted views of half of the international gates. For us, our gate was one of them and I took a picture, however it felt clearer in person.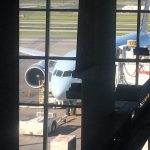 First up was a shower. Water pressure is good, the mirror didn't fog up and I didn't hear any exhaust fan. Afterwards, I grabbed a light snack to tie me over until breakfast on the flight. Morning food selection was straight forward being fruit salad, bread & pastries, yogurt, cereal and hard boiled eggs.
The lounge is great when it's quiet, as there is plenty of personal space, and we sat off near the business centre. This gave us almost a completely private space and the location didn't make us feel that we were disturbing others when each of us made a few phone calls.
Very quickly our time in the lounge was over and it was time to head to our flight.
When you have the chance to visit a lounge, what are the most important attributes to enjoy your time in the lounge?
Permalinks to other parts of our trip:
Toronto: To the Gate