The Flight! Toronto to London
We arrived at the gate as pre-boarding began, and I had enough time to snap a picture before they began regular boarding. Air Canada boards their planes by zone. Business and frequent flyers board right after the usual family with young children and those requiring assistance boarding, so we were one of the first people on the plane. Sorry for the blurry picture but I was excited that Air Canada was using both jetways for the flight.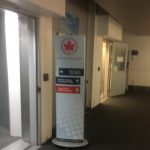 Permalinks
Permalinks to other parts of our trip:
Flight Toronto to London
Flight details:
Air Canada AC868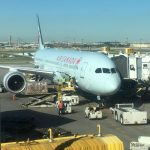 Aircraft: Boeing 787-9
Toronto – London (Heathrow)
Scheduled departure: 09:10
Scheduled arrival: 21:00
Seats: 6A & 7A
Air Canada has reverse herringbone seating in business class. This replaced the herringbone seats that they had installed in the mid-2000s (we had those for our honeymoon). Although the older herringbone offered aisle access and a flat bed, for somebody my size(6'4), I had to slouch otherwise my shoulders would touch both sides of the seat. There is a control panel to the side to control the seats, reading lights, and window shades.
These seats are a thorough improvement and I didn't have that narrow feeling during the flight.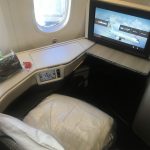 As well, you can easily look out the windows. This is a great setup as you can easily turn and look out either window and use the counter to easily set your elbows against. Amber joked I had the posture of a kid going on their first flight. What a compliment!
At our seats waiting for us were comfy pillows, a plush duvet, amenity kit, in-ear headphones and noise-cancelling headphones. Multiple headphones is due to Air Canada not allowing over-the-ear headphones during taxi, take-off and landing.
I didn't use the noise-cancelling headphones as I have an old pair of Bose noise-cancelling headphones. The in-ear headphones I didn't use until after we returned from our trip, and the sound quality was very poor. It goes without saying to remind you to bring your own headphones!
I cannot remember if the menu was already at our seats or it was handed to us, regardless here are the pictures of what culinary items awaited our flight:
The entertainment system can be used immediately once you are seated. The screen was a decent size, with the headphone connection in the cubby space behind the seat controls. For storage options at your seat, I liked the cubby space behind the seat controls. It had a USB outlet, easily stored my phone, and smaller items into for the flight. There is storage below the footrest, and a small holder for the emergency card and magazines.
Pre-flight we made our own mimosas with the sparkling wine and orange juice, relaxed, and soon enough our flight was leaving the gate. The weather was great that day. The past spring in Toronto we had extremely poor weather with significant rainfall and cool temperatures. As we taxied to our runway, 06L, a regional aircraft, pulled beside us, got clearance and was up in the air quickly. [Pictures from taxi to take-off]
This was our first flight in a Boeing 787, and there are several things I loved:
Quiet! It's not library quiet, however it was noticeably quieter than flying other aircraft, such as 767s, 747s or 777s.
Windows! They're huge. All the better to stare out of them. Along with the windows are the electronic shade that doesn't completely block out all the light, however for a daytime flight this was of no concern to me.
Humidity & Air Pressure – I didn't get the skin drying & ear popping experience to the same degree as other aircraft. These were much more subtle and I didn't realize either until we had landed.
Pictures from the departure out of Toronto and eastbound course:
Breakfast!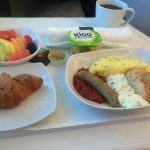 Served at once we were given fruit, bread, an omelette, sausage, and potatoes. As this was served over an hour into the flight, and having only a small snack beforehand I was very hungry and quickly emptied my plates.
After breakfast I set the seat back and continued watching movies. A couple other things I noticed was that the seats have individual air nozzles. For me, as I'm usually warm, having the nozzle open allowed me to retreat under the duvet. As well, like the 777, there are no overhead compartments in the first few rows in the centre to accommodate the crew rest area. This is evident through the different ceiling (and being shown the stairs to the rest area in a 777).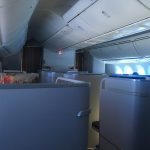 Dinner is served prior to arrival as the flight lands around 9pm. The meal began with salad, bun, and starter (tuna). I selected the steak as the main. Asparagus was good as were the mashed potatoes, however the steak was a letdown as the quality of the meat was the biggest area for needed improvement.
Not eating all of the steak left me room to enjoy the cheese service (I really like Brie), and chocolate dessert. I was so busy enjoying the food I forget to take a picture before taking a bite. I never turn down chocolate, so I'm biased in how much I enjoyed it.
After dessert was cleared our descent to Heathrow began. I took a few pictures as we cleared the low-lying clouds and made our approach to Heathrow. Touchdown was smooth and our gate was beside other Star Alliance members, Thai & United. From this gate it was a very long walk to immigration.
To reduce the waiting time we were given access to the UK immigration fast track lane. We had fewer than 6 people in front of us and were cleared quickly to retrieve our luggage.
Another transatlantic flight completed! Now it was off to the car rental and hotel!