Daily Update #02 – Australia & New Zealand 2018
Safe and Sound in Australia!
Evening from the Blue Mountains. I did have good intentions to post during the 5 hour layover in Jakarta, however our time was spent eating delicious deep fried food, and trying to stay awake. One gentleman in the chillest part of Garuda's business lounge was sawing logs like a champion.
Our three other flights were good, more about that in proper posts to come. I will tease that I think we had the best meal on an airport ever. Hands down, awesome.
Aussie initiation – VEGEMITE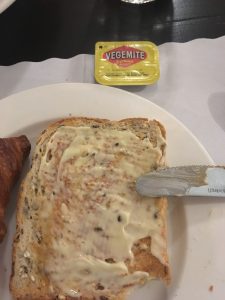 I truly do not know how Kraft convinced a nation that black tar like substance is a great choice to supplement your toast in the morning. During our breakfast at the hotel, I bit the figurative bullet and tried some. It was, just like I tried in 2006, a combination of salt, horrid aftertaste and a hint of bitterness. The rest of breakfast was very tasty.
Blue Mountains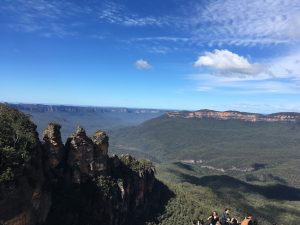 Approximately 2 hours west of Sydney are the Blue Mountains. It's a popular tourist spot and we arrived on time, on a Sunday afternoon. Today, walking around the town of Katoomba earlier today certainly did have a mix of a cottage country vibe (relaxed pace), and a tourist hot spot. The picture above is the iconic Three Sisters rock formation. Tour buses were constantly ferrying tourists to and from this spot. What was missed on most of the tourists was the ability to walk over to the three sisters, or the humbling sculpture in the park nearby.
We have enjoyed our first full day in Australia, and tomorrow we hop back in our rental car and have a couple goals for the day. Depending on the time we get to tomorrow's hotel I hope to give you the next daily update.
Now it's time for dinner.