DAILY UPDATE #11 – AUSTRALIA & NEW ZEALAND 2018
ANZAC & Return to Hobart
The highlight for today is that the main highway from Launceston to Hobart is much more straightforward, lacking in hairpin and 180 degree switchbacks. Safely back in Hobart the question turned to what and where for dinner.
ANZAC day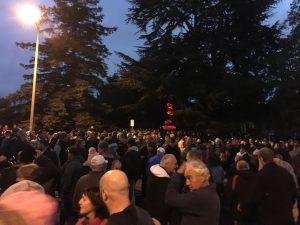 This is Australia's approach to Remembrance Day. This day commemorates the landing at Gallipoli on April 25, 1915. During the remarks at the Launceston Cenotaph, I, along with many thousands of local Launcestonians (?), were greeted for attending the 103rd annual dawn service. The key item out of the selection for the day is that it was the first time all Australia New Zealand Army Corps, the ANZAC part, participated in a battle. The battle didn't go well, as the speaker informed us, as the ANZAC forces were volunteers with no prior war experience and were attempting a water landing. They faced an opposing force that was well prepared, trained, and provisioned to fight any attack.
At the conclusion of the service I headed back to the hotel, however this service was just the start to a busy morning available to all those in attendance.
Hobart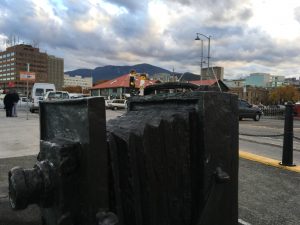 We arrived in Hobart early in the afternoon to provide us time to walk around the downtown. Given it was Anzac Day, though most shops weren't open, window shopping would suffice. After some searching online we did locate or dinner options and proceeded to the harbour where many plaques and sign boards helped to provide us a history of the founding, and growth of the city. The location also was the centre of almost all the places that Amber had looked up to determine our dinner. We lucked out as we arrived without reservation as they opened and managed to finish our dinner just as the groups arrived to be informed that they would have to wait for a table.
In all it was a good day. Weather has continued to be excellent, or as the forecast states "Fine". Tomorrow has us on the return flight to Melbourne and more exploring.