2018 – Part 15 – Best Western Southgate Motel
Upon arriving at our hotel after a 14 hour drive this hotel offered everything we needed. Quick and friendly check-in, easy to find room that was spotless, and quiet!
Hotel Review of Best Western Southgate Motel, Mt. Gambier
I selected this hotel as I was able to use Air Miles to redeem for a free night. More on the reward programs I used to help make our budget last for our whole trip will come in a future post.
Check-in
The Main entrance to the hotel is off Commercial Street. It can be accessed from Princes Highway (A1), however you have to keep your eyes peeled to make the quick turn into the driveway.
As we arrived well after dinner, check-in was quick as it appeared most guests were in the bar/restaurant that was opposite from check-in.
Motel Layout
The property is two stories, with an outdoor pool in a central courtyard, surrounded by the motel. Our room was upstairs and there was an elevator near check-in. In our case, one staircase was close to our room and made it easy for us to get to our room.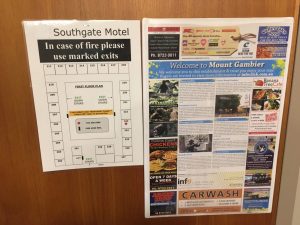 The Room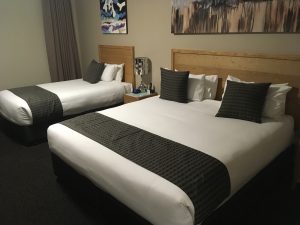 We had two beds, a king sized bed and a twin. We are accustomed to having many pillows, so having a second bed with additional pillows was appreciated. The room was straight forward in which opposite the beds was a closet, followed by the mini-fridge, luggage shelf, desk, TV, complete with a DVD player, and finally a small second table.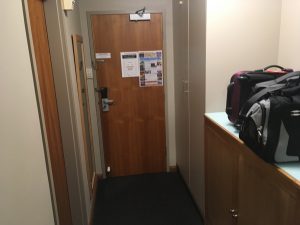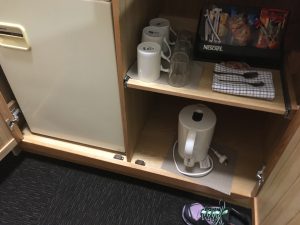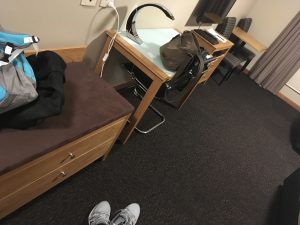 The room had blackout curtains that proved useful in the morning as our room faced east and definitely allowed us to sleep in. The HVAC controls were one-of-a-kind. I have never seen such a setup: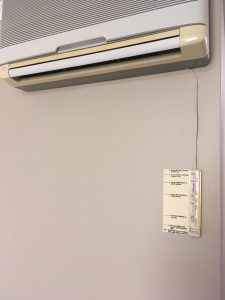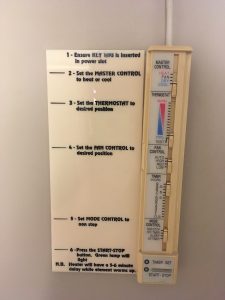 The controls required a few steps to setup, however once configured it worked flawlessly for us.
Bathroom
When I made the booking some reviews made mention that not all rooms were renovated. Based on this bathroom, our room definitely had been recently renovated.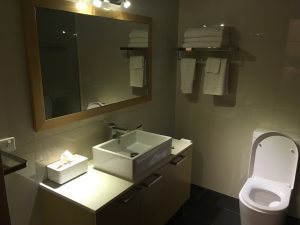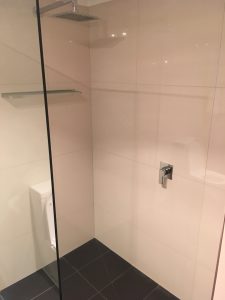 The water pressure in the shower was excellent and the shelf was well positioned to have soap and shampoo within easy reach. Not pictured, but a feature for the bathroom was a heat lamp. Amber turned it on and it quickly heated up the bathroom.
Amenities
As previously mentioned, there is an outdoor swimming pool. On our way to our room I spotted guest laundry (we'll make use of that amenity at our next hotel) along with a couple microwave ovens in the room located on the main level. We didn't visit the restaurant, so cannot speak to its food.
Within the room though was an awesome item, an alarm clock with USB plugs!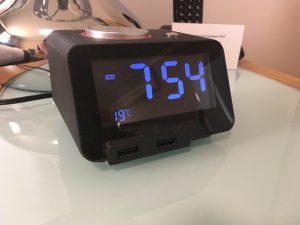 Whomever picked these for the rooms, did every a great service as I didn't need to keep the computer on to work as a proxy to charge USB devices.
Overall Impression
Check-out the following morning was just as quick. I was so eager to head to breakfast I completely forgot to get a picture of the exterior. This had everything we needed, and as Mt. Gambier is overall a small town everything was a short drive away.
Now, what's in Mt. Gambier?
Read more about our trip by clicking here.