DAILY UPDATE #25 – AUSTRALIA & NEW ZEALAND 2018
Cairns
We participated in the most popular activity that the Cairns area has to offer — a trip to the Great Barrier Reef!
Green Island
We selected Green Island as it was the shorted island in the reef to visit. The island (that is really a coral cay) is so close to Cairns, that you can still see the hills on the mainland. Weather cooperated and it was clear sailing on this lovely large catamaran: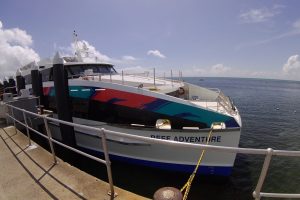 Although our time on the island was short, we did snorkel, and saw quite a few fish and corral.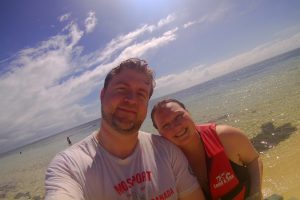 What else?
We I truly embraced the vacation feel of being in a tropical location and after a filling lunch we had a relaxing afternoon and evening. It was hypnotic to spend time on the balcony after dinner — I was fixated on all the stars we could see, and she was focused on the bats that were patrolling above the boardwalk.
Tomorrow
Another early day, with another early flight. Our destination, well, wait for the post tomorrow — so long as we have wifi! 😉