DAILY UPDATE #32 – AUSTRALIA & NEW ZEALAND 2018
watching a Canadian
It was a quiet day. We had planned to check out the Maritime Museum in the afternoon after lunch but that didn't happen. What did we do today?
Brunch at the movies
The Australian release date for Deadpool 2 was today. It's hard not to notice this movie is coming out here being in Sydney. Ads for it are everywhere, such as this bus stop we've past 4 times since we arrived late Saturday.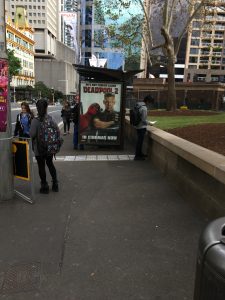 So we went for the 11am showing. Watching Deadpool this past Saturday during the flight in from Ayers Rock Airport was a good choice. I recommend watching the original before you head out to watch the sequel to give your brain a quick refresher. We thoroughly enjoyed it. If you liked the first, this won't let you down. If you don't like sarcastic, self-aware, super-hero movies with lots of violence, skip it and wait for Incredibles 2, it'll probably lack all of those and, still be great to watch and, it's coming out in June.
Why no Museum?
As I mentioned in earlier posts, I haven't been in tip-top condition for a few days. Amber wasn't comfortable with my approach of "it's nothing, let's continue". After a disappointing dim sum meal (yes, we found dim sum that wasn't anything special) I did the smart thing and agreed to find a walk-in clinic. The upside of our hotel's location is that there was one right around the corner. After a short visit we got confirmation of the obvious, it's nothing yet, but if it changes then come back. It better not, we're leaving Sydney in just a handful of days.
I will admit having an afternoon nap back at the hotel was time well spent.
Tomorrow we're on a mini-road trip. We had two things planned but I forgot to read a calendar so we'll only get to one of them.