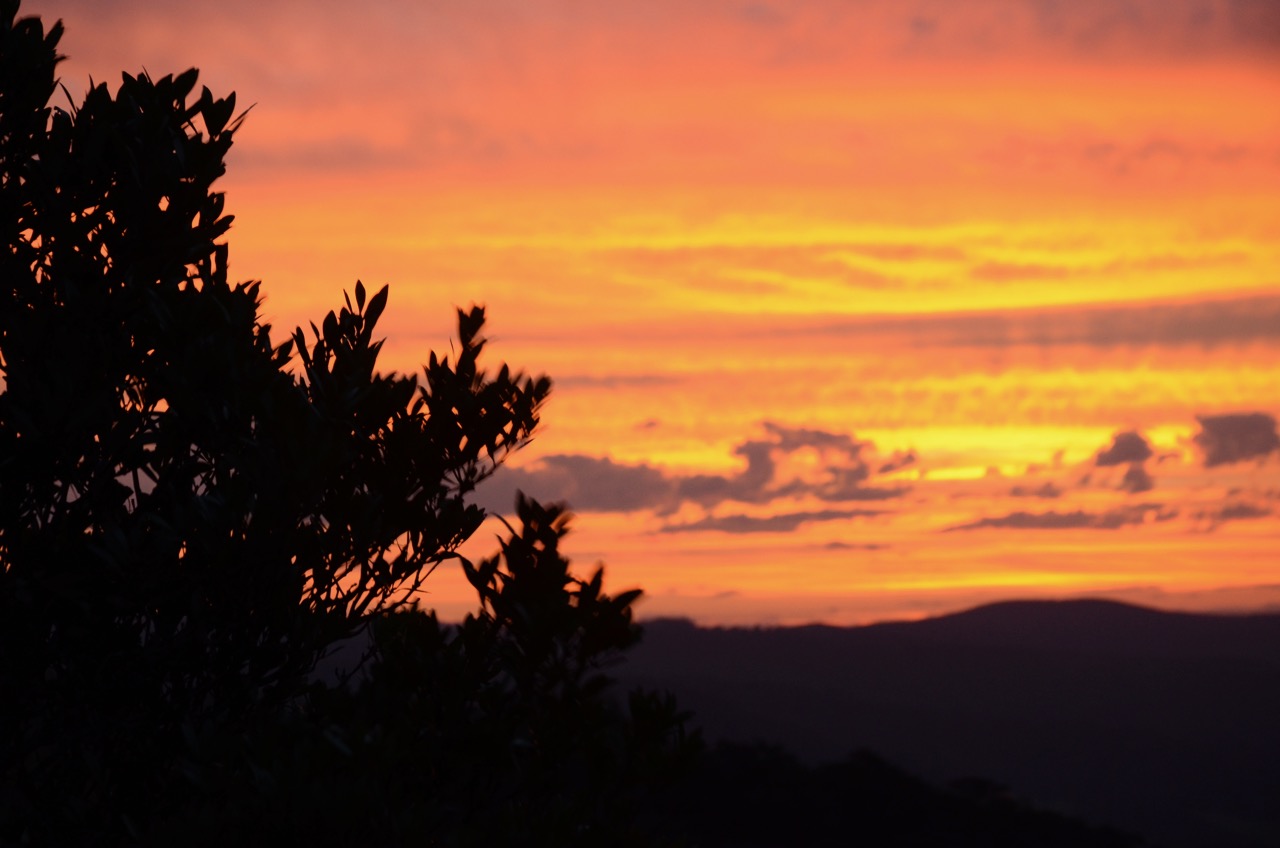 2018 – Part 25 – A Scenic Drive to Launceston
It wasn't until we left Hobart that we came across a road sign indicating that the route we were taking was special, we drove Tasmania's Great Eastern Drive. Even though daylight ran out before we got to Launceston this is a worthwhile route to take.
Plan for Tasmania
We didn't have a lot of time in Tasmania, and wanting to see more than just Hobart, our plan for Tasmania turned into this: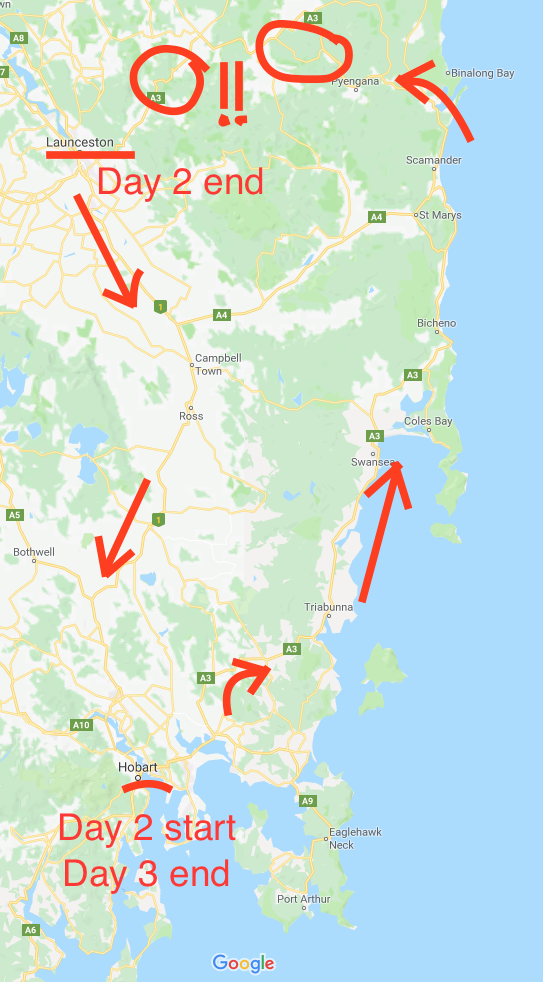 Continuing my attempt to not drive the same route, we headed from Hobart to Launceston, first using the Great Eastern Drive, and then returning using the central highway. The two circled parts, the right one is St Columba Falls. The left one is best under the heading below "140 km takes how long"
Hobart to Great Eastern Drive
The first part of the drive was straight forward. After checking out of our hotel, grabbing breakfast in town, we headed east. Unfortunately due to construction in Hobart it took a few extra turns to get out. At least we spotted this well restored pick-up truck: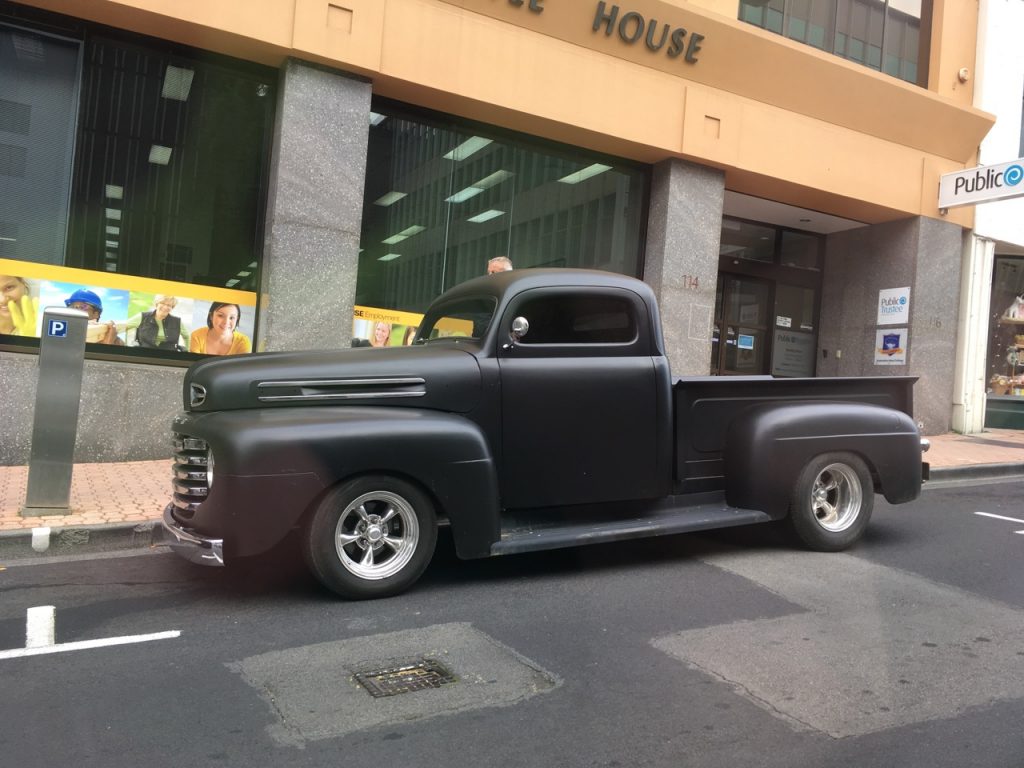 Once across the bridge our drive settled down. There isn't a lot of traffic on a weekday in fall! The road is scenic, starting with many farms. Once at the coast we stopped around here to have our picnic lunch: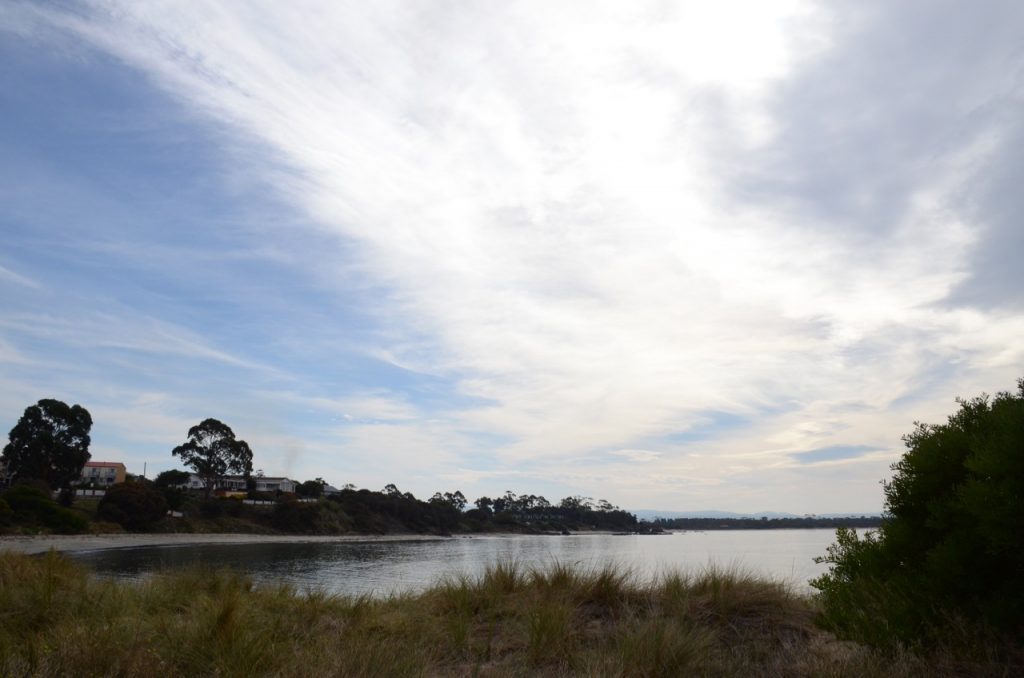 There are many beaches that grace the road. Somewhere before Scamander we stopped here so that she could dip her feet in the ocean. From the pictures you can tell that the beach was crowded — we had to share it with a few seagulls, and another family that we couldn't hear due to the roar of the breaking waves.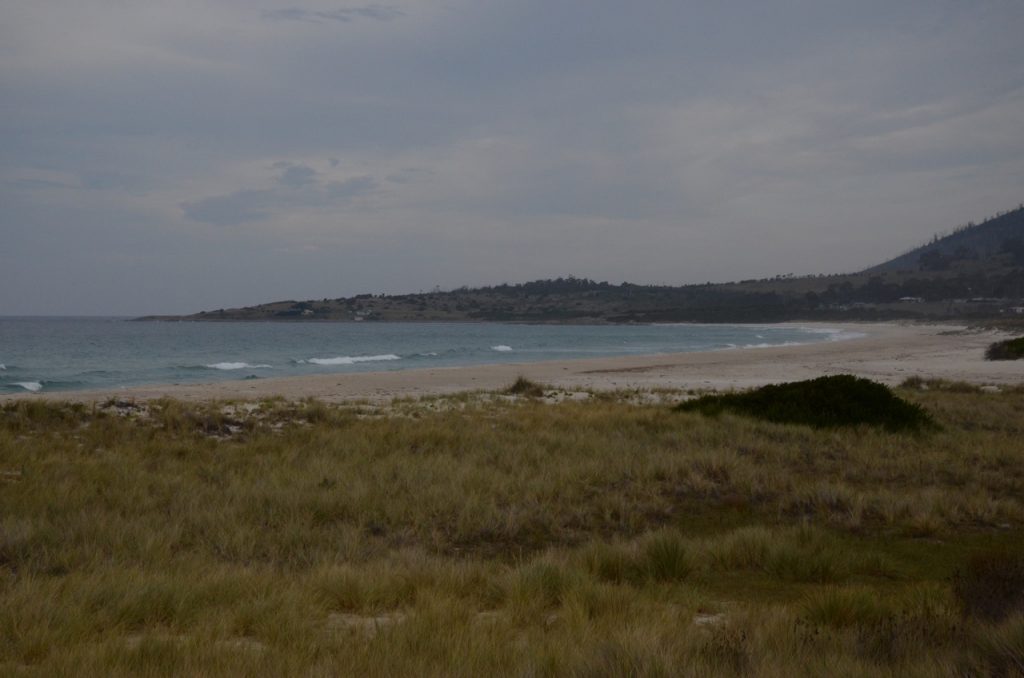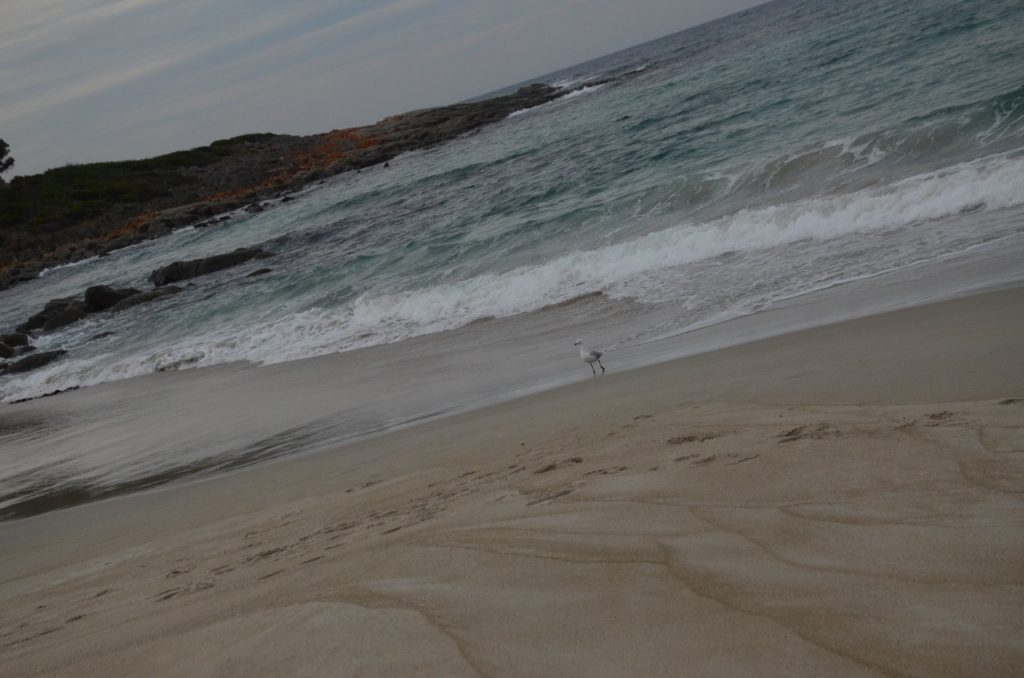 Lots of people at the beach too.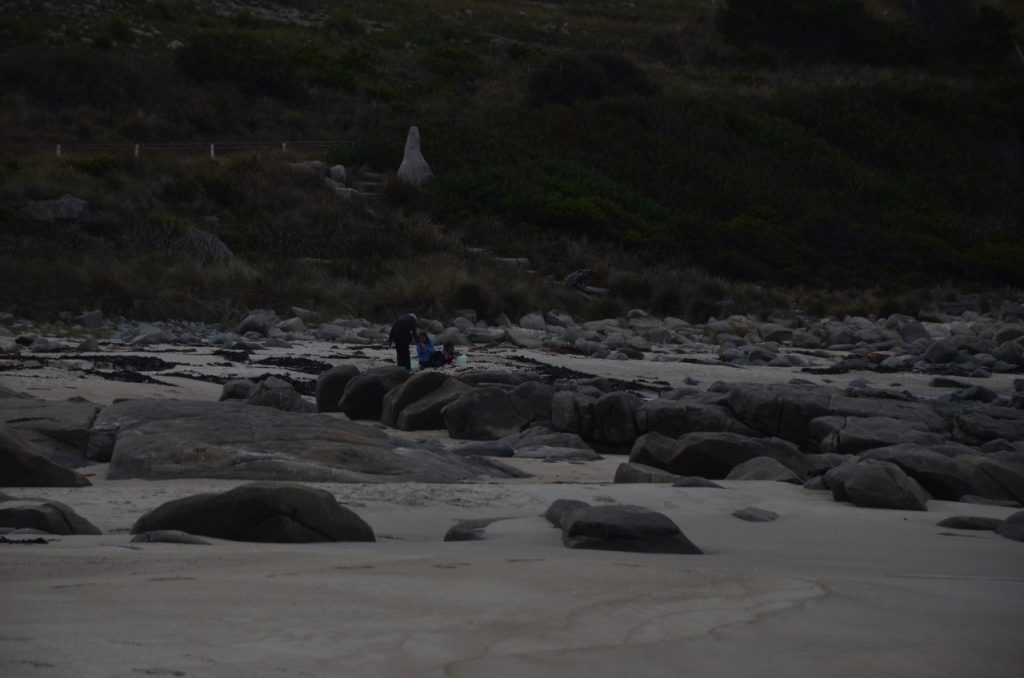 We continued to drive the road until it's end at St. Helens where we drove inland toward St. Columba falls. A few more pictures from the Great Eastern Drive:
St. Columba Falls
We found this waterfall from Tasmania's Parks service list of 60 Great Short Walks. These falls were the closest to the route that we were taking, and had both the shortest walk and easiest level to get to the water falls. Here's a slideshow of pictures taken around the park:
Once we got to the viewing platform, up close to the falls, it was worth getting wet from the light rain that appeared as we arrived at the park.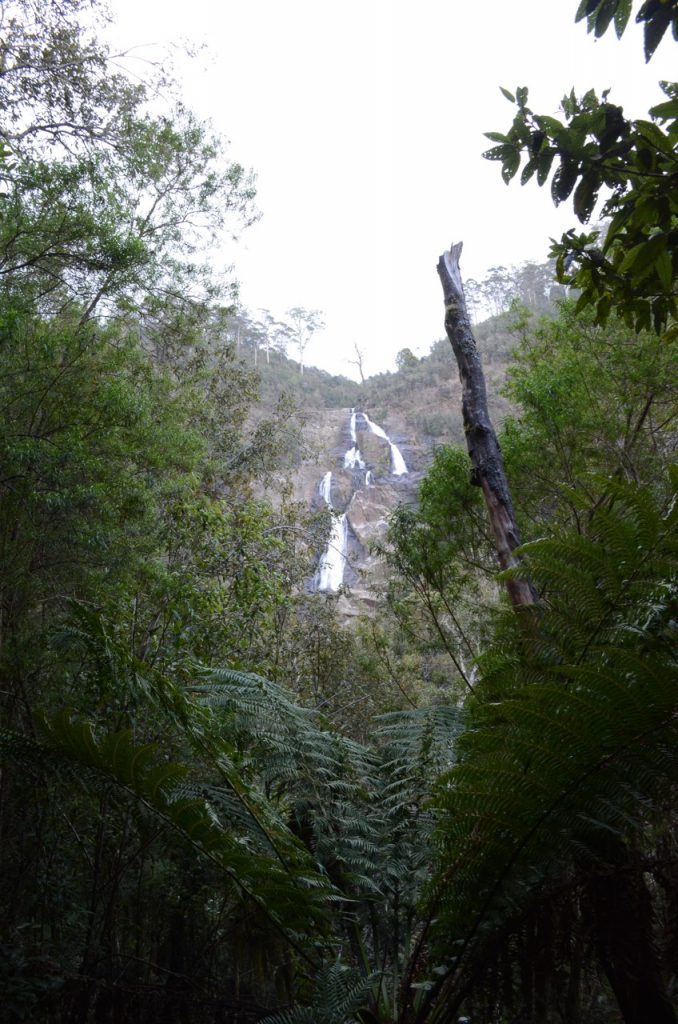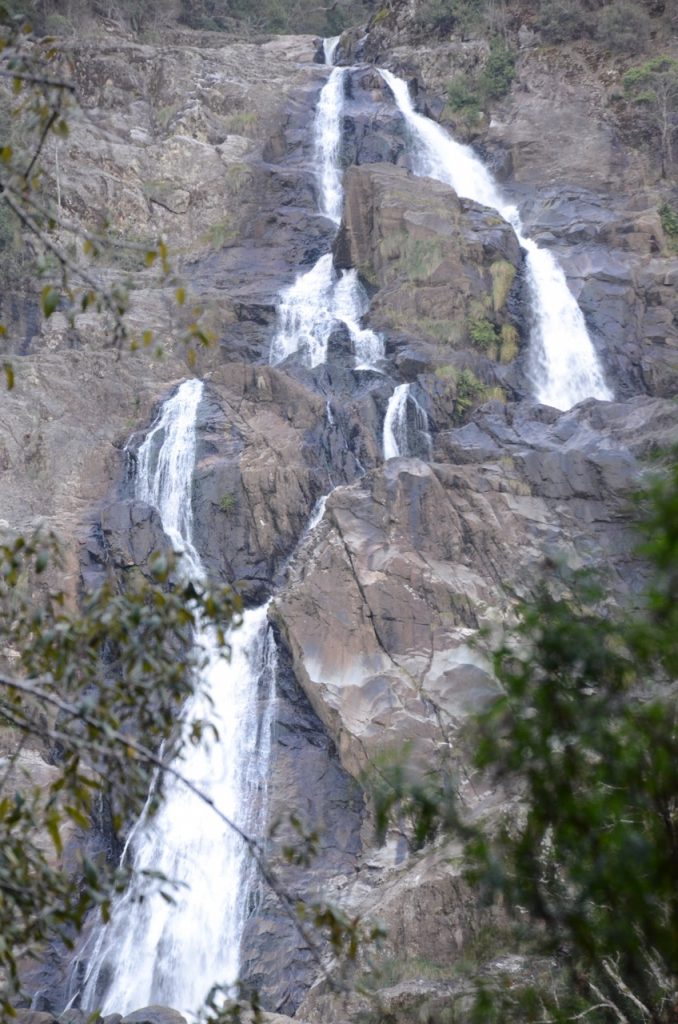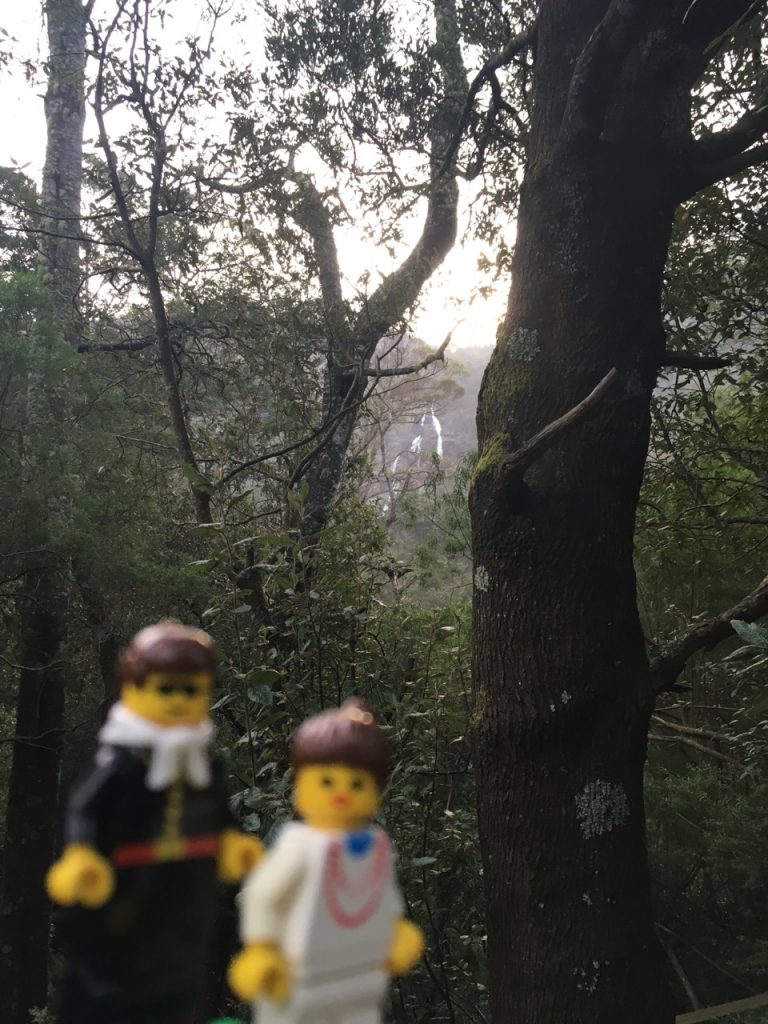 On our way from the waterfalls to the main road we came across a visitor. We informed the farmer and his reply was "Yes, I know. I'll get 'em soon enough."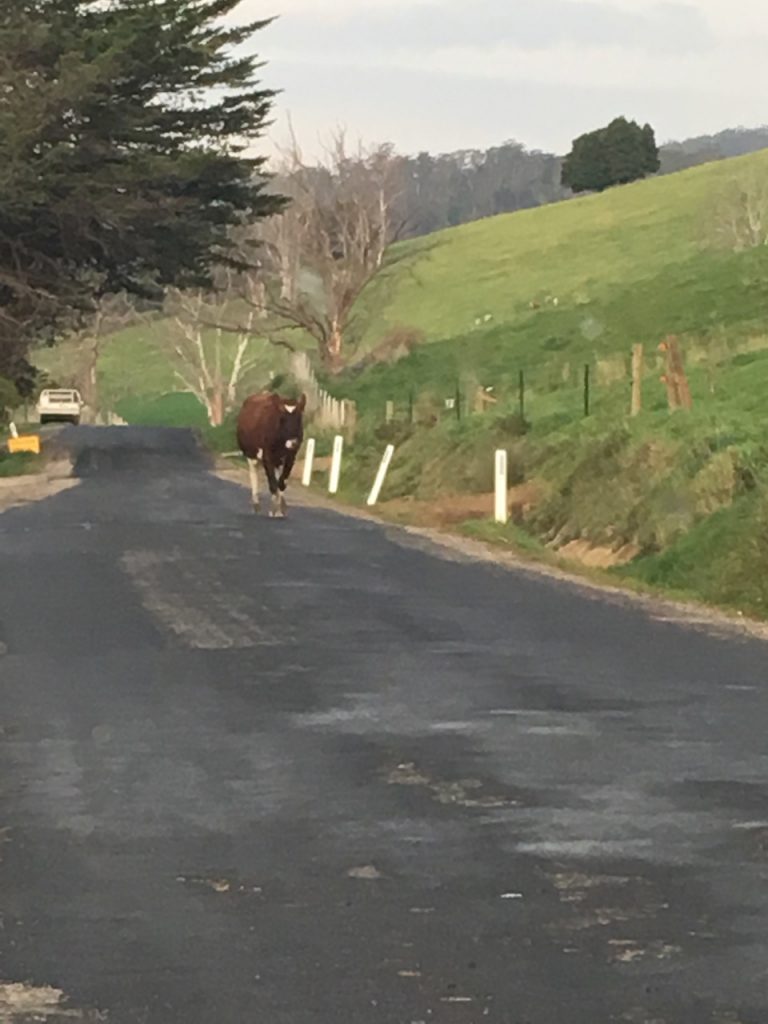 140 km takes how long?
Now the final part of driving. We had only 140 km to go until our hotel, in Launceston. Google maps, returned a driving time of 2.5 hours. I couldn't believe it. How can such a relatively short drive take so long?
Once we returned to the highway from St Columba Falls it became obvious. We were going to drive around every hill and mountain! As a driver, I quite enjoyed it. It was scenic, beautiful, breathtaking and something I quite enjoyed.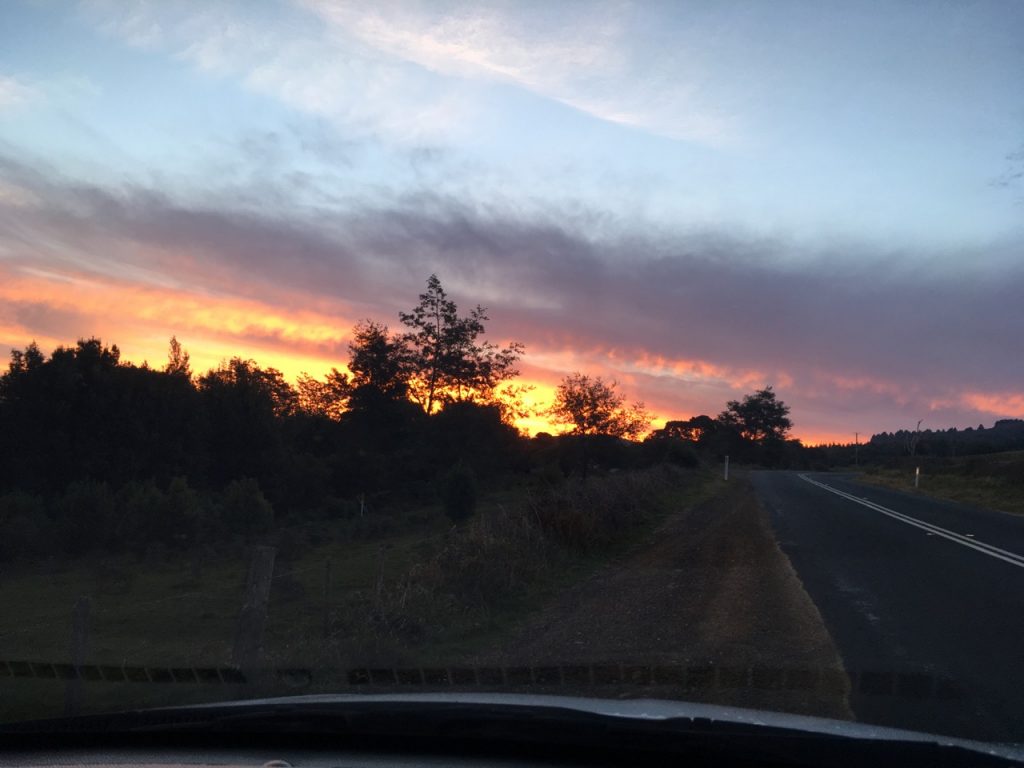 We stopped twice to take in the spectacular sunset from the road side. These pictures just do not do the bright colours we saw: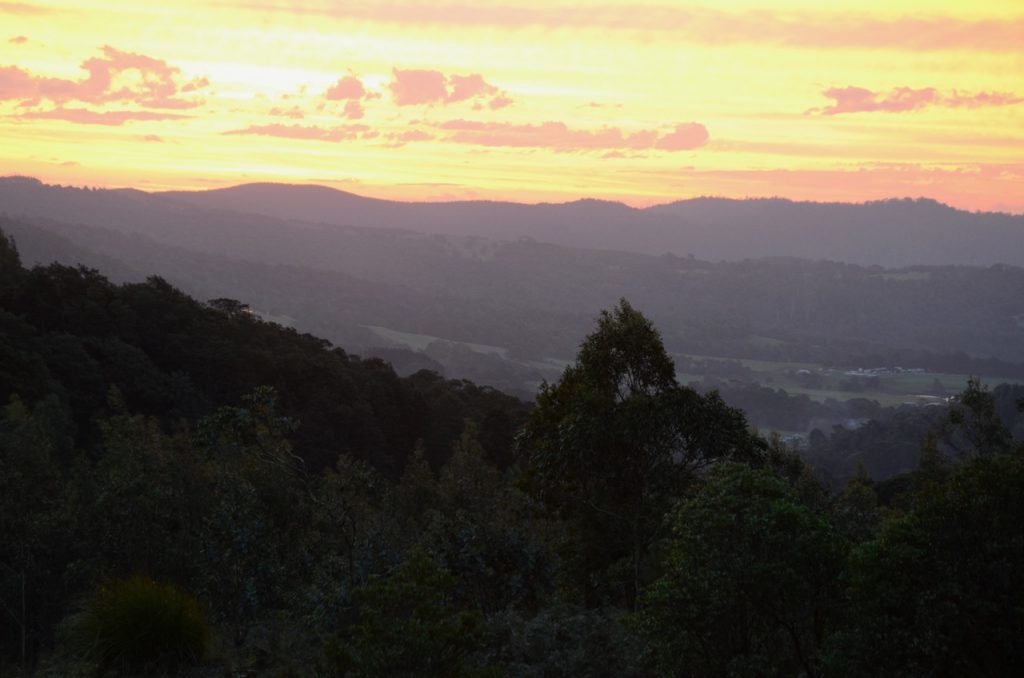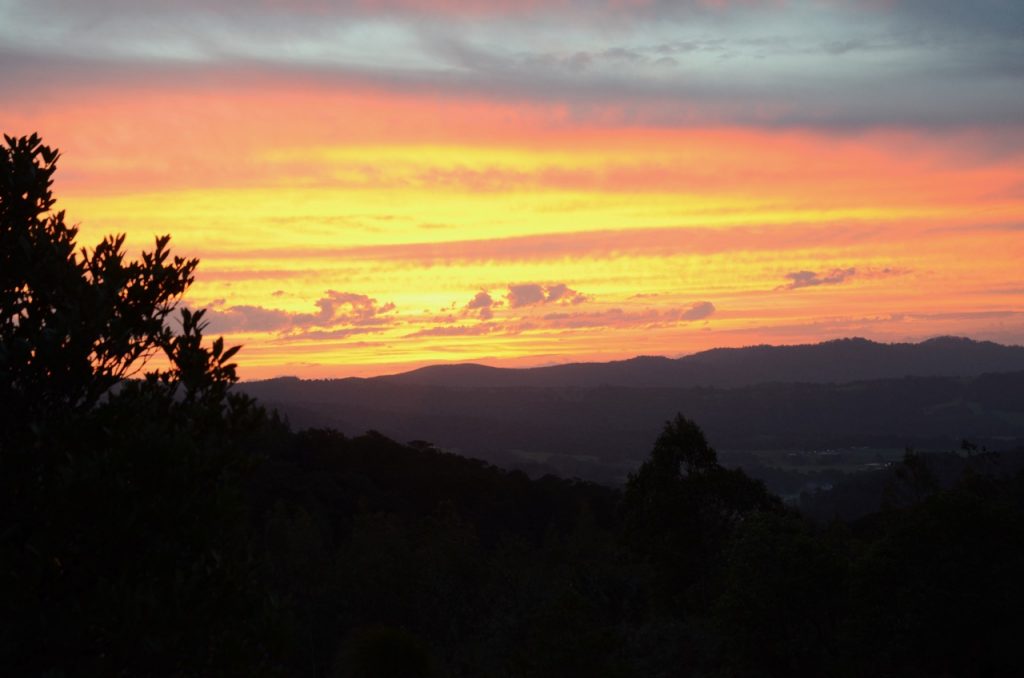 But with these pictures the hilly, twisty roads went from enjoyable, and challenging road into our personal rally race. Unfortunately, neither of us had the route description to help us out. We took our time. We didn't know if it was hillside or drop-off on the side of the road. I drove at such a leisurely pace that local vehicles came up behind us, waited one or two turns before they quickly passed us and disappeared before the next turn or hairpin. I joked to Amber this seems like the introduction to a Twilight Zone episode.
Eventually, the mist, fog, hairpin and switchbacks on the road subsided, we could see the light pollution from Launceston. We were close. The roads returned to pleasant countryside highway and arrived at our hotel ready for a drink with our dinner.
Amber did ask over dinner "How many more times are we going to be driving at night?" I replied, maybe once more, but it won't be on twisty roads in Tasmania.
If you want a driving adventure filled with challenging roads, and beautiful scenery, this is the place in Australia.
Read more about our trip by clicking here.