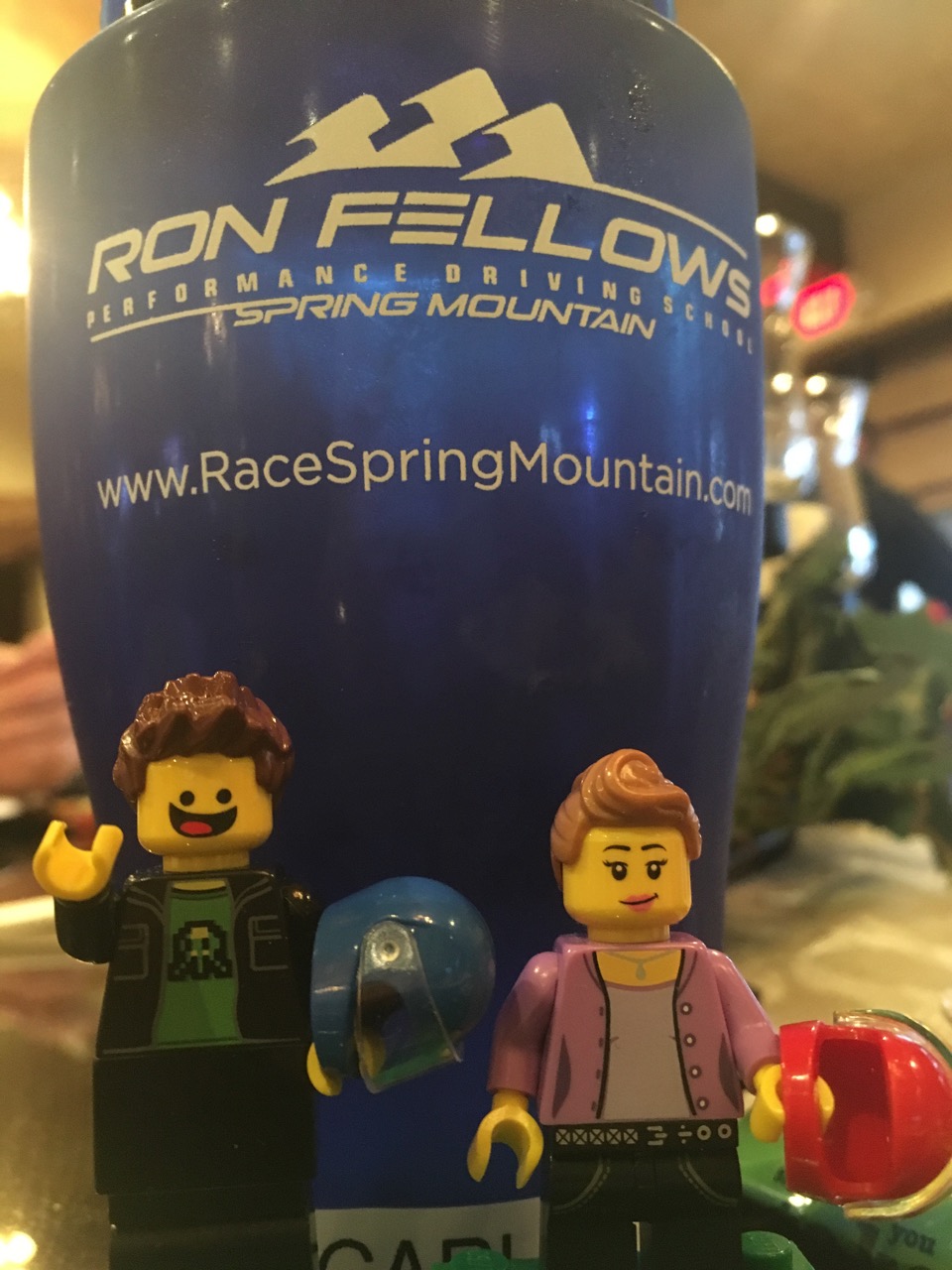 Driving school
When somebody says "Las Vegas", what do you think? Casinos? Sure. Show? Yup. Parties? Of course. For us though, Las Vegas was less than an hour away from our weekend of driving school. A performance Driving School. Held at a racetrack. Driving a Corvette!
the plan
After listening to nothing but excellent things about attending the Ron Fellows Performance Driving School from fellow Corvette owners, we finally signed up and headed to Las Vegas for a weekend. This trip was short. Flight out on Friday morning. Lunch in Vegas. Drive out to school Friday night so that we're fresh and prepared for driving on Saturday and Sunday. As we don't like continental red-eye flights we fly back on Monday. This report will be accordingly brief, posts about flights, with a single post about the school and accommodations on-site.
Let's get on with this trip!
Flight
Toronto to Las Vegas (YYZ – LAS)
AC1851
Scheduled departure 08:10am
Scheduled arrival 10:10am
We were up early as US bound flights from most Canadian airports require pre-clearing US border and customs prior to boarding your flight. Order of operations is different. First up is obtaining your boarding pass and baggage tags, next is US customs, followed by the drop-off for checked luggage, and finally airport security screening. As Toronto is Canada's busiest airport, a morning flight result in long waits to clear US customs. This particular morning we spent approximately an hour in line. Not horrid, but close to expectations that we had. Once through we then learned the downside of a sprinkle of snow in early December — everything was delayed, including our flight. With our flight delayed it provided the upside that we had lots of time to enjoy breakfast at one of the restaurants in Terminal 1.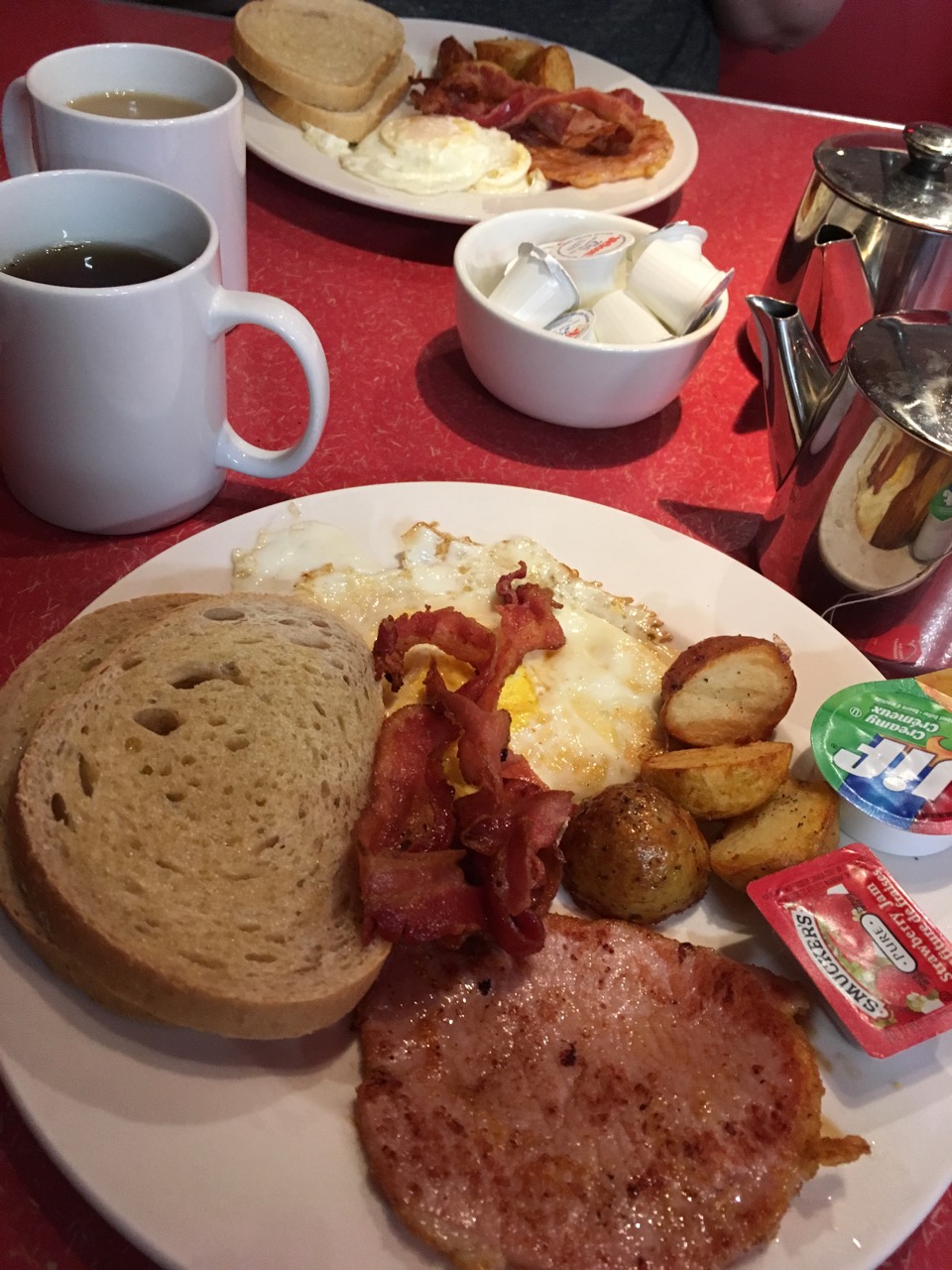 After a greasy and tasty breakfast we made our way to the gate where we learned two more things: First, our plane wasn't at the gate yet, and, second, our flight was a delayed again. It wasn't hard to guess the flight would be delayed as there was no plane at our gate. To help pass the time we walked around the terminal and eventually I spotted a Air Canada Rouge 767 being towed in the vicinity of our gate. Success! A plane is at our gate finally.
Eventually boarding commenced. Boarding was complete at 10am, with the door closed at 10:09, and then we waited for pushback. The flight deck informed us that pushback would occur only when there was space at the de-icing facility. At 10:38 pushback occurred, and by 11:05 we were next in line for de-icing.
The only positive of de-icing is that once applied it has a short shelf-life. De-icing finished at 11:46, and four minutes later the Boeing 767-300 was airborne.
The major downside about Air Canada Rouge aircraft is their focus on providing legroom comparable to low-cost carriers. As I didn't want to donate my knees to the seat in front of me, I had purchased seats at the front of the economy section.
Half an hour after take-off beverage service began, and followed by buy-on board service. The original schedule of this flight I had hoped that we wouldn't need anything on board, however with it being the lunch hour when drink service began, I elected for a snack to tie me over until we landed and could find something more filling!
This was our second time (my third) heading to Las Vegas. I always find the scenery along the way to be very cool.
At 1pm Las Vegas time the plane began its descent to Las Vegas airport. We landed without any delay and after a momentary pause taxing, we were at our gate just past 1:45pm.
We had no checked luggage, and we outside quickly, and as we approached the rental car shuttle bus when we spotted the crowd, waiting for the bus! We got a taxi driver take pity on us and took us over. Nothing special. It was a Toyota Corolla. From there we found a 24 hour dim-sum restaurant where we were 1 of 4 tables having a meal at 3pm.
Once filled with food and the hangry-troll in each of us was appeased, we made a stop for snacks before the drive to Pahrump. Drive is straight-forward, as once you leave Las Vegas there is one turn to make and that's the highway that goes to Pahrump. We arrived in under an hour. You can't miss the track as it's the first major item as you approach the town:
Accommodations at Spring Mountain
We elected to stay at the track in one of their condos. This isn't the only option, however we didn't want to risk being late to class either morning. Our room was just fine, and the clubhouse hosted all our breakfast & lunches during our stay. We made the short trip into town to grab dinner both nights.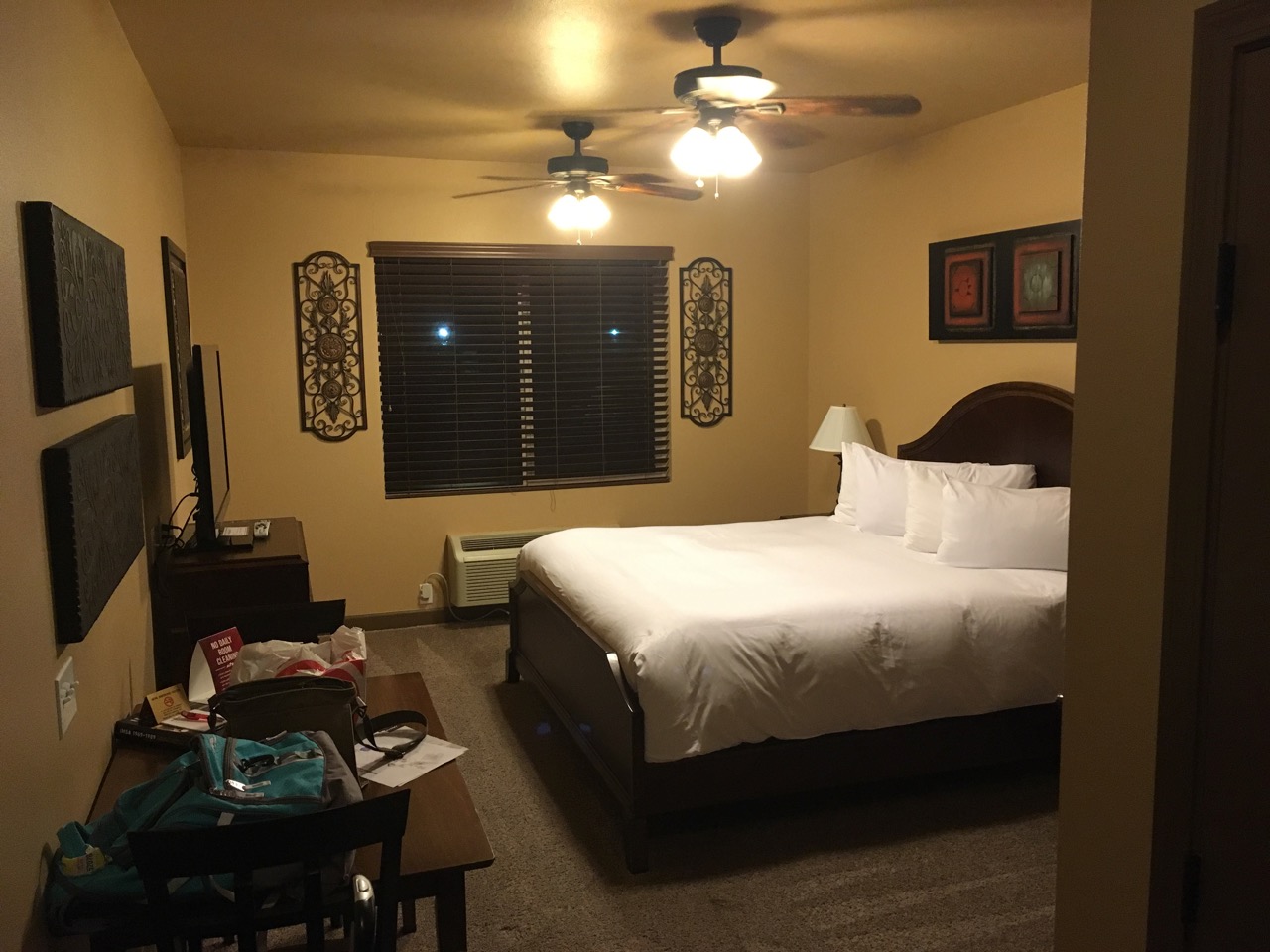 Next up, the school!
Explore other parts of this trip:
Part 1 – Air Canada Rouge, Toronto to Las Vegas (YYZ-LAS) (this post!)
Part 2 – Ron Fellows Driving School