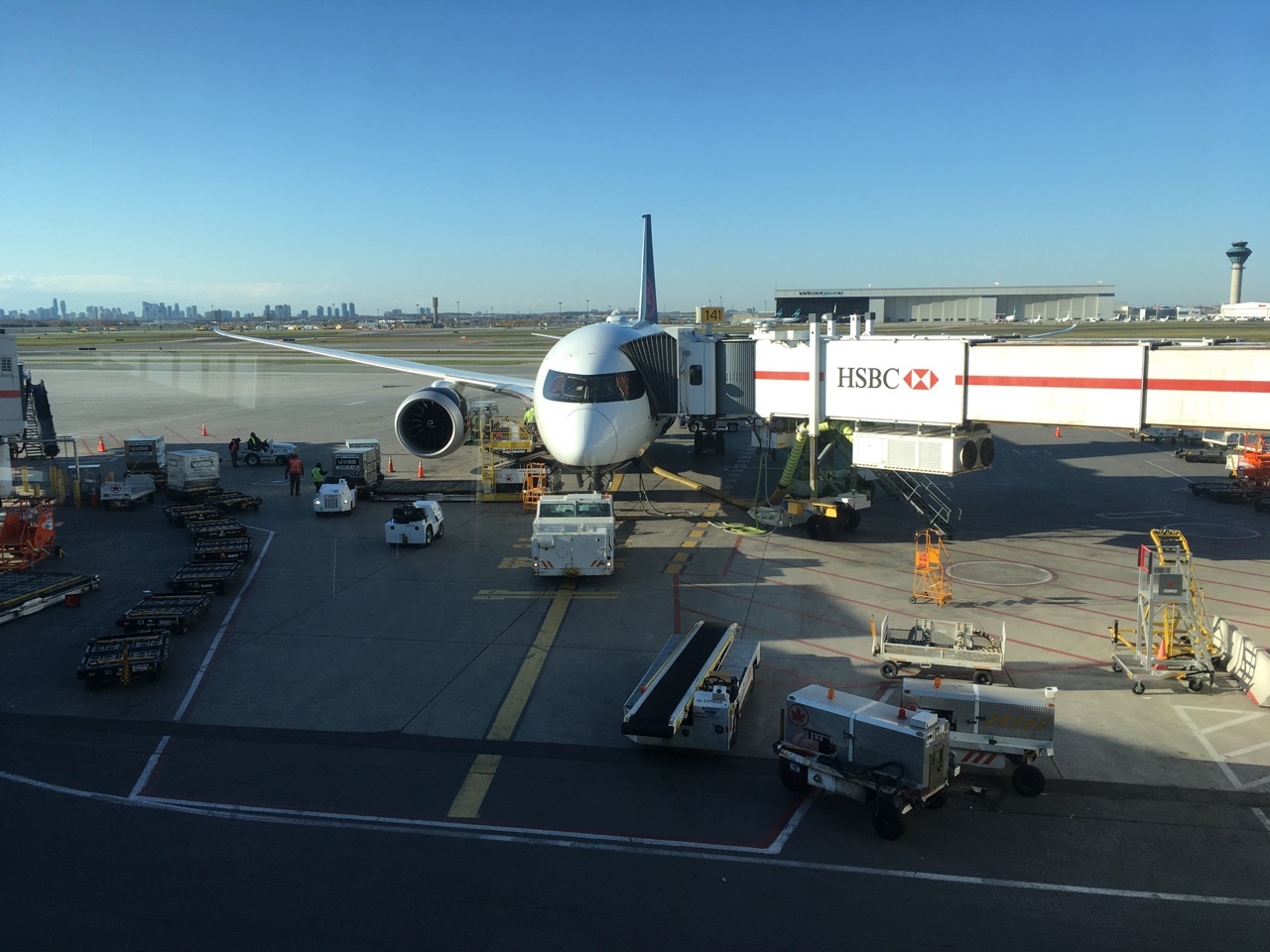 2020.10 – Part 1 – Toronto to calgary
Vacation travel was iffy through 2020. When a promotion appeared for Fairmont Hotels in North America, I jumped at the offer and made a booking. Guess which one we booked?
Fairmont
With a global pandemic ongoing, international travel restrictions at their height, travelling domestically was the only option if a vacation were to occur. In late spring of 2020 Fairmont had a significant promotion: book one night, receive a 2nd for free! In Canada, Fairmont has the historic CP hotels (Victoria, Vancouver, Banff, Calgary, Winnipeg, Ottawa, Toronto, Quebec City, to name a few). We had never stayed at these properties. These are iconic and imposing hotels, such as, the Fairmont Chateau Frontenac in Quebec City sitting proudly overlooking the St. Lawrence River, an aspirational hotel stay. For our trip I selected Banff. Quite simply, we might never get an opportunity to stay in this hotel again. These properties are not for the budget traveller. Besides when you say Banff and hotel, what hotel do you think of?
For timing, the promotion was valid for almost the whole year. I wanted to find a non-peak period that would allow us to have space around other guests, and also try and feel like a vacation. For Banff, I selected October. It's too late for summer activities, and it's too early for ski season. With the hotel booked, flights were easy to find and we had a vacation to look forward to in 2020.
Flight
Air Canada AC139 Toronto to Calgary (YYZ-YYC)
Scheduled Departure: 10:00
Scheduled Arrival: 12:38
Upon arrival to the airport the impact of reduced travel was everywhere. Instead of a normally busy airport, things were notably quiet. Automatic baggage kiosks were available and we used it to check our suitcase: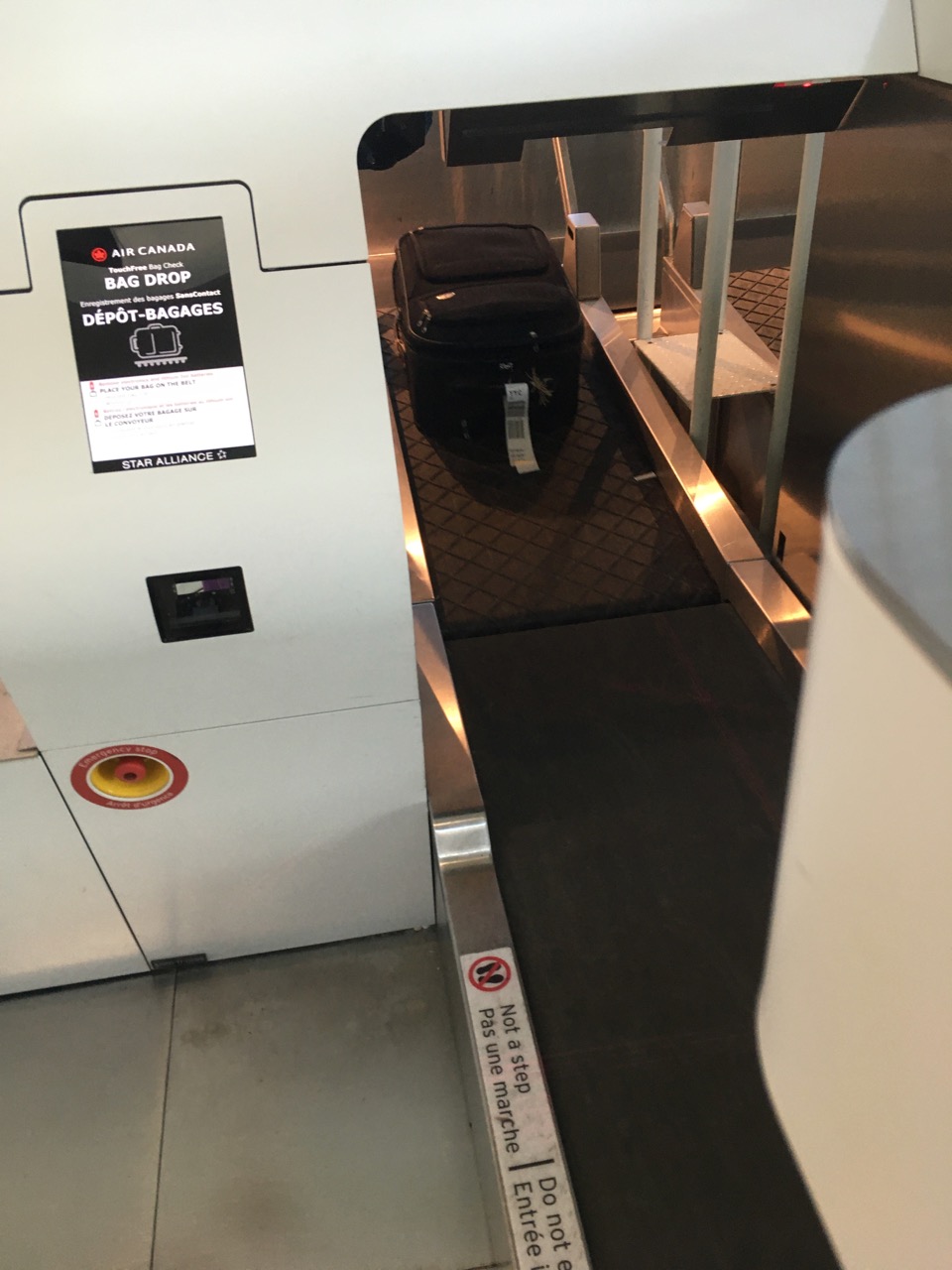 From there, security was quick, and we took advantage of a paid lounge prior to heading to our flight. The domestic portion of Terminal 1 was quiet. A few stores were open, and most food outlets were open during our Saturday morning departure.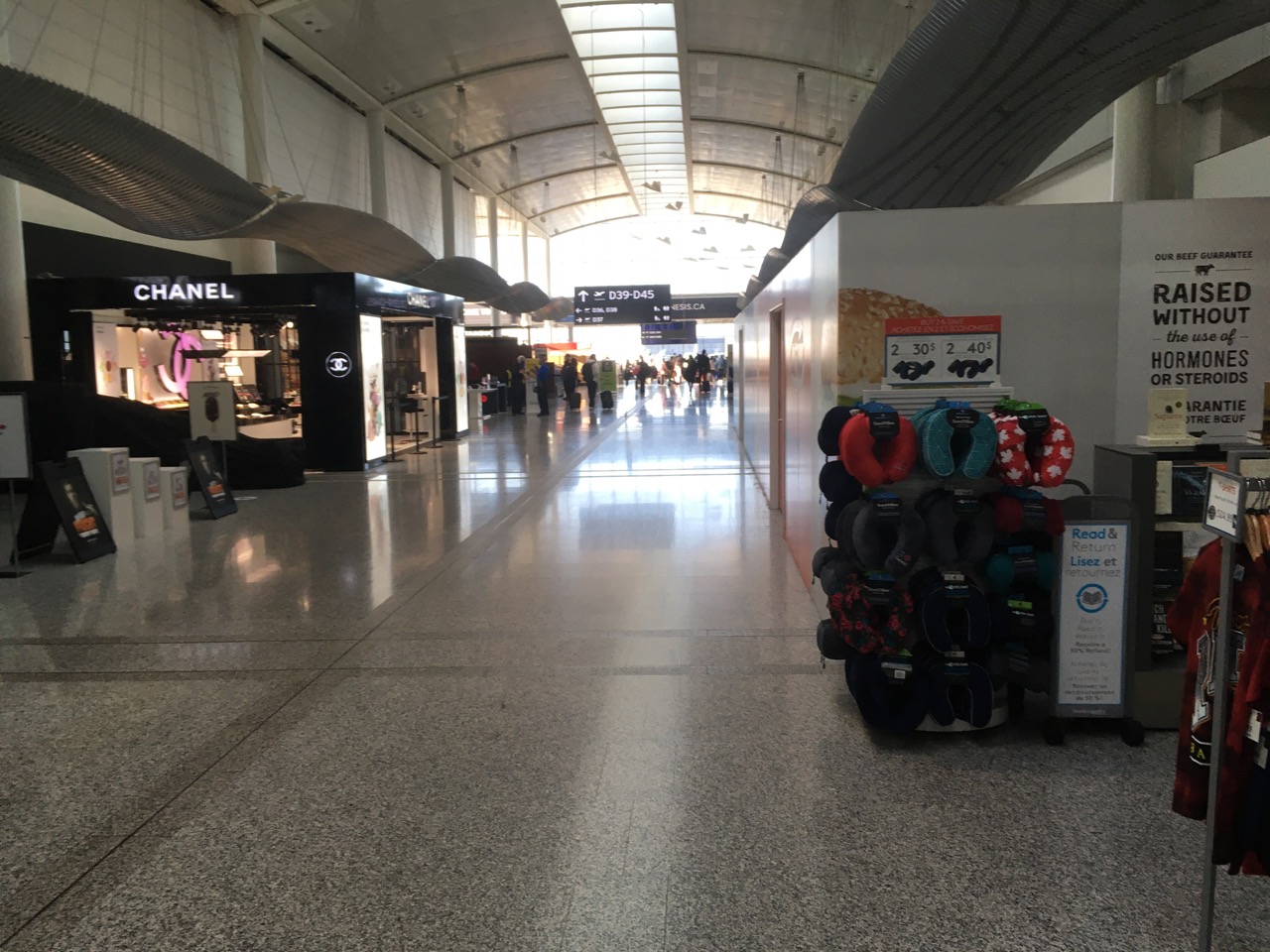 The departure board was a clear example of how few flights were operating — these are all the scheduled departures at terminal 1, Air Canada's biggest hub airport, on a Saturday. At Canada's largest airport: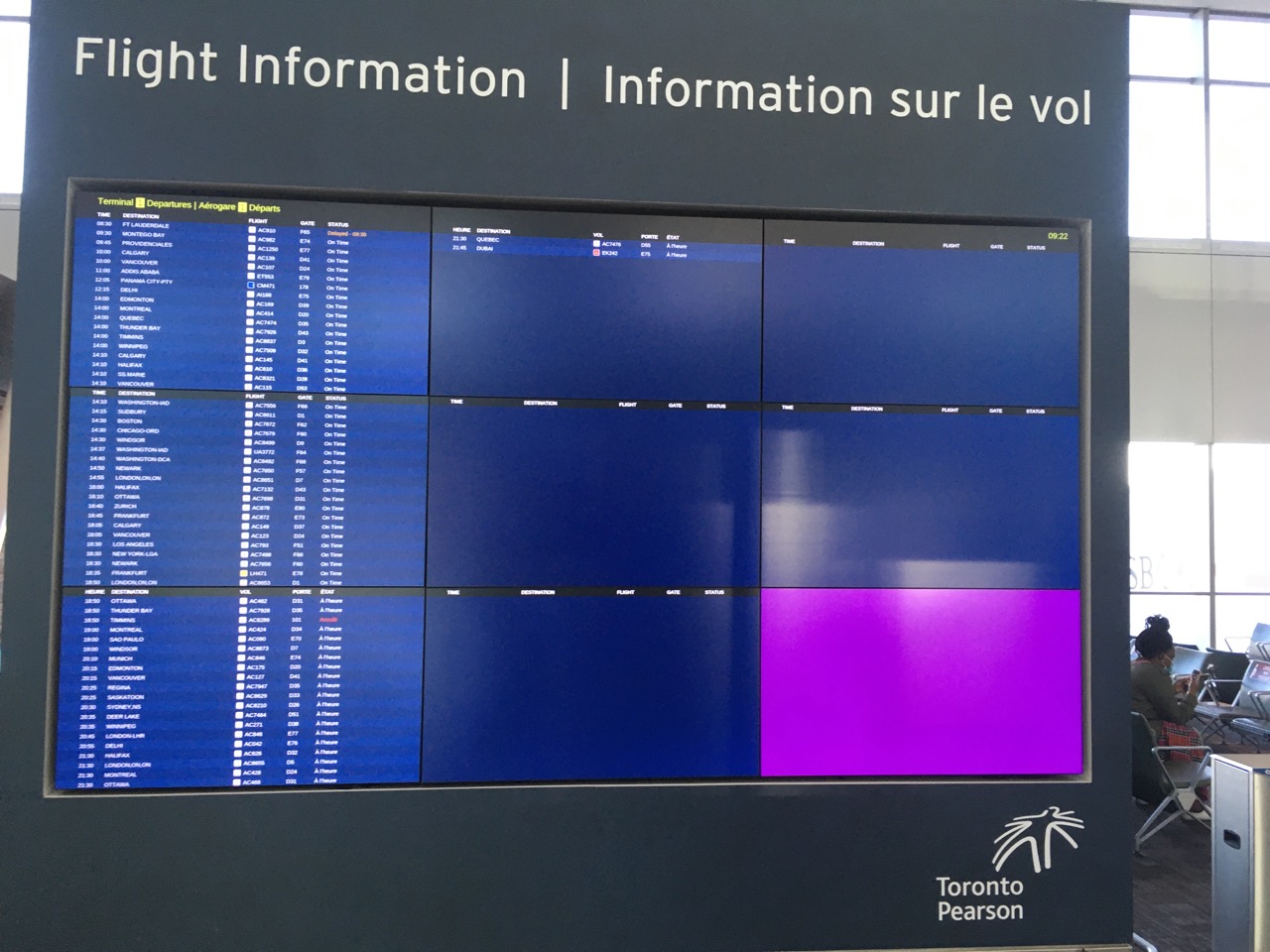 Our gate was at the far end of the terminal, and when boarding commenced, boarding by zone number was strictly enforced. One change I noticed was the additional boarding zones that went all the way up to 8. The little logic we could understand was that zone 8 was for aisle seats (like mine), zone 7 for middle seats, and zone 6 for window seats (Little Miss' seat). However, it still made me ponder, with 1 for business class, 2 for almost all passengers with status, who were the regular zones 3 to 5 used by? (As you can tell I didn't pay attention during boarding)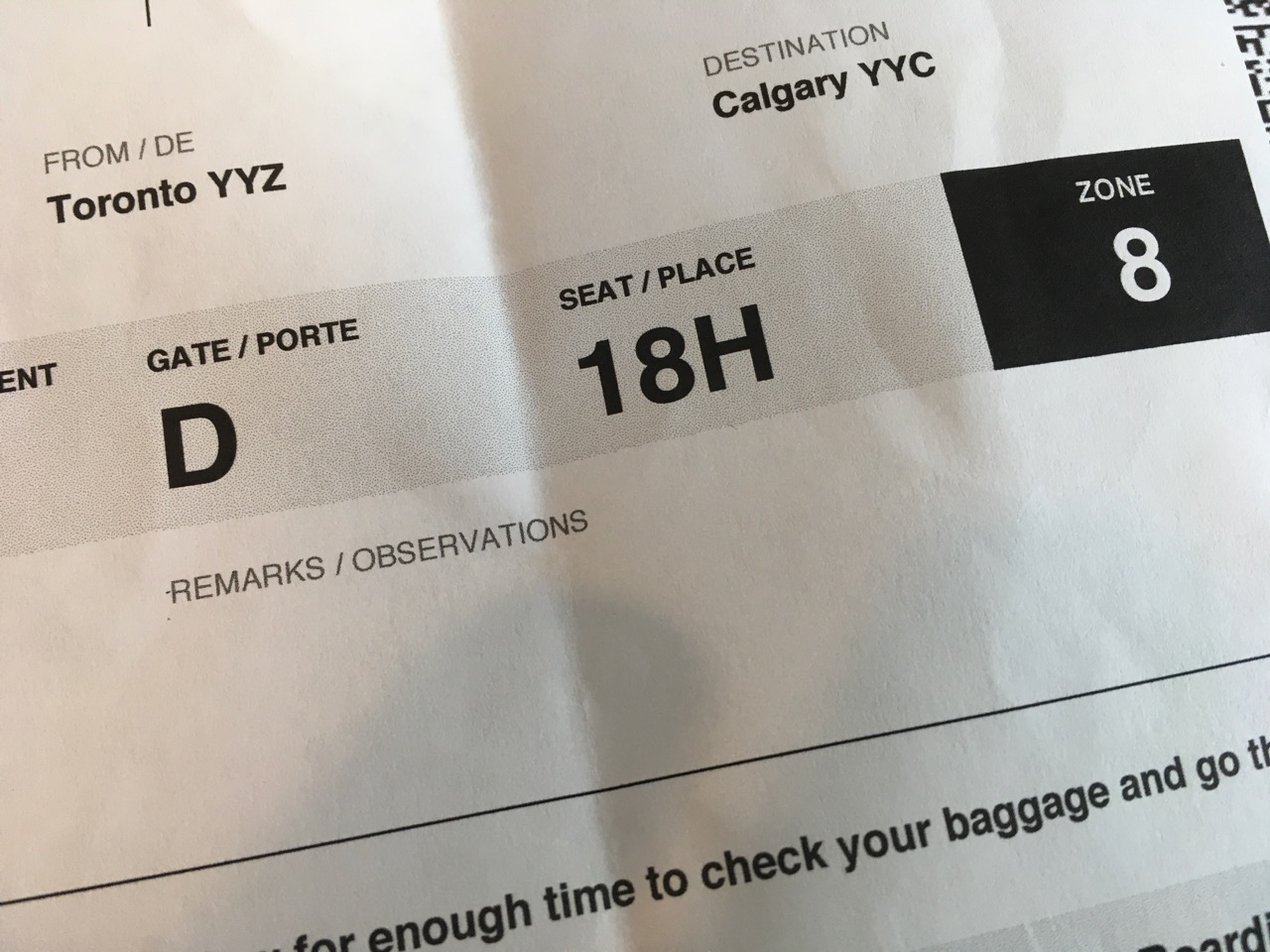 Eventually Little Miss' zone was called and off she boarded. Soon my zone was called and I joined her onboard.
Global Pandemic Impacts
To try and summarize this so that it's not sprinkled throughout the post, what changed during this trip?
Lots. Never has hand sanitizer been more plentiful and available. The requirement to wear a mask was a must throughout the airport and on the plane. Reminders to keep space between travellers was evident throughout the check-in, baggage drop, and security lines. Before entering the security line, a temperature check was required. No water fountain was available to fill up empty water bottles. In the paid lounge available food was served by an employee — no buffet. On board, service was minimal. To reduce waste, most food items required to be pre-ordered, and there was a single drink service during the flight. There was a kit handed out to each passenger that contained a mask, wipes to clean hard surfaces, hand sanitizer, a small water bottle, and a small snack.
Upon landing each province had a different approach. At the time of this trip Ontario has stricter mask requirements than Alberta.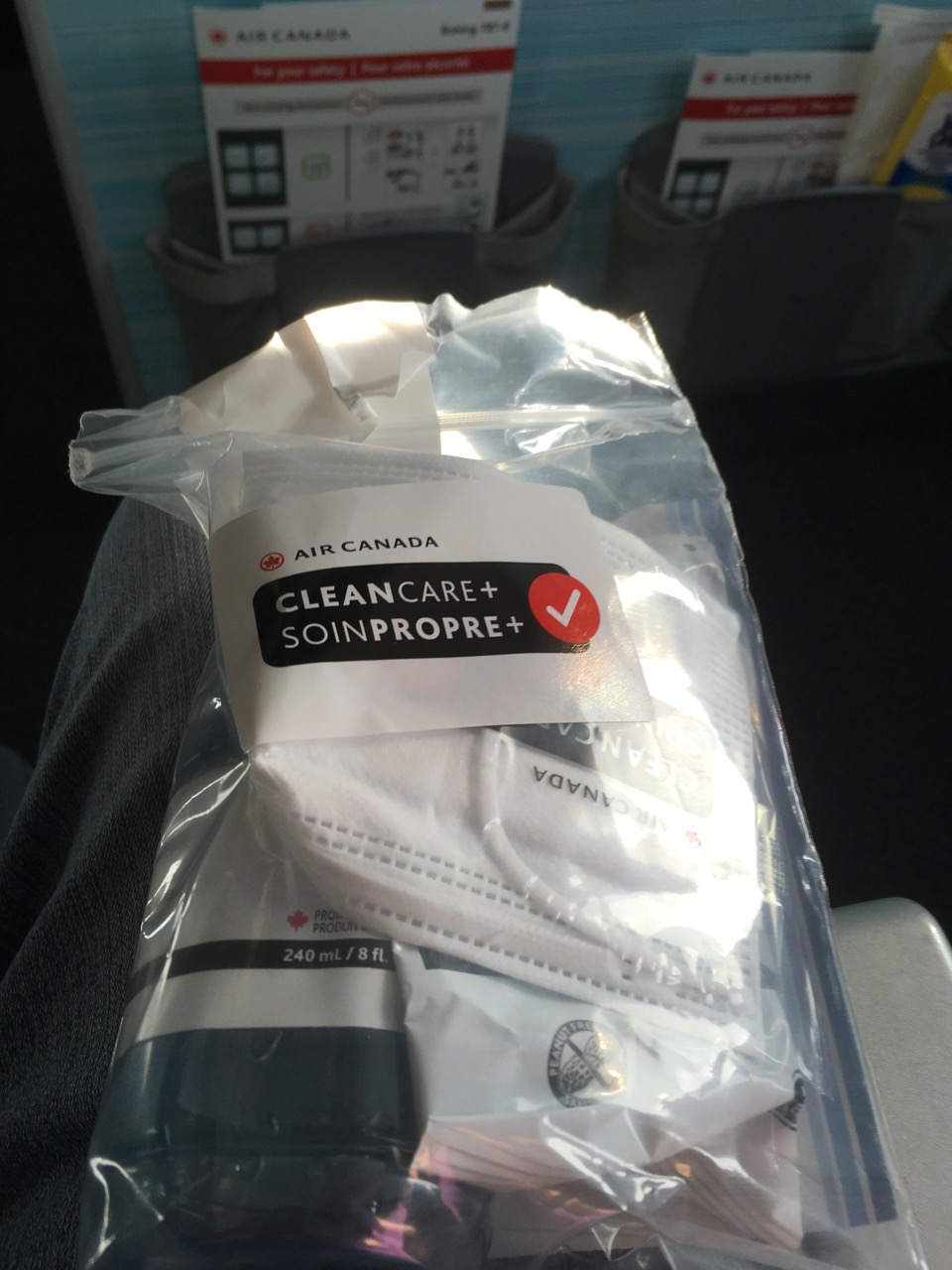 …and back to the trip
The biggest upside of the flight was the space! At this point during the pandemic, Air Canada was one of multiple carriers who provided space in the cabin between passengers. For us, that meant we could spread out between three seats. There were passengers in the row behind us, however I think it was either one or two. There were not many rows that were filled to capacity. With minimal service, I could stretch my legs out and not worry about getting them run over by beverage or food carts.
There were 2 people in the 21 seat premium economy section in front of us — no clue on how many were in business class for the flight. For us in Economy, I guessed it was around two-thirds of capacity. Things progressed well. Door was closed at 9:53, with pushback at 10:16 as cargo had to be moved to ensure proper weight balance (Captain Colin gave this information as part of his welcome message prior to pushback).
We arrived at runway 23, where I watched a TAP Portugal flight land before the Boeing 787-8 took off effortlessly. I don't think I've been on a wide-body plane that was airborne so early while going down the runway.
On board things were quiet. I pre-ordered one meal between the two of us. This worked well because Little Miss had grabbed a snack at a food outlet before boarding, and upon seeing the pre-ordered meal wanted nothing to do with it outside of the KitKat chocolate bar. For the approximately 3 hour flight I spent a lot of time watching movies.
To be honest though, I did spend a fair amount of time staring out the window. This flight was the first time in only 10 months we were on a plane, and yet, it felt like we were selfish (how dare you travel for leisure during a pandemic?), but also euphoric (I'm on a plane! I'm in an composite tube that's 35,000 ft above the ground travelling at Mach 0.8). It did give me pause to contemplate, how much, and what would the future of air travel be, when, if, or how this current situation resolves itself. What I do remember was "I really like this. I want to do this more."
For the astute reader, why check luggage for four days? Well the answer was simple — Banff and most of the National Park had received almost 30 cm of snow the day before our flight. We needed to bring our winter clothing. And that stuff doesn't easily fit into carry-on.
As we approached Calgary, the surrounding area had received a light dusting of the white stuff.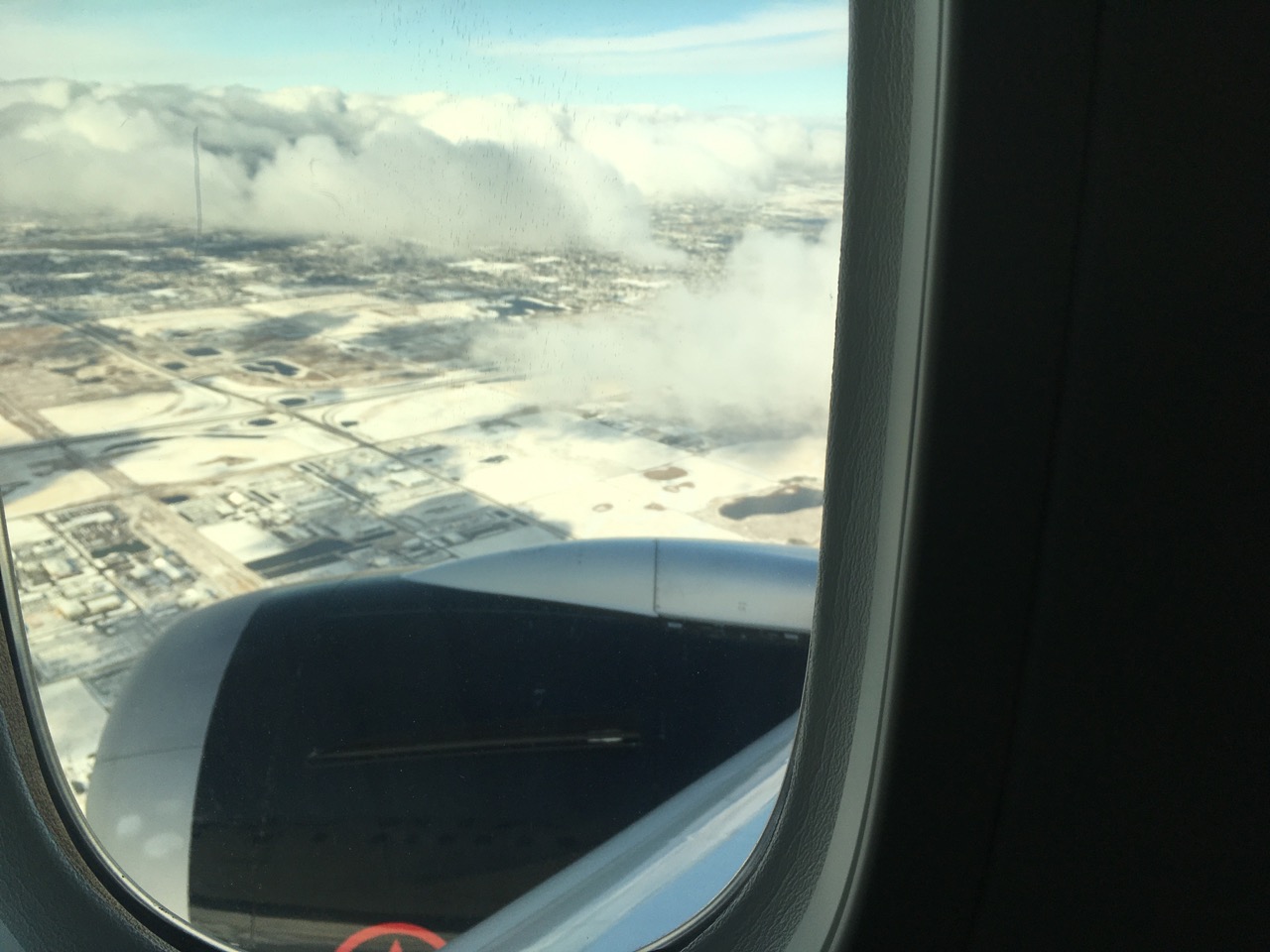 Once on the ground, it looked like the snow was a mere nuisance for Calgary. I didn't get pictures of the many aircraft that were in storage on the apron — it was a mix of Westjet 737s, or Air Canada or Air Canada Jazz narrow-body aircraft where engines and windows were covered up and anxiously waiting to return to service.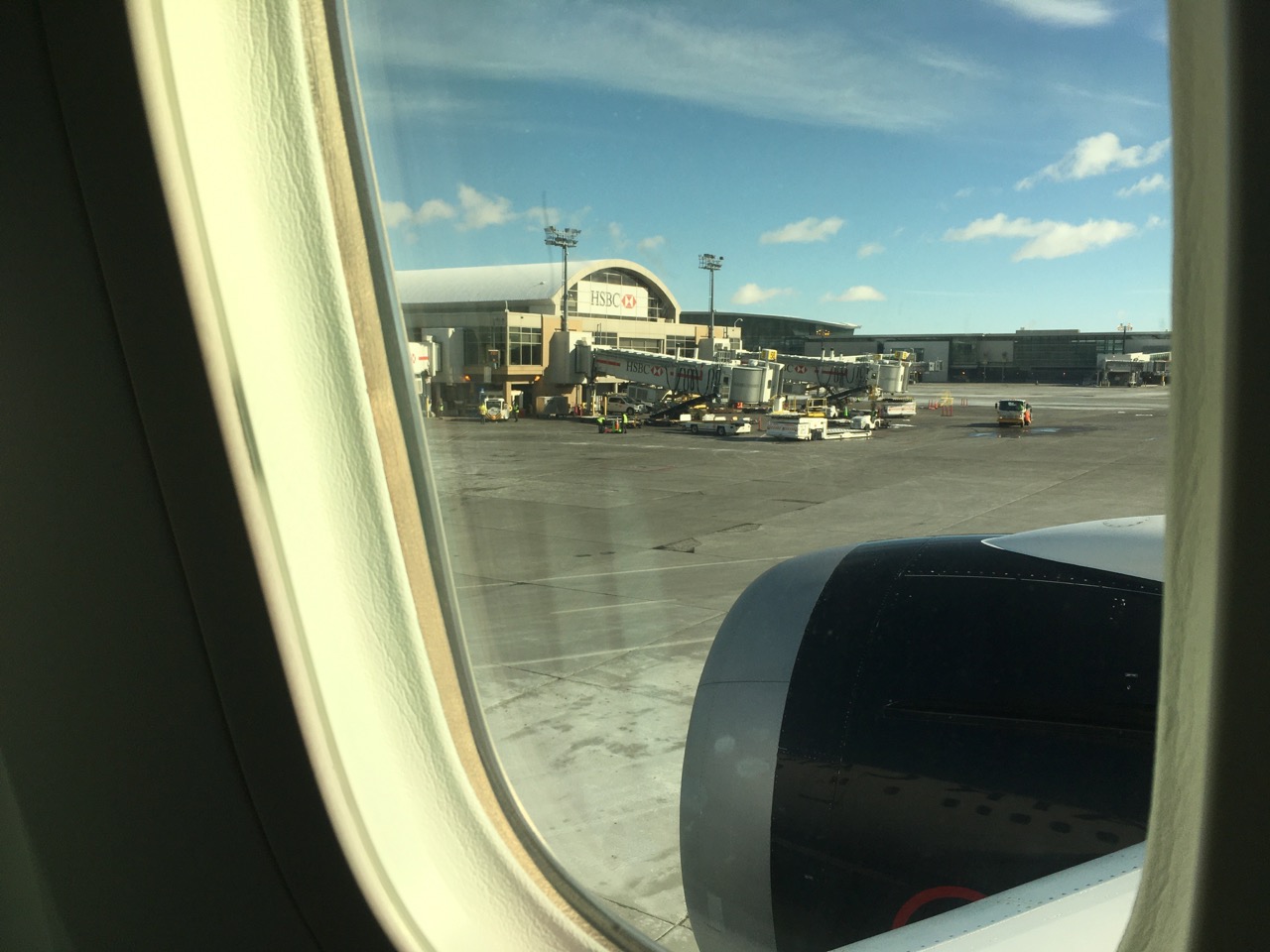 We were off the plane quickly. The downside was that it felt like we were at the gate furthest from the rest of the airport. I remember one person joking "did they park us in Edmonton" while we made the walk to the baggage carousel. The upside of the walk was that our luggage arrived quickly. From there we headed across the road into the parking garage for the rental car pick-up.
Rental Car BOAT-on-wheels
At the time I booked this trip, rental prices were cheap. So cheap, that I decided an SUV would be perfect for 2 people with one piece of luggage. During our check-in we were offered a smaller SUV, along with a lower rate. I politely declined — seriously I wanted to see what's the appeal of driving a Toronto-sized condominium on the roads was all about. Sadly, the person behind me was then immediately informed, "I'm sorry sir, but we don't have any Durangos available." We quickly found our vehicle and wow, this vehicle was massive. We fit in though. Pick-up trucks and SUVs are plentiful in Alberta.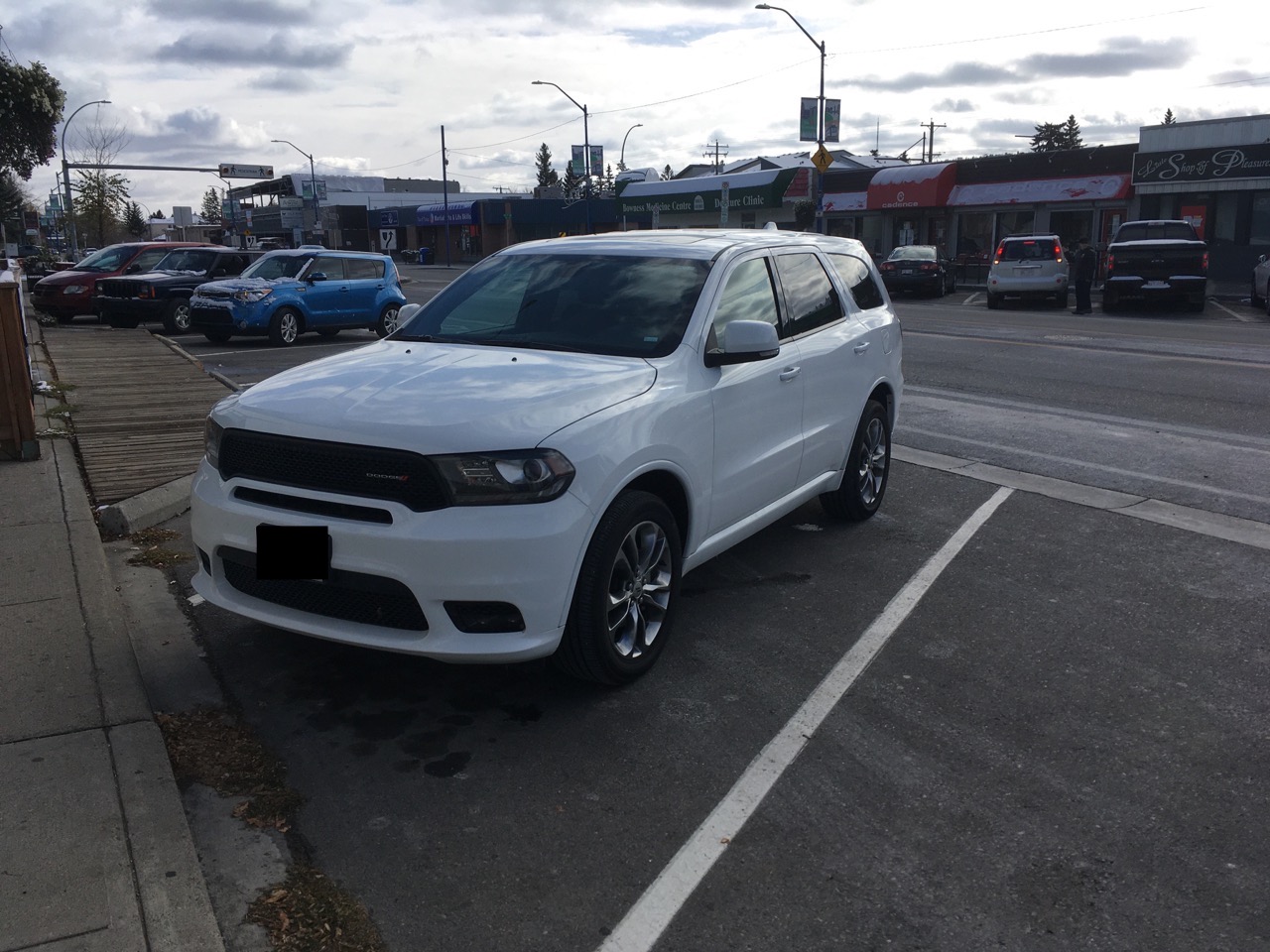 After a couple stops, we left Calgary, headed west in which the Rockies quickly became visible: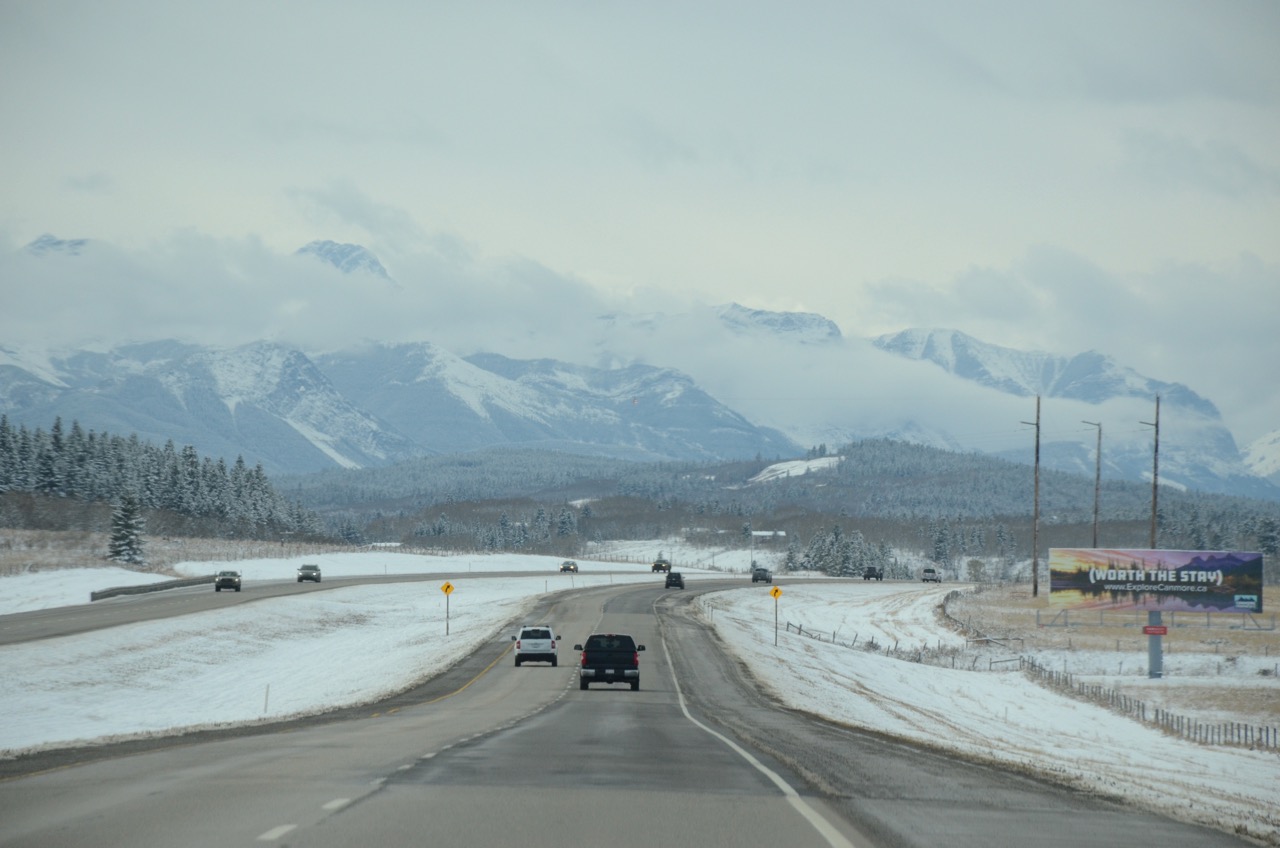 And then they really got close!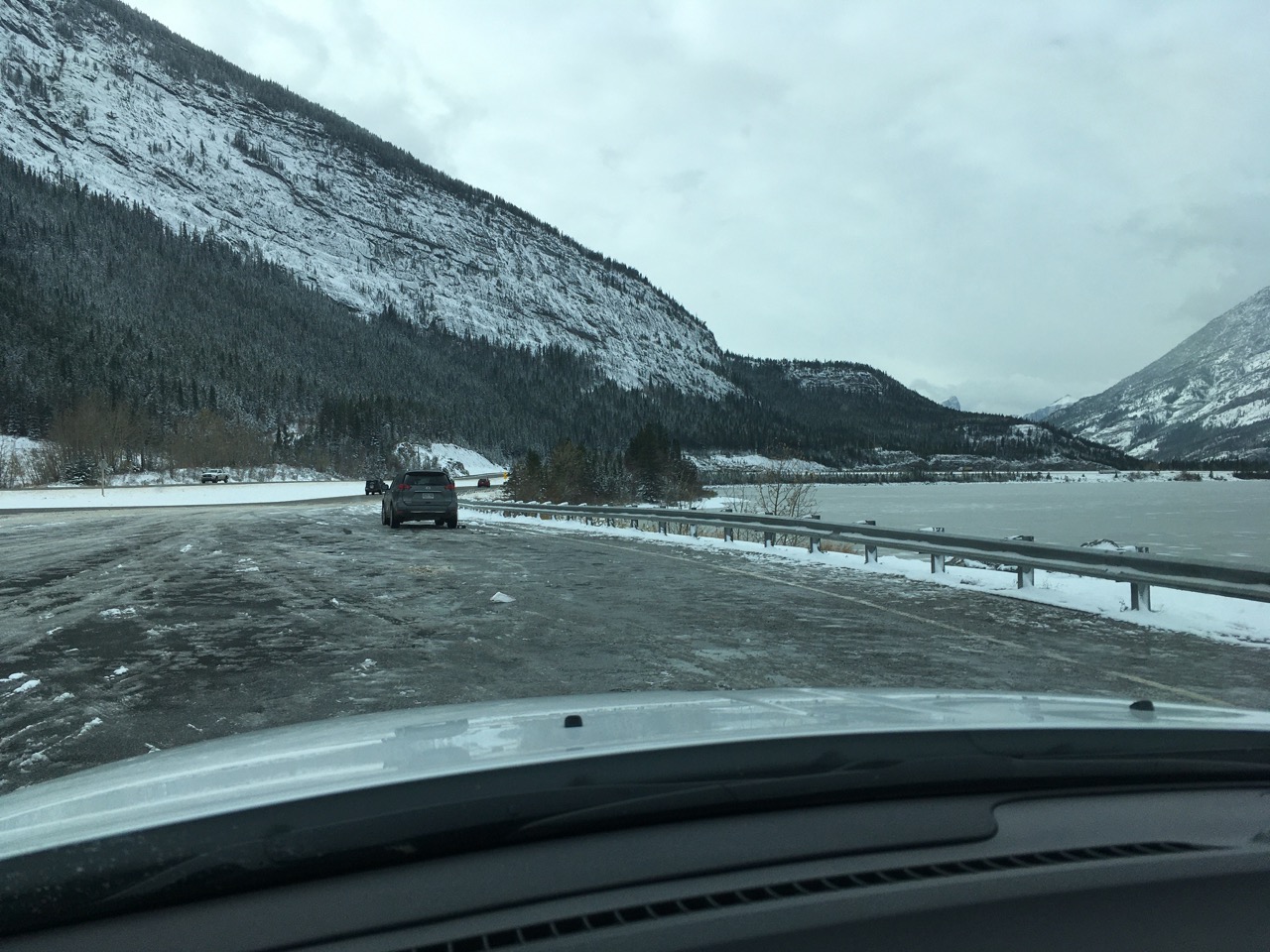 As we continued our drive the snow continued to build up. Upon our arrival to Banff we couldn't believe it. The 30cm of snow had made the entire town and all the hillsides look like a Christmas movie. Snow was everywhere! What surprised us the most was how busy the town and traffic was for a Saturday. As we arrived at the hotel, the valet informed us "Banff is less than 2 hours away from Calgary. Weekends are always busy."
Once out of the vehicle, with tags for the valet, and our luggage, it was time to head inside and check-in.
Explore other parts of this trip:
Part 1 – Planning, Flight & Rental Car (this post!)
Part 3 – Banff Springs Hotel, Fairmont Gold
Part 5 – Banff National Park sites