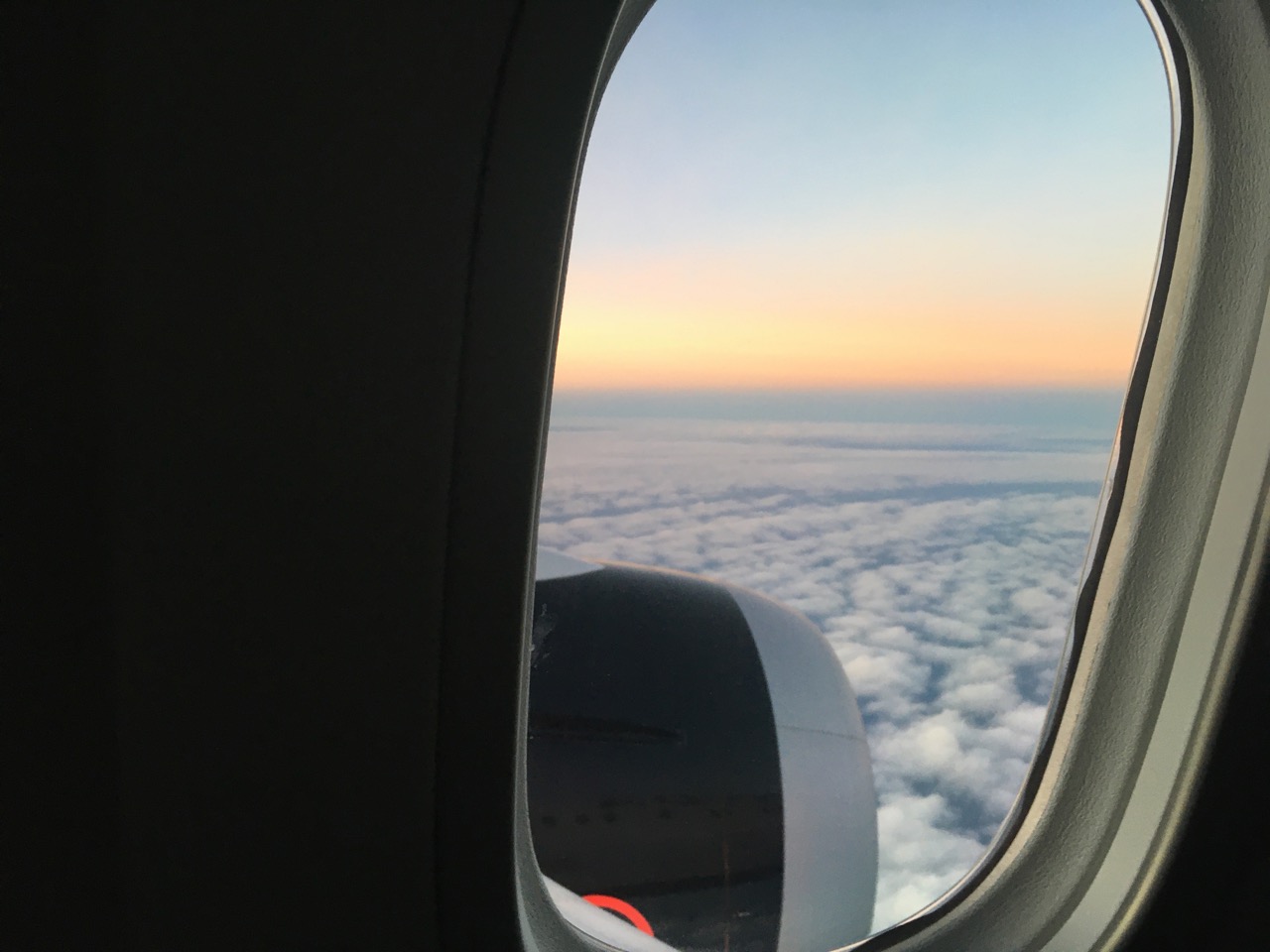 2020.10 – Flight Calgary to Toronto
Our four nights in Banff were over faster than we had thought. Here's our journey to the airport and return flight to Toronto.
wildlife
Check-out was quick and easy. As we passed through Canmore I remarked "Hey I think I see something on the side of the road." As we had plenty of time for our drive to the airport we doubled-back and sure enough there was a small herd of Caribou! After a few pictures we returned to the highway in the proper direction and made the effortless drive to Calgary International Airport.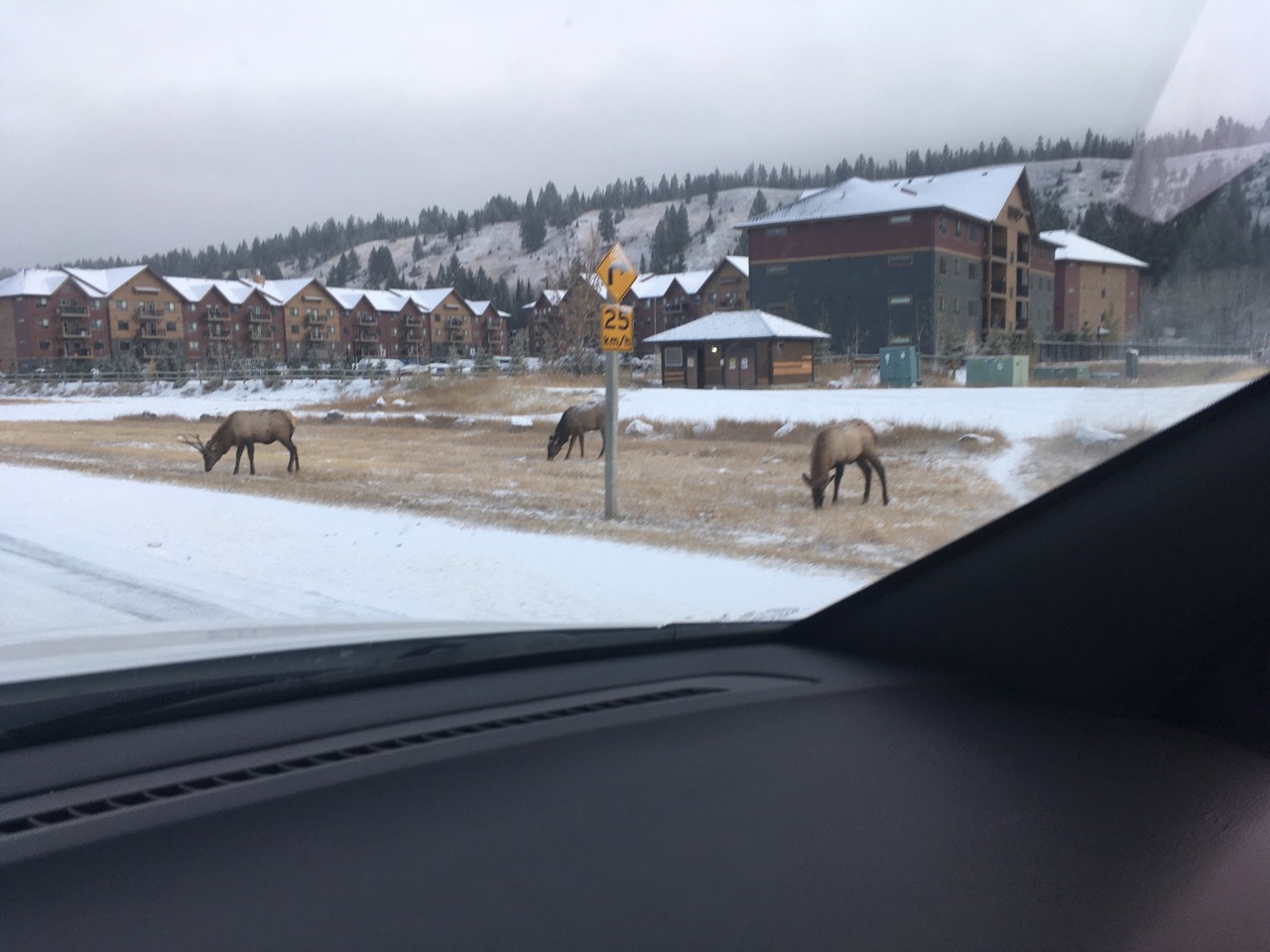 Flight
Check-in in Calgary was as quiet as Toronto, and we were through security quickly. With a lot of time to spare before our flight we grabbed lunch at one of the open restaurants in the terminal (Chili's I think). No pictures, as it was nothing noteworthy.
At the gate, zone boarding was strictly enforced with Little Miss in zone 6, and I was in zone 8 again. Just like our flight to Calgary I had pre-purchased our seats to be at the front of economy, and again we lucked out with no seat-mate, and enjoyed the extra space for our flight.
Air Canada AC146
Scheduled Departure 13:30
Scheduled Arrival: 19:00
Our flight was on time for departure, however with the flurries that occurred throughout the area de-icing was required. As we passed this KLM plane it made me ponder, how many people travelling from KLM's hub, or was this a flight filled with cargo?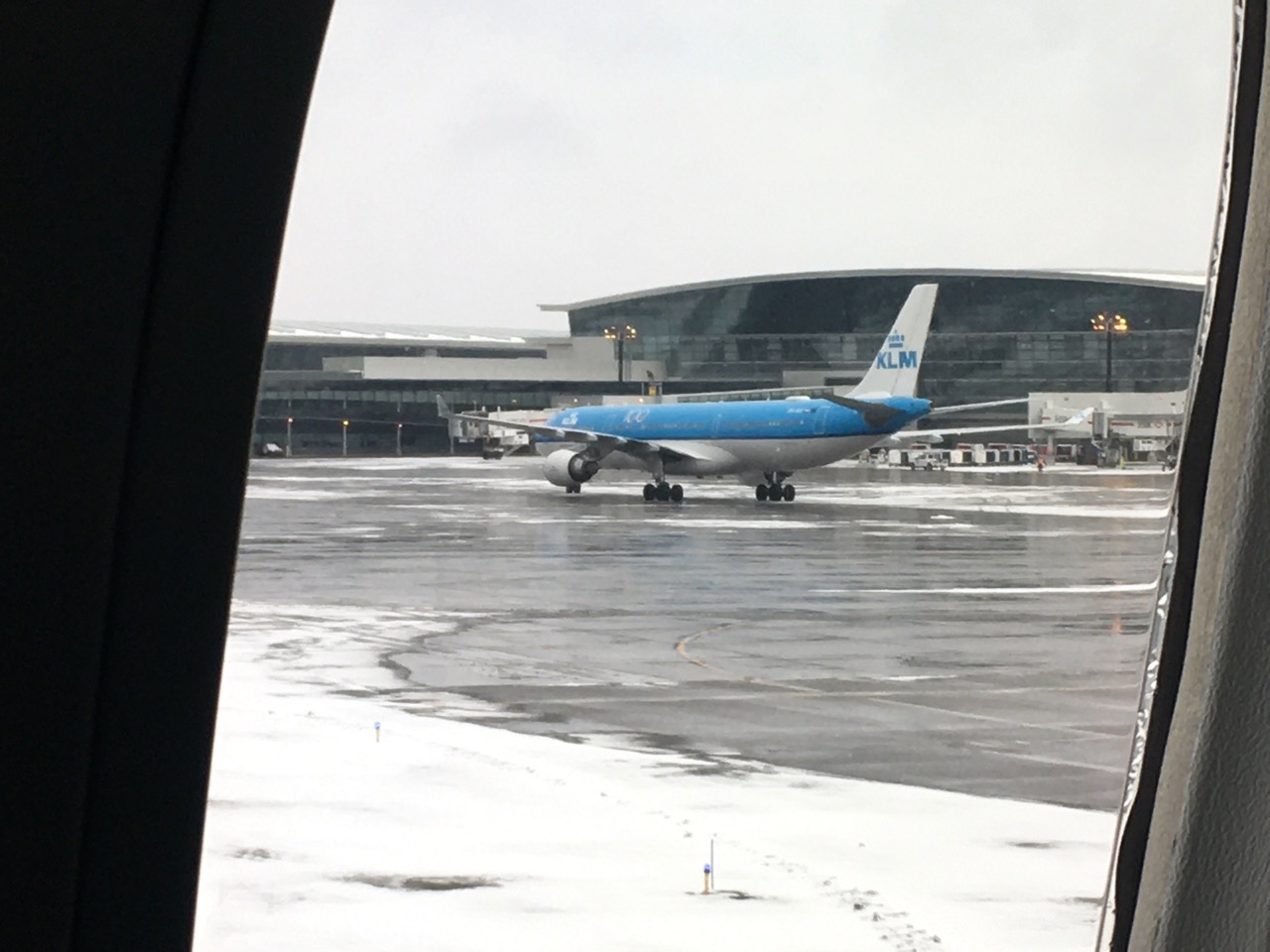 Only one aircraft was in front of ours for de-icing, and by 14:09 the 787 was off the ground pointed east towards Toronto.
Like the flight to Calgary, services was minimal. Drink service was performed quickly after the seat belt sign was turned off. As well, the pre-ordered sandwich arrived at the same time. The flight was smooth, and uneventful — perfect!
The sun had set before our landing and I snapped a few pictures of the skyline as the plane made its approach to Pearson.
We landed on the runway closer to Terminal 1 that had us at a gate within five minutes. The only downside, as I've found at Toronto, baggage took its time. Approximately 45 minutes after landing our luggage appeared and it was time to hop in our vehicle and head home after an excellent four days in Banff.
Explore other parts of this trip:
Part 1 – Planning, Flight & Rental Car
Part 3 – Banff Springs Hotel, Fairmont Gold
Part 5 – Banff National Park sites
Part 6 – Flight Calgary to Toronto (this post!)