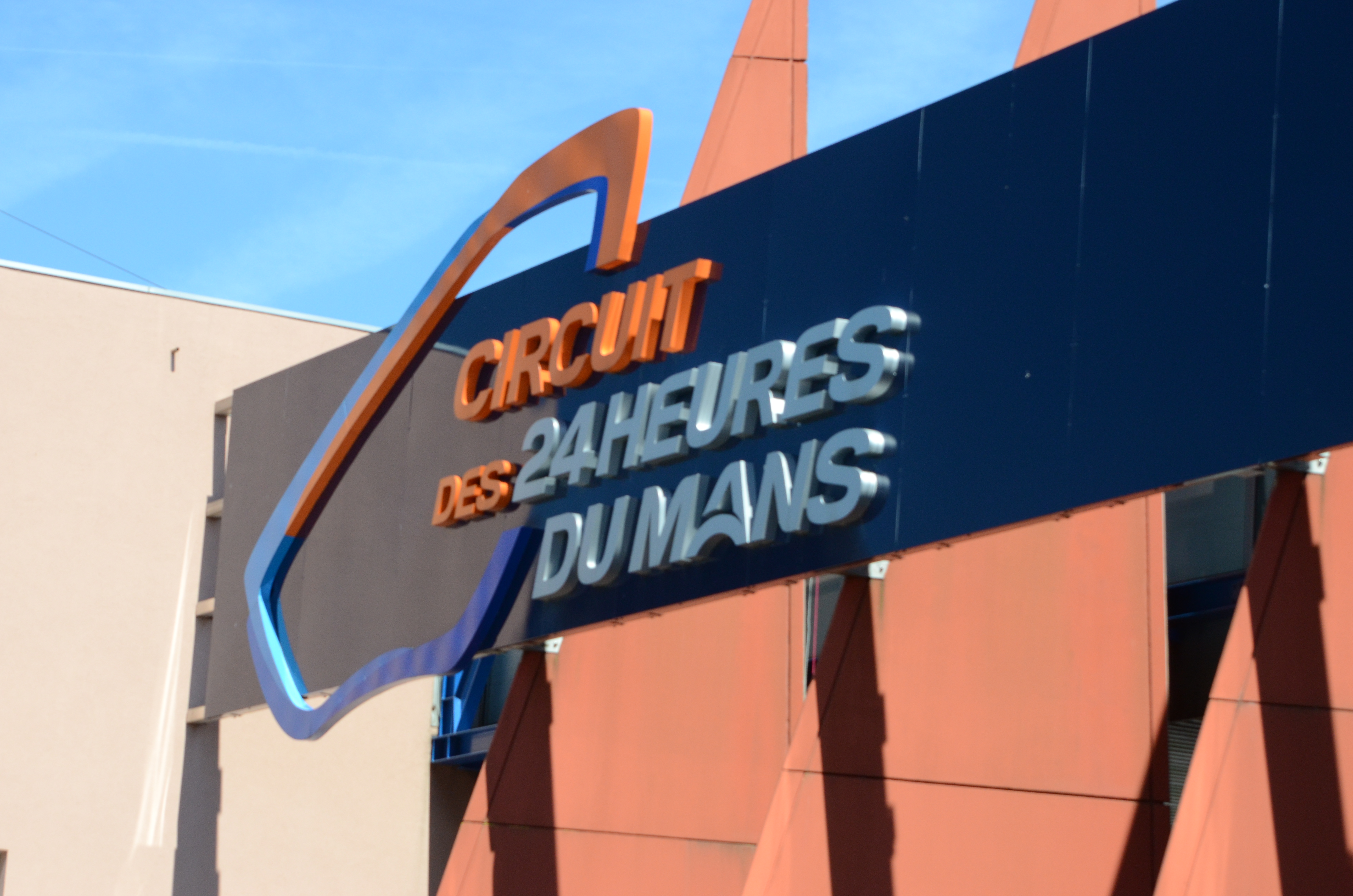 Journey to Le Mans!
Friday arrived, and I admit, I was excited as it meant that after checking out of the hotel, our next stop would be Le Mans. I had followed part of the final qualifying the night before and woke up to learn that Toyota had Pole position(the first car), beating Porsche for the start on Saturday.
Who is ready for lots of car pictures?
Check-out was fast and efficient as we had used a prepaid rate to pay the hotel bill. The receptionist then ordered us a taxi that took us to our car rental.
Escape from paris
Where possible, rent from a location that isn't at an airport or major location. Why? Most providers will charge a "premium location" or similar sounding charge for using a convenient location. For us I had selected a Sixt that was a short taxi ride away. The neighbourhood wasn't inviting — while waiting for the employee to retrieve the car from its parking garage Amber went to a local store to find something for breakfast. She returned and remarked "not only did the food look sketchy, I couldn't even find a best before date on the stuff."
Our rental car was a DS 4 Crossback. Although it is made by Citroen, DS is a separate brand, and once shown by the Sixt rep my other options, I easily opted for the DS. The final, and best piece of help by the rep was that he changed the GPS language to English, so I could ignore directions in my native language.
Even though the rental car location was close to Paris' ring road, construction and my doubt of the GPS turned the drive to the highway into a 45 minute affair. Construction appeared first, having traffic divided by construction that prevented a lane change onto the ring road. GPS adjusted the course, and this is where being a North American in Europe debuted. GPS instructed a right turn — I thought it couldn't be a road and kept going. As we drove by, Amber was more than willing to point out it was indeed a road. Narrow, tiny, but still a road. My choices improved as we stopped at a store to grab food, drinks and most importantly to her, tea. The hunger pains subsided by the time we finally got on the ring road and made the turn to head towards Le Mans.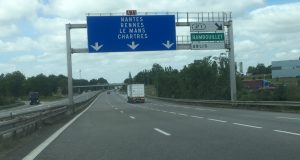 Driving on French highways once outside of Paris is a breeze and pleasure. Although the highways are tolled (credit cards worked flawlessly), the speed limit is a reasonable 130 km/h, and photo radar is marked before you drive by it.
The first time I encountered photo radar in France was weird — traffic was moving above the posted speed limit, then a sign appeared resembling a 19th century camera. At this point all motorists tapped their brakes to ensure everybody was doing exactly 130 km/h. A moment passes and then drivers return to their prior speeds.

The roads are well maintained and the service centers were clean, had a convenience store and cafe.
Arriving Friday afternoon in Le Mans is also a test of patience. It felt like all 250,000 visitors were arriving at the same time as us, and we had all taken the same exit to drive through the city and arrive at the track.
Corvette Corral
As we had attended racing events in both Canada and the US before, I wanted the opportunity to meet fellow Corvette owners. (Spoiler alert: I own one of these 3,300 lbs life size Hot Wheels)
After navigating around long lines to enter the camping areas we arrived at the Corral just as the driver signatures for the 64 car were in full swing.
After signatures, I wanted to check-in at the hotel while there was a person at the front desk. We then made the hour drive to Laval where we checked in, emptied the car of our luggage and headed back to the track.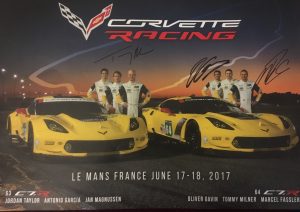 In addition to being able to park at the Corral, I had purchased a parking pass that gave us a ten minute walk to the entrance by the museum and very close to our grandstand seats.
Sponsor Gallery
The section directly behind and north of the pits is an area filled with race team gear, pop-up shops and vendor displays. We arrived around 7pm with few people around as most had vacated the track to attend the driver's parade in the city centre which enabled us to easily walk around.
Porsche had a half real, half Lego prototype class race car on display:
When we returned to this area after our pit walk most of the shops had closed for the night. So we'll just have to return on Saturday to do any shopping.
Pit Walk
Included in the general admission ticket is pit lane access on Friday. The access is open from late morning until 8pm. As we arrived near the end, the crowds were nothing compared to stock pictures that are on the ACO website.
The a manageable crowd gave me time to snap as many pictures as I wanted without feeling rushed. Pits were occupied by few if any crew. It's understandable as qualifying concluded at just past midnight Thursday night, and the start of the race was less than 20 hours away.
Video and pictures I recall do not translate that pit lane has an incline up to pit out.
A few more pictures from pit lane:
After leaving the pit walk we passed most of the additional crew and hospitality space for the teams. When we arrived at the Corvette Racing area we met and talked with Steve, James and David and gained some insight into the vast amount of work and team involved to get to this race. We wished them well, and headed to dinner at the Corvette Corral.
Corvette Corral Dinner
The Corral is organized by a local fan, Gerard, and his personal touches add to the welcoming nature of the Corral. The food was prepared fresh and a delight.
When we arrived, the group was much smaller — predominately European based fans who were camping for the weekend. We had a chance to talk with Gerard, find out the schedule for Saturday and what the Corral provided.
Some attendees had packed a tent and their weekend gear into their Corvettes and drove to the track to watch Le Mans. Who said storage space is at a premium in a sports car?
Dinner was a gorgeous two course family style meal. Several salads, my favourite being a beet salad, were available, and the main course was Ham and Risotto.
The only downside was that we finished dinner and left around 10:30pm trying to chase the last of the twilight to our hotel.
Permalinks to other parts of our June 2017 trip:
Overview
Le Mans – Friday