2018 – Part 28 – Launceston to Hobart
After returning from the ANZAC sunrise ceremony and a quick nap, we were up and ready for the rest of the day. The goal: Return to Hobart without having to navigate hairpins or switchbacks.
Midland highway of Tasmania
Before leaving Launceston, we performed our usual routine — get a cup of Tea to go. Once she had it in hand we started to make the drive from Launceston to Hobart. Our journey today on the map was taking most of highway 1, "Midland Highway" south from Launceston to Hobart: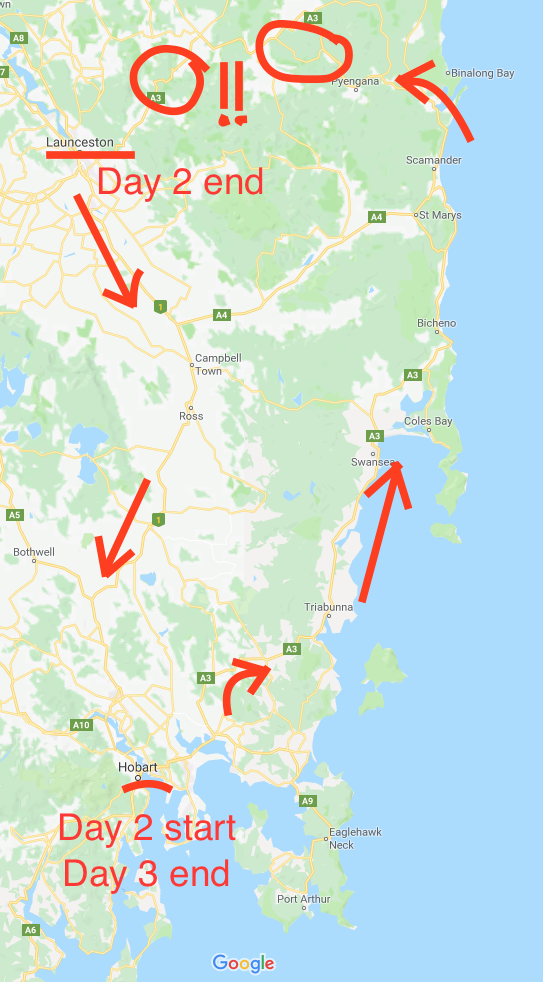 Although the highway started out being a divided highway, there were many sections that had yet to be expanded. Given the hour of the day, and it being a national holiday traffic was light (almost non existent). In one spot where the road turned into a single-lane road, in a small town, we got to see a few interesting things. First up was this house: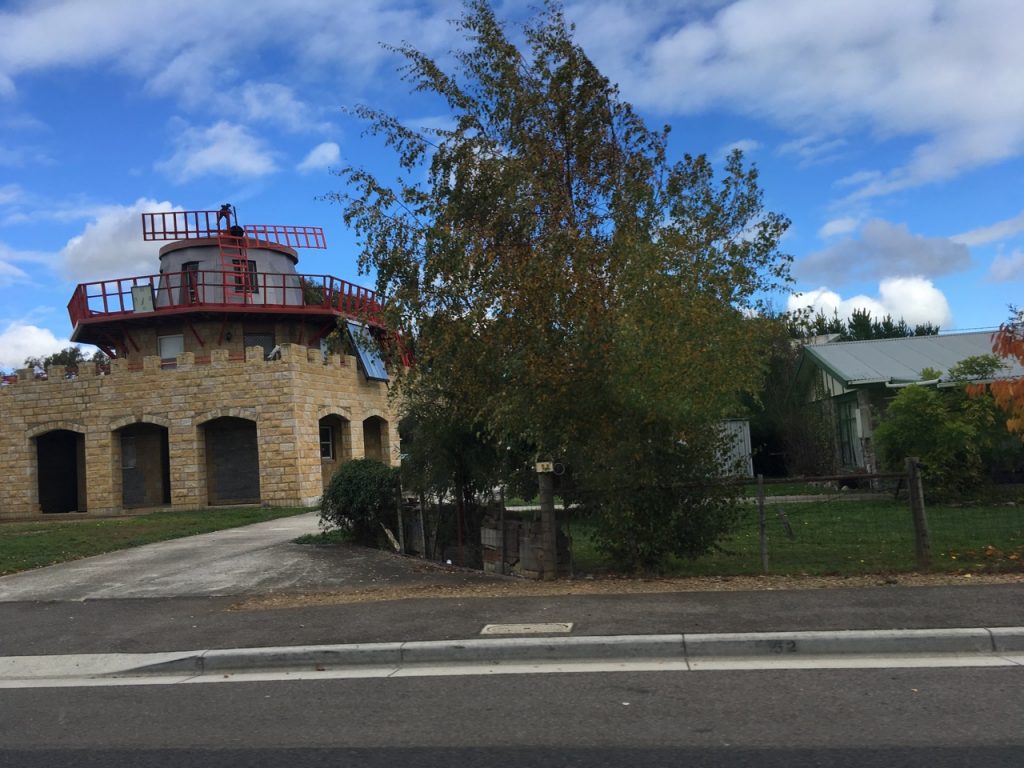 My take on the style: courtyard castle on the ground floor, with the top part being a version of the Moulin Rouge if it had been closed and left vacant for a period of time.
In town we spotted something cool (to me), a car dealership. Not just any cars were in the window available for sale, but Chevrolet's favourite cars, a Corvette and Camaro. We stopped to get better pictures: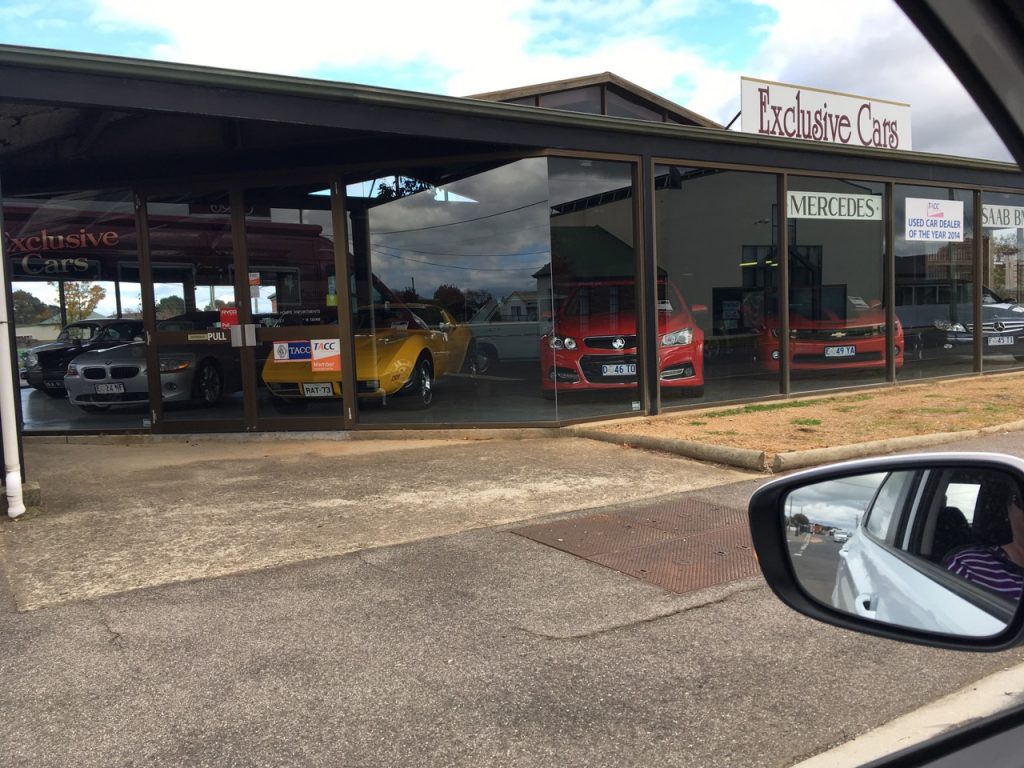 We stopped and Amber graciously hopped out to take a few more pictures: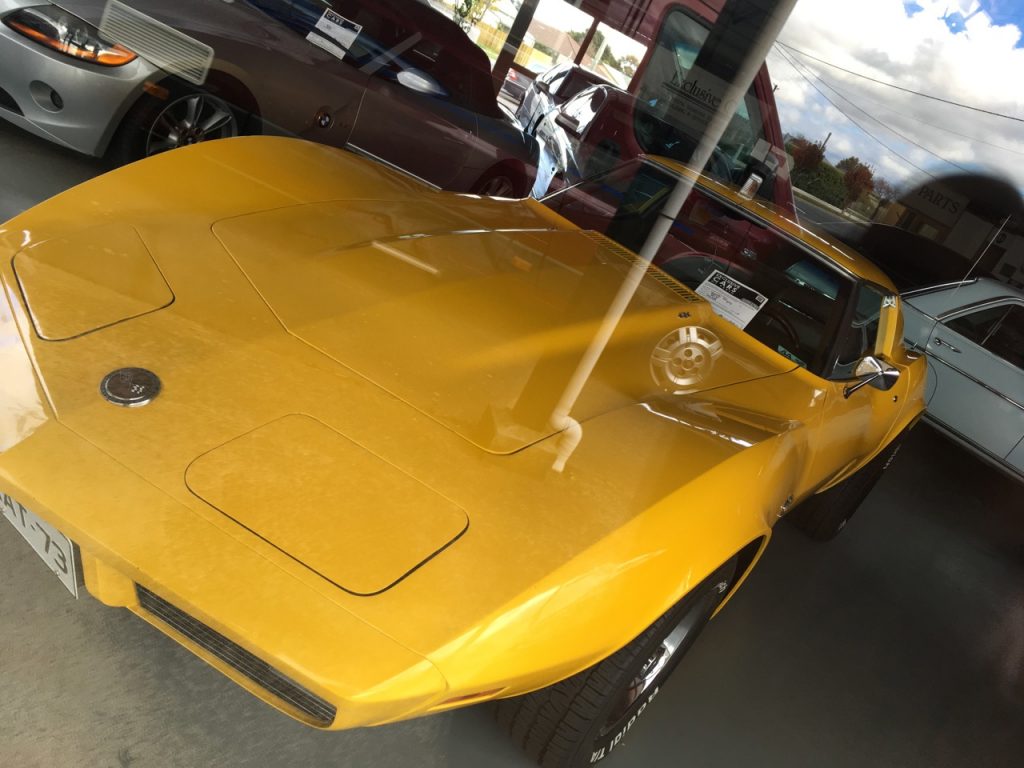 Or the Camaro: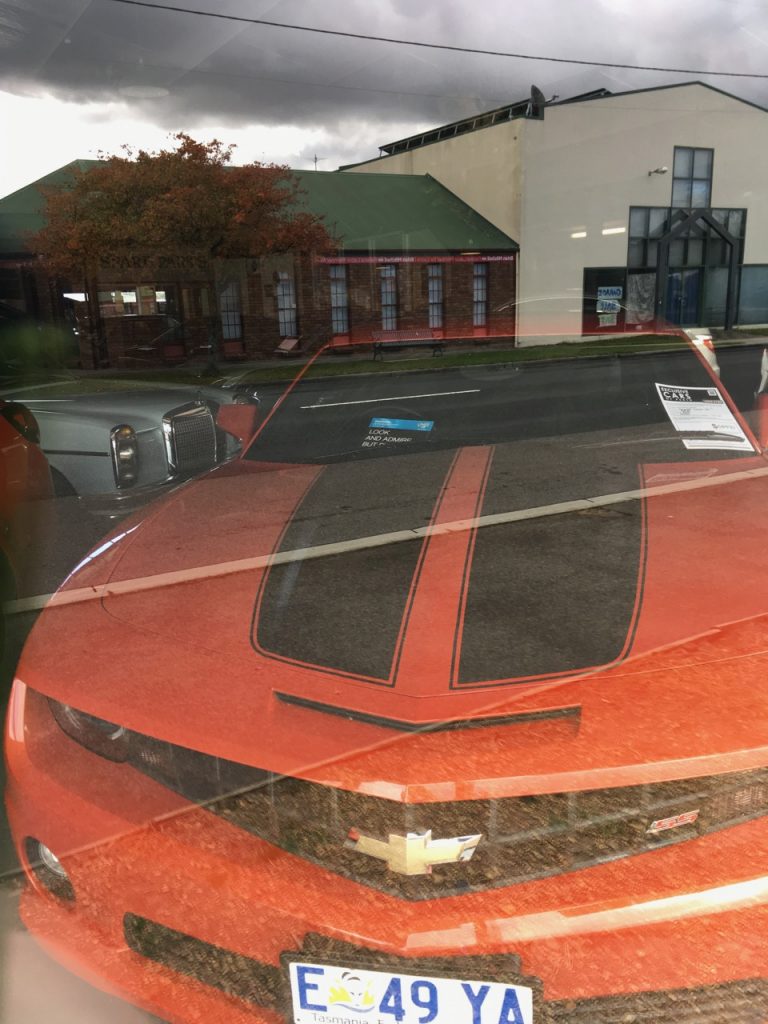 The rest of the drive towards Hobart was easy going and beautiful.
Driving this route was stress free. It made the challenging roads from yesterday feel like they were from another country or planet.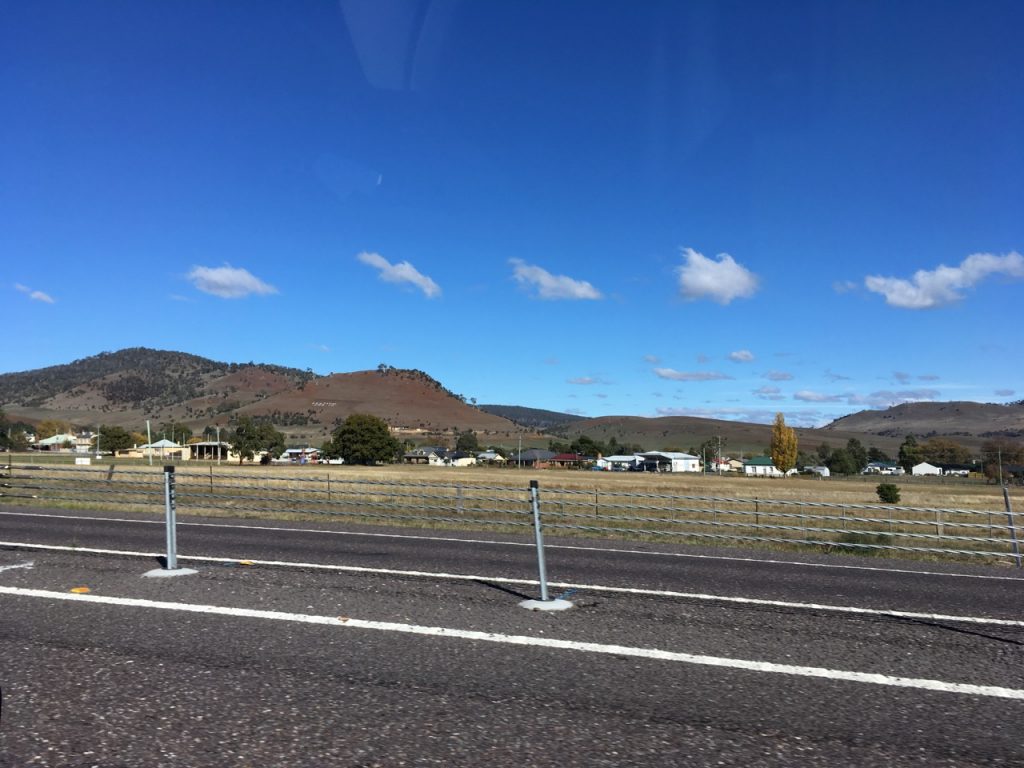 We turned off the highway and headed towards a winery for lunch. The food was okay, however it wasn't anything special in our mind.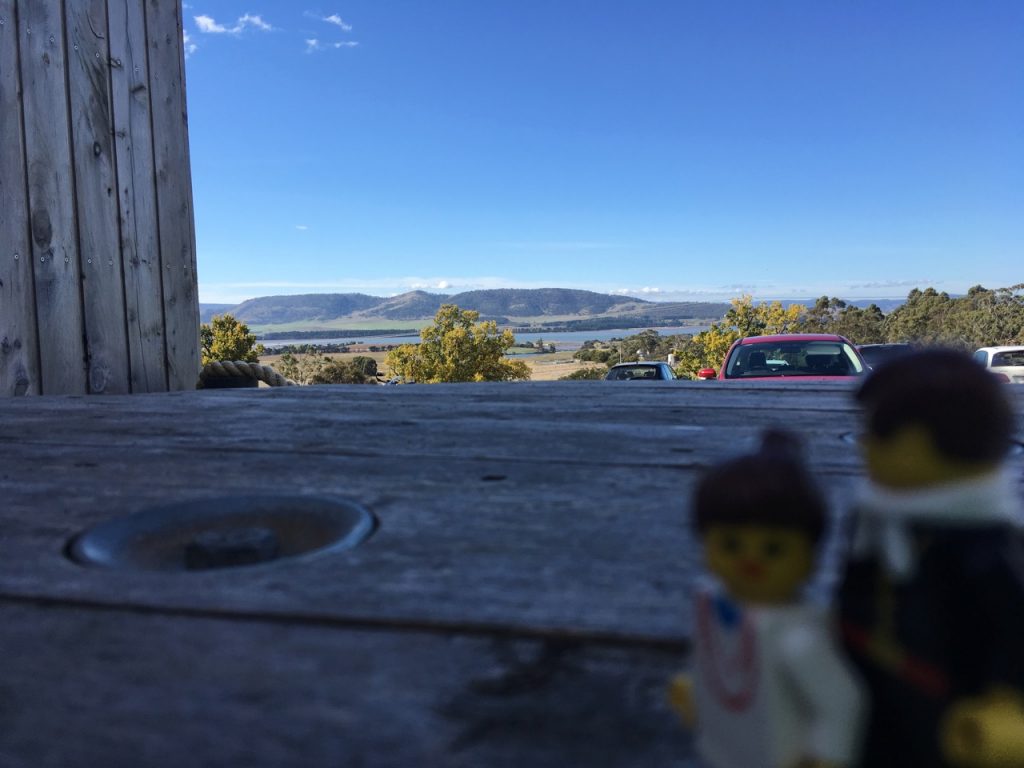 After lunch we went to Frogmore Winery because they appeared to be the only winery in the area that made a Riesling and was open.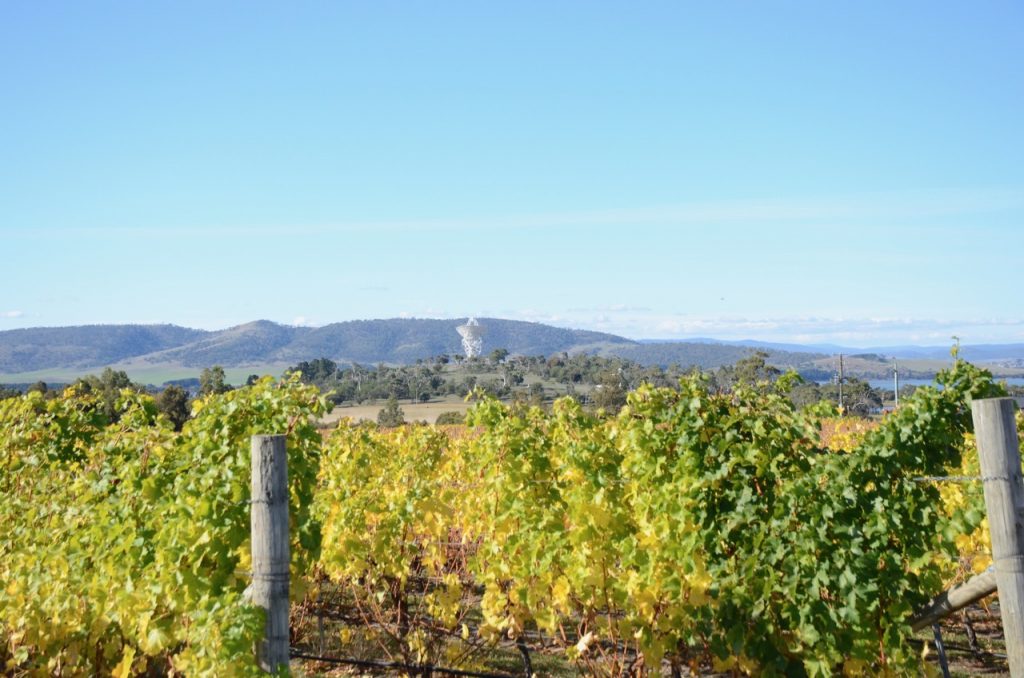 Upon our arrival, they did have an odd neighbour to their vineyard.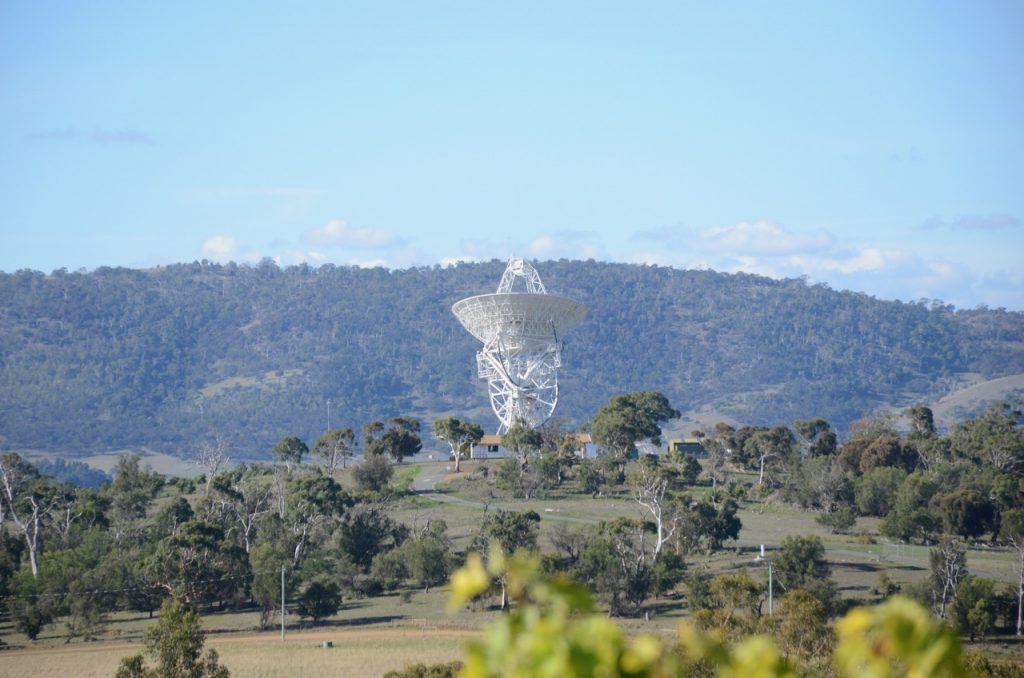 This vineyard was busy. They had an extensive bar, lounge and restaurant area. The wine sampling area was just as busy. After sampling their Riesling (it was good), we proceeded to our hotel in Hobart. After checking-in, I had hoped that we could watch a movie, however being a national holiday all the movies that interested us, were sold out. The walk itself was very hilly, and the movie theatre was only a few hundred metres away. Even though we had driven through parts of Hobart, it wasn't until we were walking did we notice how hilly is the city. This resulted in Amber placing a limit on our hill climbing. This didn't limit what we saw in Hobart though.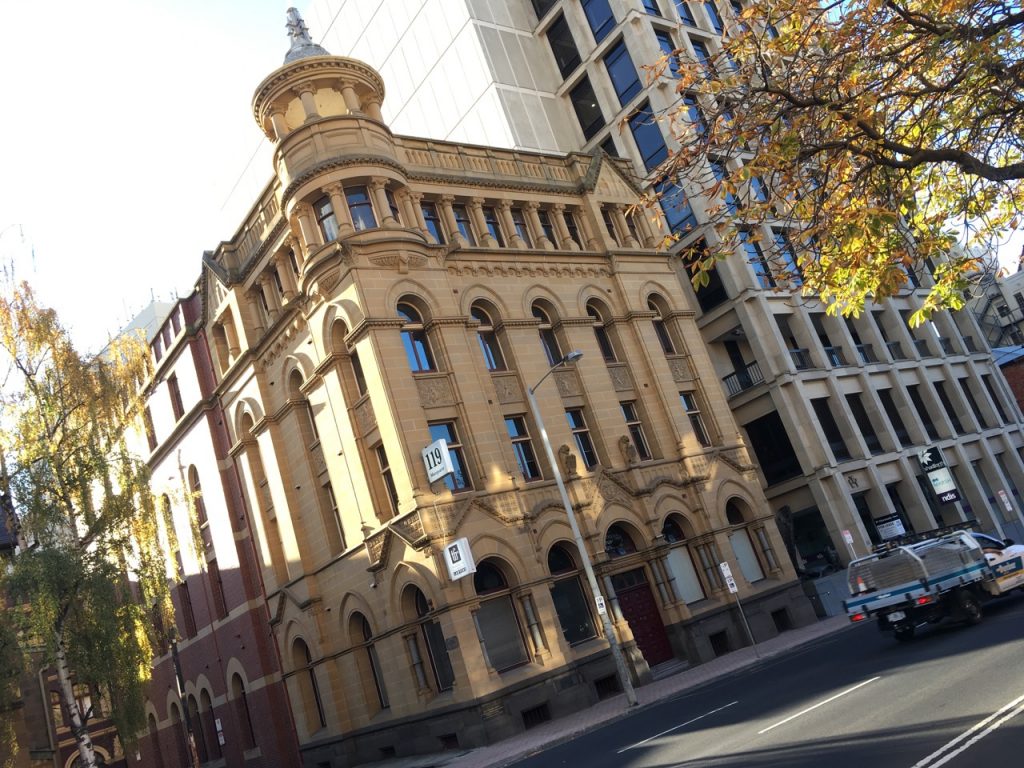 We had a lazy walk around downtown as we took time to enjoy the scenery but also scope out dinner options that wouldn't require us walking up many hills.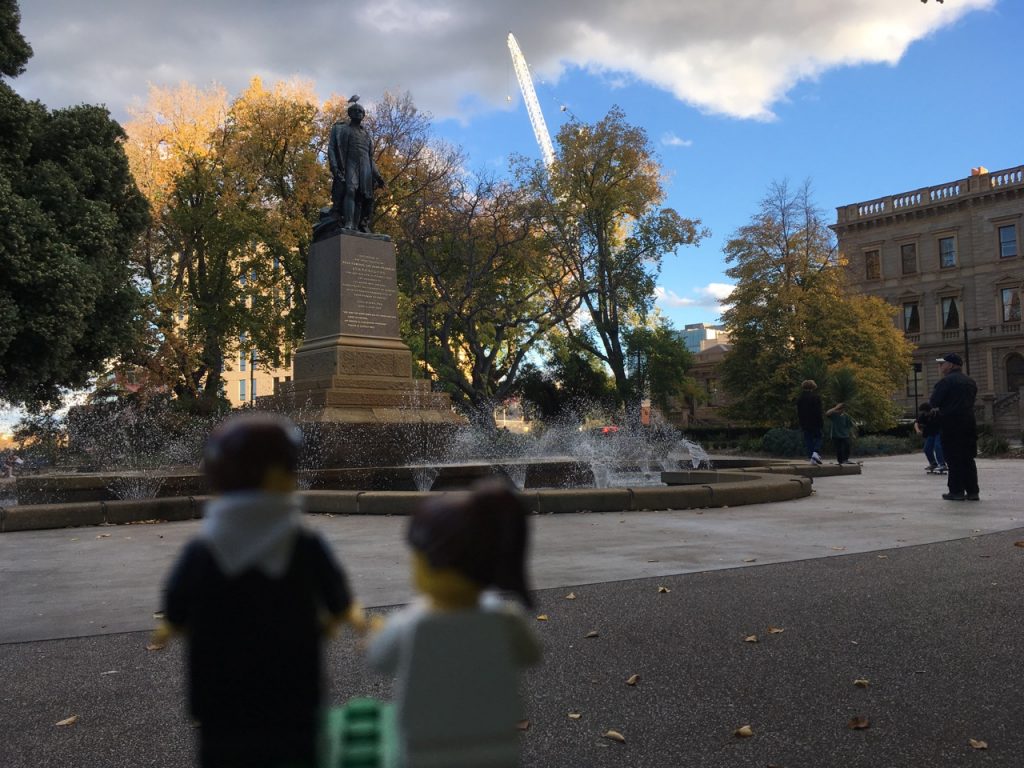 We passed a few more buildings once we decided that we would have dinner at one of the many restaurants at the harbour.
Hobart Harbour
There are several restaurants down by the harbour serving many things. Amber looked at reviews online, my pick of the Drunken Admiral (it sounded cool) was overruled and we had Chinese. Before the restaurant opened, we walked around the harbour. Here was a dedication to a hardy Tasmanian who headed south to Antarctica.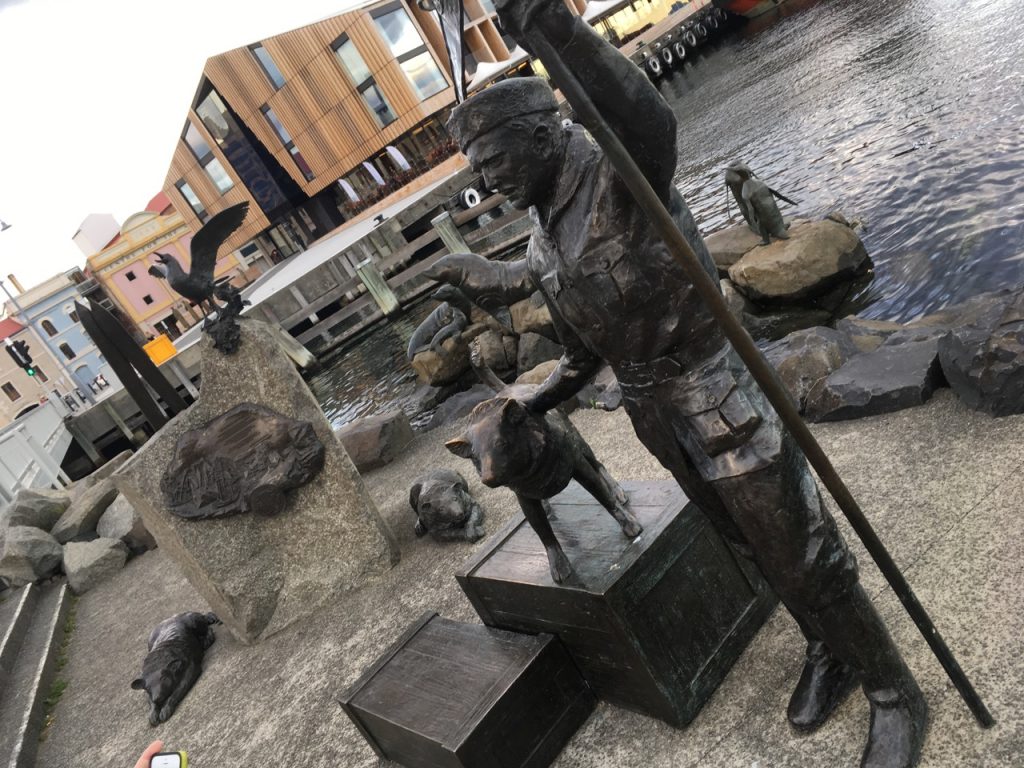 It was a good choice that we had dinner as soon as it opened. Before we finished our meal every table was filled by the time we left. Now filled from dinner we returned to our hotel to unwind before tomorrow's flight back to Melbourne.
Finally, a few pictures around the harbour:
Read more about our trip by clicking here.