2018 – Part 35b – Pictures from Rydges Sydney OF THE Airport
The previous post was my hotel review of the Rydges Sydney Airport. This post is designed for anybody who appreciates, likes, loves, pictures of airplanes. If you want to see a lot of plane pictures, this is the blog post for you!
Room
When booking a room it is possible to reserve a room that faces the airport. Up on the higher floors, our room gave me a great opportunity to take pictures during our lazy morning after breakfast. Sydney's international terminal was not just busy but full of large aircraft, Boeing 777s, 747s and Airbus A380s are frequent visitors to the airport. With a room like this it was easy to take a lot of pictures!
Asian airlines that don't fly to North America
Let's start with the easiest ones, such as Garuda that flew us from Jakarta to Sydney to start this vacation. On the Monday morning the aircraft had arrived from Bali: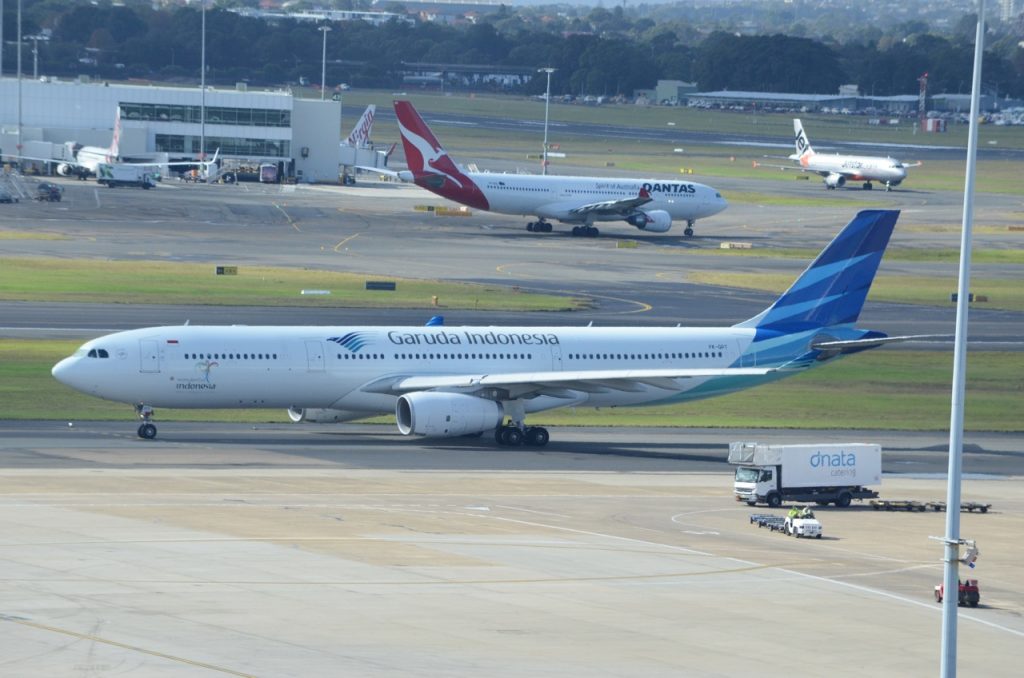 Even though I spotted many of these during our stopover in Jakarta, Air Asia X planes have a distinct colour choice compared to other airlines: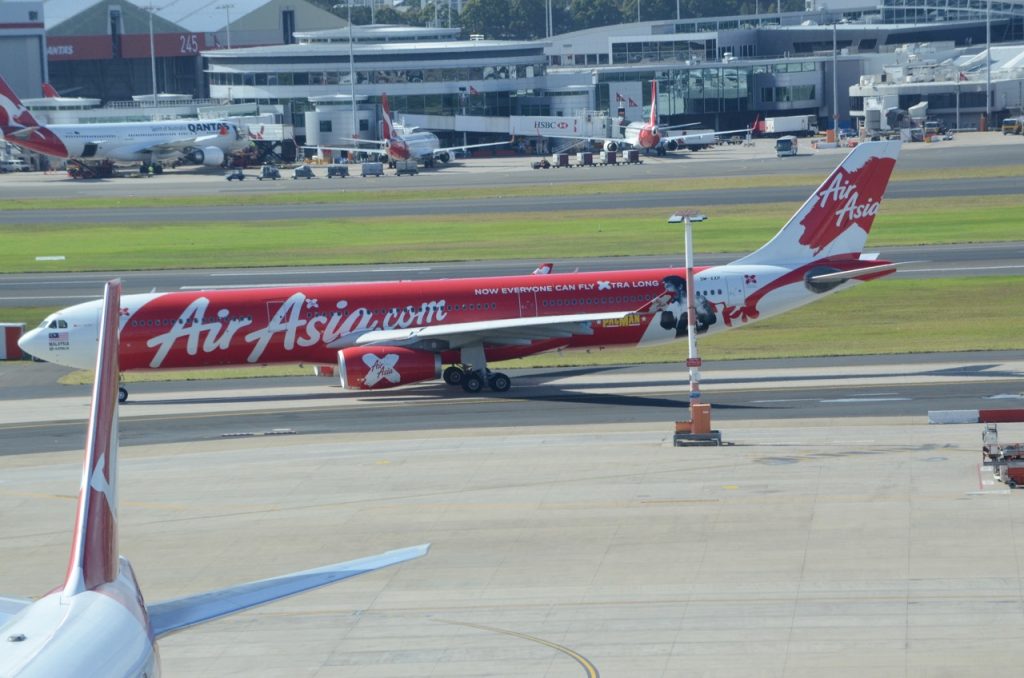 Hiding in the background is the rear wing to Air Vanuatu: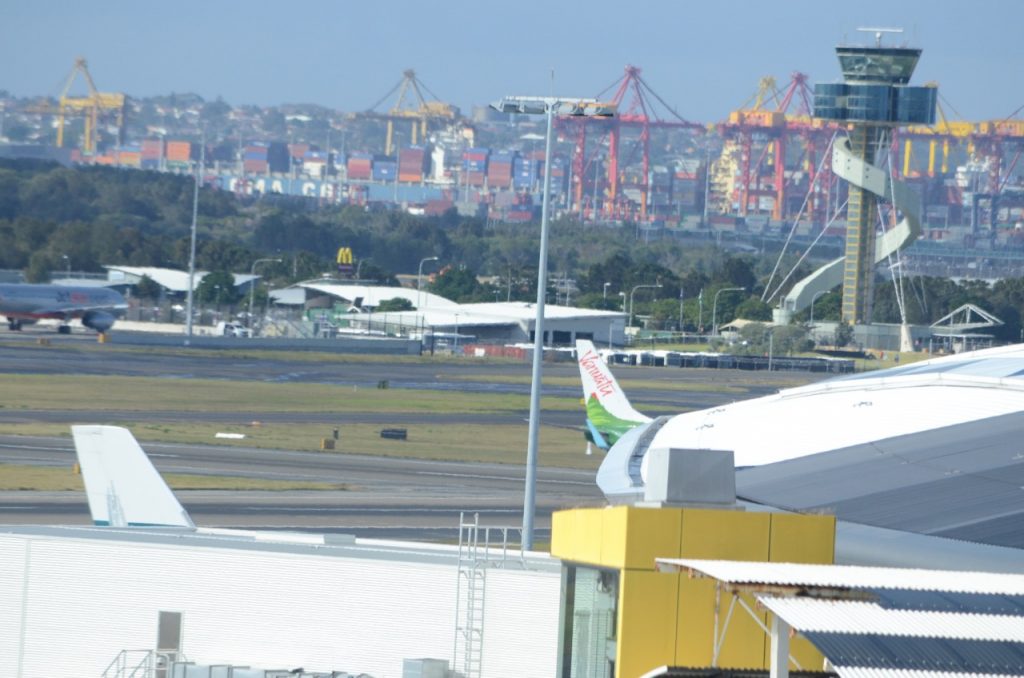 Busy Airport
The airport had its parallel runways in full operation during the morning, and the runway closest to the terminal had a steady mix of arrivals and departures. I enjoyed getting a few pictures as the planes touched down:
As well, with many planes being towed to and from gates, this added to the many aircraft on the move at the terminal, such as this Qantas 747 waiting for an arriving Qantas A330:
Scale
Smaller planes, such as Boeing 737s or Airbus 319s & 320s appear tiny compared to 747s and A380s. The size of the planes stand out when you compare them to ground crew: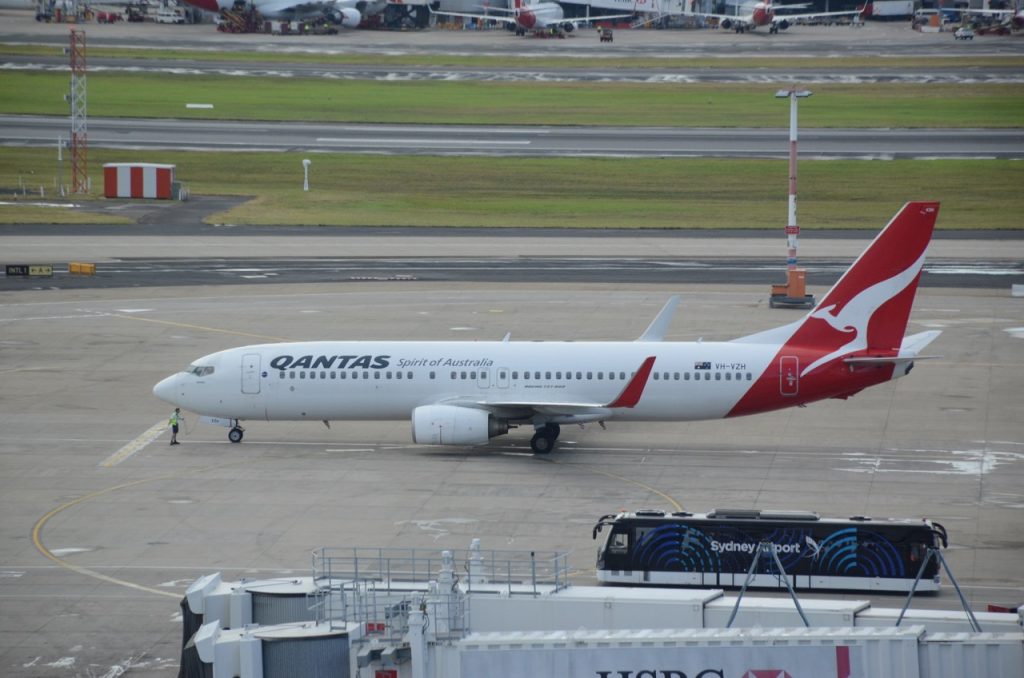 And then workers by the front wheel of a parked 747:
I spotted the type of aircraft we would be taking later, an Air New Zealand 777, to Auckland. The smaller, 737s are used to fly to other destinations in New Zealand, such as Wellington or Christchurch.
Take-off
I didn't get many departing aircraft, however tracking an A380 was big enough to see it inch into the air (8 pictures in the slideshow).
And then I followed this Asiana airlines on its take-off:
I quite enjoyed my time to watch the air traffic at the airport. Before long our time in the hotel room was over and we headed downstairs for lunch.
A few more pictures:
Read more about our trip by clicking here.