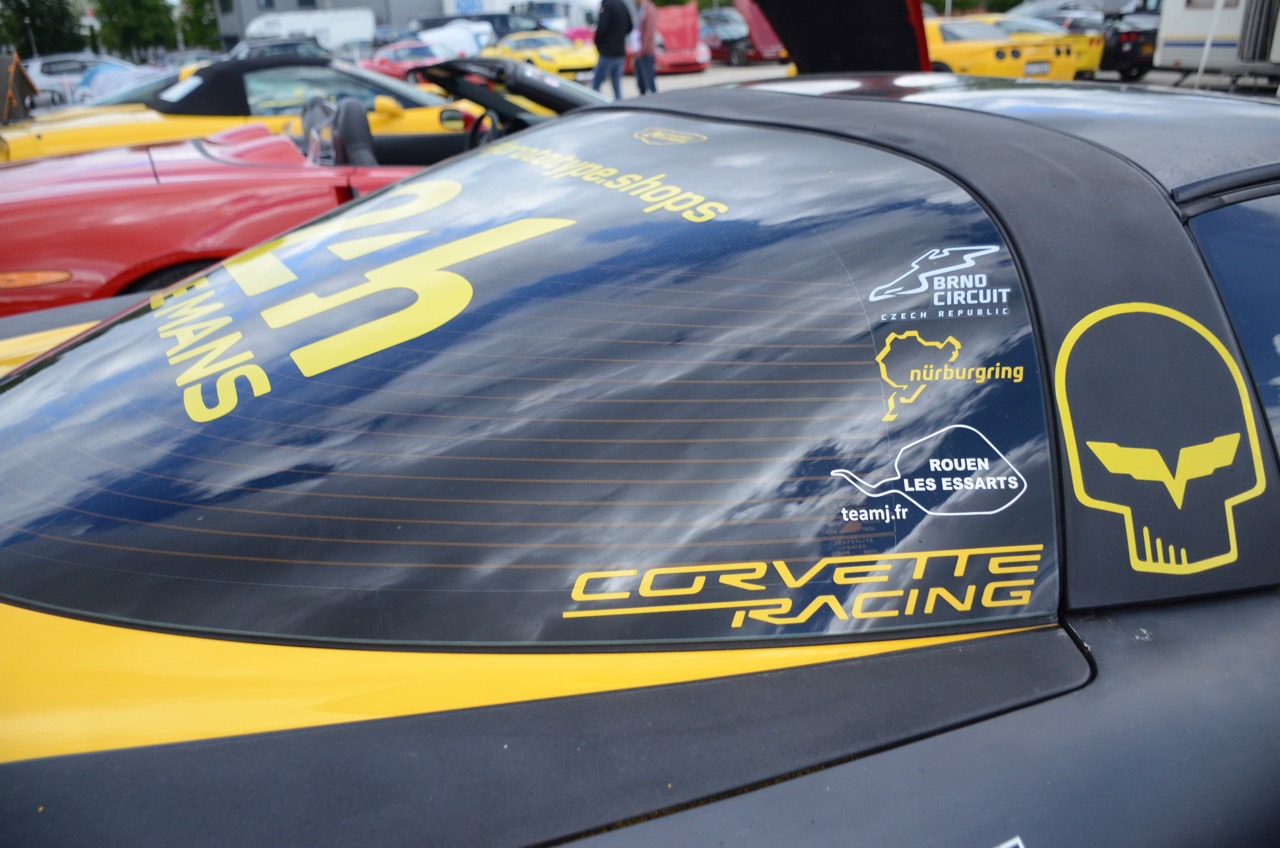 Le Mans 2019 – CORvette corral
Two parts in here. Many pictures focused on the Corvettes from across Europe and even USA that were on display at the Corral for the 2019 running of 24h Le Mans. Second part is background on the corral (in case you are planning to attend).
Corvette corral pictures
As promised, here are pictures from the Corvette Corral at Le Mans. This effort is entirely organized and run by fans of Corvettes and Corvette racing.
Here are a few pictures from the Corral taken on Saturday.
Although this C7 Z06 looks cool, the stories from the owner were even better. He had spent few weeks travelling from Norway to Le Mans, spotting at Spa, and Nurburgring to get on a track. With a bit of spirited driving he had to stop along the way to get new tires!
Sprinkled among the many European plated vehicles were a few vehicles that were shipped by their owners from North America.
Almost every generation was at the Corral, including these excellent examples of C1 & C2 generations:
The corral was not exclusive to Corvettes, as some individuals (like us) brought a rental car. The person in attendance who travelled the greatest distance was an individual from New Zealand!
Corvette Corral
Registration
Make sure to register ahead of time. Registration is important to ensure there is sufficient space for all the vehicles, as well as it is the opportunity to help to determine required quantities for meals.
Meals are an additional cost and I found them to be of good value.
Corral location
In the 2 years we've attended the corral has been in the same spot. It's a 10 minute walk to the general admission entrance to the track and from there another 20-30 minute walk to the start/finish line area. In 2017, in the heat we made the walk and it was okay, however was very hot. With the crowds there wasn't any breeze to help cool you. In 2019, we drove another couple with us to the entrance by the museum. This worked out solely because traffic was light.
What to do
This is a designated area for Corvette owners to park their vehicles. Camping is is available, and is part of registration. On site, for our exclusive use are washrooms as well as showers (for those camping). A large covered tent is great to be used as shelter from the elements, and with the Corral not being overrun by 250,000+ spectators, feels calm and quiet.
Benefits
Typically on Friday an appearance by Corvette Racing drivers is possible along with some GM executives. This is a chance for European owners to meet them. There is something very cool seeing so many different European licence plates on "America's sportscar". If you drive your Corvette — you can volunteer your vehicle to participate in the Driver's Parade (5pm the Friday before the race). Preference is coverage of all generations and first time participants in the parade.
The corral also provides the opportunity, if secured with ACO, to do a full touring lap of the track. Although you can drive (link to my video) the section of public roads outside of the weekend, I could only imagine what you could do with private laps of the track!
Explore other parts of this trip:
Part 1 – Air France Economy, Toronto to Paris (YYZ-CDG)
Part 2 – Overview of a Week in Paris
Part 3 – Day trip to Champagne Region, Moet and Chandon Cellar Tour
Part 4 – The food while in Paris
2019 – 24h Le Mans Pictures post
2019 – 24h Le Mans – Corvette Corral Corvette Pictures (this post!)
Part 8 – Augsburg to Amsterdam
Part 10 – Sheraton Schiphol Airport Hotel