June 2019 Toronto To paris air france economy
After attending the 24 hours of Le Mans in 2017, I joked to Little Miss that it would be great to return. Little did I know we'd be returning just 2 years later! This time around friends joined us for our time in Paris before the race.
Trip Plan
This trip came about thanks to friends. They wanted to go to Paris and wanted us to join them. I asked one important question "Do you care what time of year?".
Their reply was "Don't care".
"Awesome" I thought as I immediately wanted to find which weekend the 2019 running of Le Mans would occur. Originally, I thought that they would join us for the race, however they were not interested in being around 250,000+ race car fans for a race that takes a weekend. With Little Miss onboard to return to Le Mans (in exchange for a present to be purchased in Paris), planning started in earnest. The plan was:
Paris
Le Mans
Augsburg (to visit my brother)
At time of booking airfare the best option was with Air France/KLM. This opened the chance to have a long connection in Amsterdam to let us get downtown to have Dim Sim. Once the transatlantic tickets were booked, a separate Paris to Munich flight was required. Accommodations, attractions and rental cars then fell into place. Our friends purposely did not want to schedule every moment of the trip, agreeing only to a day trip to the Champagne region. [Little did I know this would be a great plan]
Time to fly
Our departure date finally arrived. Leading up to it we were busy as usual. I had just recovered from a cold and was relieved that I wouldn't be under the weather for our trip. Sadly though, Little Miss started coughing the day before we left.
On departure day we arrived at the airport early where check-in for Air France & KLM at Toronto now feature self service bag drop. Our bags were dropped off in less than 5 minutes being so early, and security was also a short wait being under 10 minutes. No lounge access this time, and we sat by the gate and waited until boarding commenced.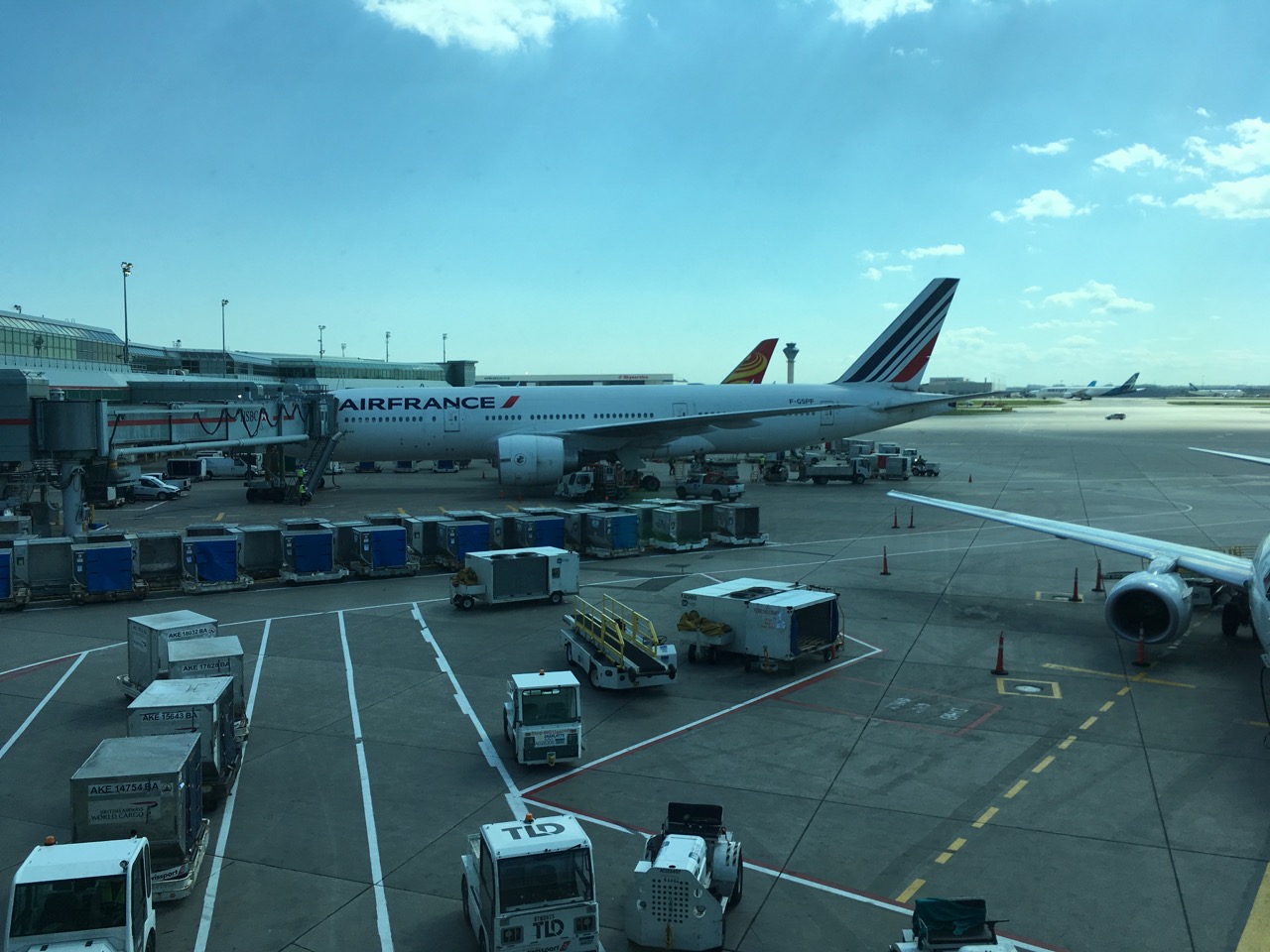 Air France AF351
Toronto to Paris (YYZ-CDG)
Scheduled Departure 6:25pm
Scheduled Arrival: 7:55am+1
Economy Class 46K & 46L (Duo Seats)
Once on board, every economy seat had a blanket, pillow, headphones and eye mask waiting for us.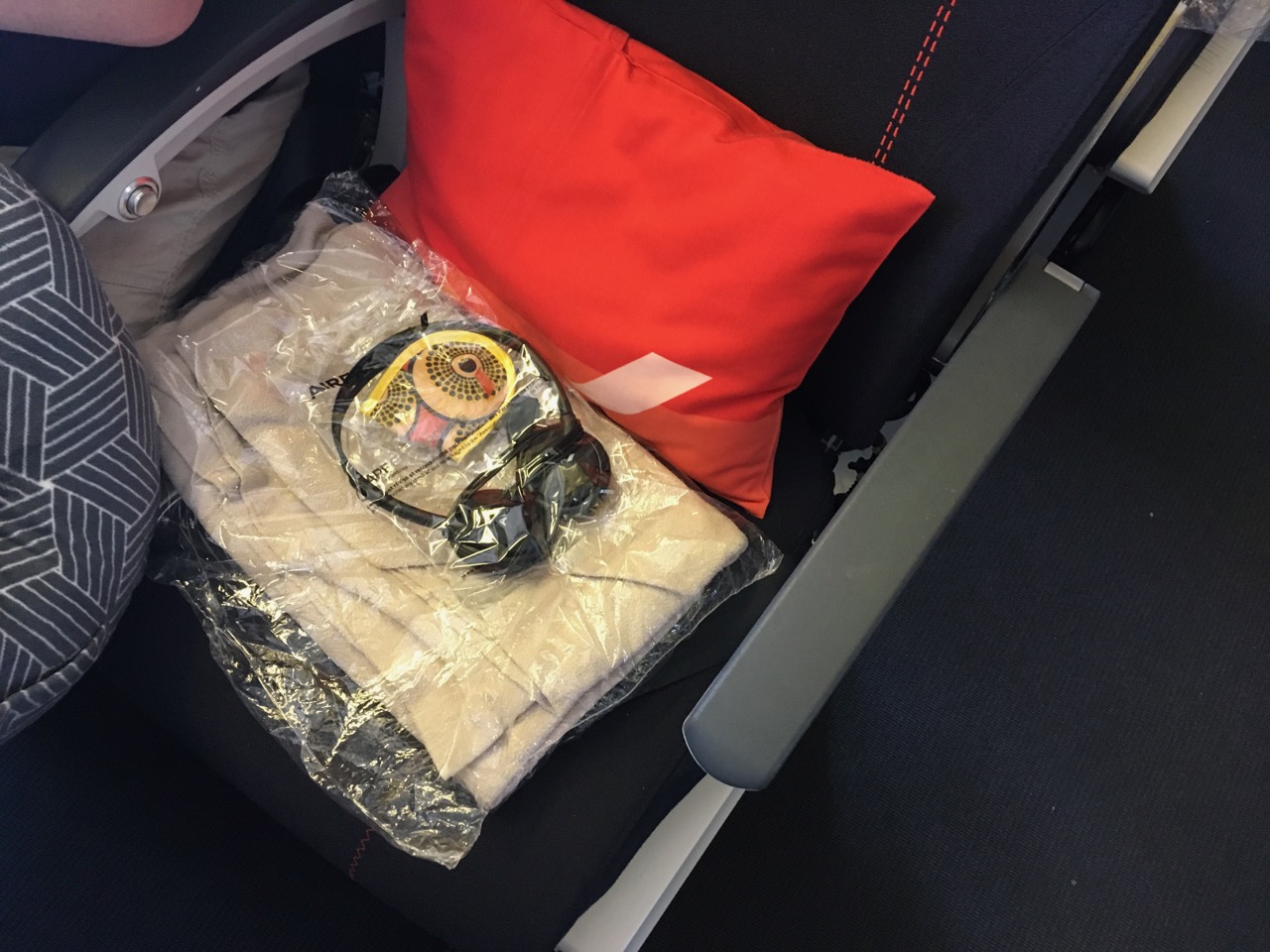 From the Air France seat map, their Boeing 777s have 4 rows of 2-4-2 at the back of the plane. We took the 2nd (us) & 3rd (friends) rows and our selection worked out well. The first row felt the most shielded from walking passengers and carts, however ours we fine as well. There was additional space between the seat and window, and I wasn't bumped during the flight by passengers or crew. The last row definitely has limited recline due to the toilets located behind the row.
This aircraft had seatback entertainment that was available during boarding. I ended up selecting my movies before we were pushed back from the gate.
Return to Gate?
Welcome message from the flight deck occurred just before an on-time push-back. From our view, the plane appeared to be near, if not, at capacity. After a few minutes of taxiing, our plane was in a hold on the tarmac. Initially I thought it was due to other aircraft, but that was wrong when the captain came on and informed us "Sorry folks, we have to return to the gate."
Toronto International Airport is a busy place in the early evening, and after a bit of waiting our plane headed over to the infield terminal. As we waited here the flight crew informed us over the PA "We have determined the issue. Mechanical staff is waiting for us, and we are just waiting to be led into our parking spot. It shouldn't take long."
Little Miss and flying don't get along on a good day. She looked at me concerned and my reply was "This is the first time I've experienced it. I've been on flights where we've been delayed due to technical working on items during boarding. Remember they have checklists that they have to go through. They aren't just going to get gum and duct tape out to make the plane work for a 7 hour flight."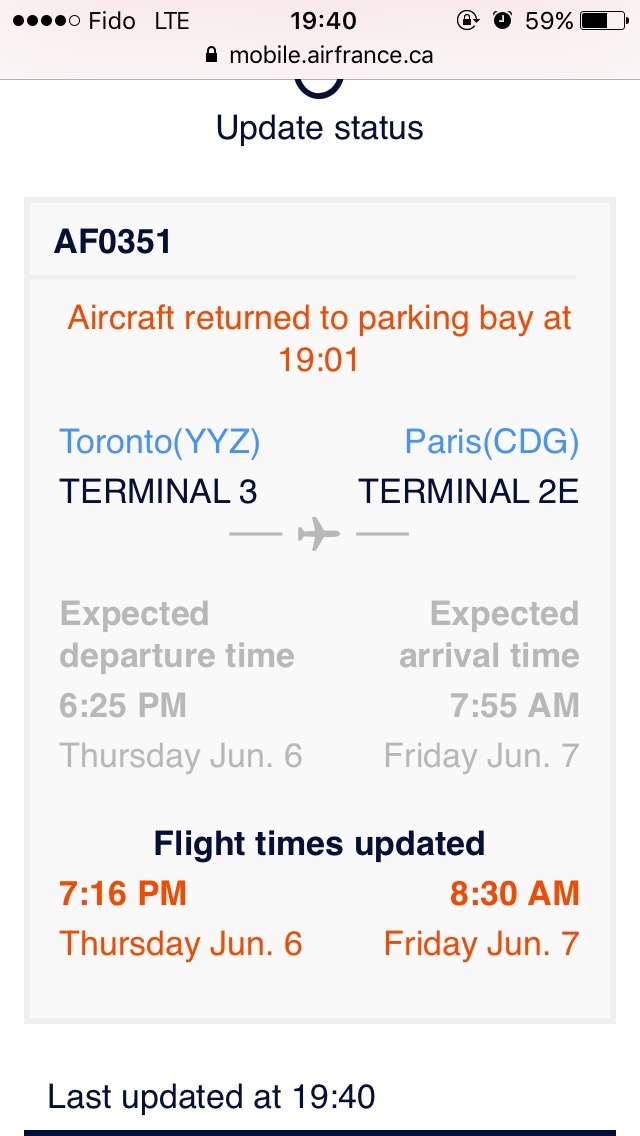 Sure enough the issue was fixed quickly, as the captain gave us updates while we were parked. A top-up of fuel was required due to the time spent taxiing, before we were pushed back and taxied to the runway, and had no delay for take-off.
Menus were distributed just before we were pushed back from our parking spot.
The seatbelt sign was turned off just over 5 minutes into the flight and towels were distributed very quickly after that. As we were at the back of economy, meal service was from front to back, with us getting our dinner an hour after the towels.
Dinner was unremarkable. I did enjoy the sugary chocolate dessert. Once dinner was cleared away, I tried to sleep.
Try.
It didn't work out for me. After trying for over an hour I resigned myself to watching more movies. With the delayed departure I managed to get through three movies and start a fourth being "Fighting with the Family", "Vice", and "Wreck-it Ralph" and the new "Mary Poppins". Yup. A couple biopics, animated movie and a song filled Disney movie.
Breakfast service began 90 minutes prior to landing with the interior lights being turned up. For reference, our dinner was served 4 hours ago. A light snack worked fine for me.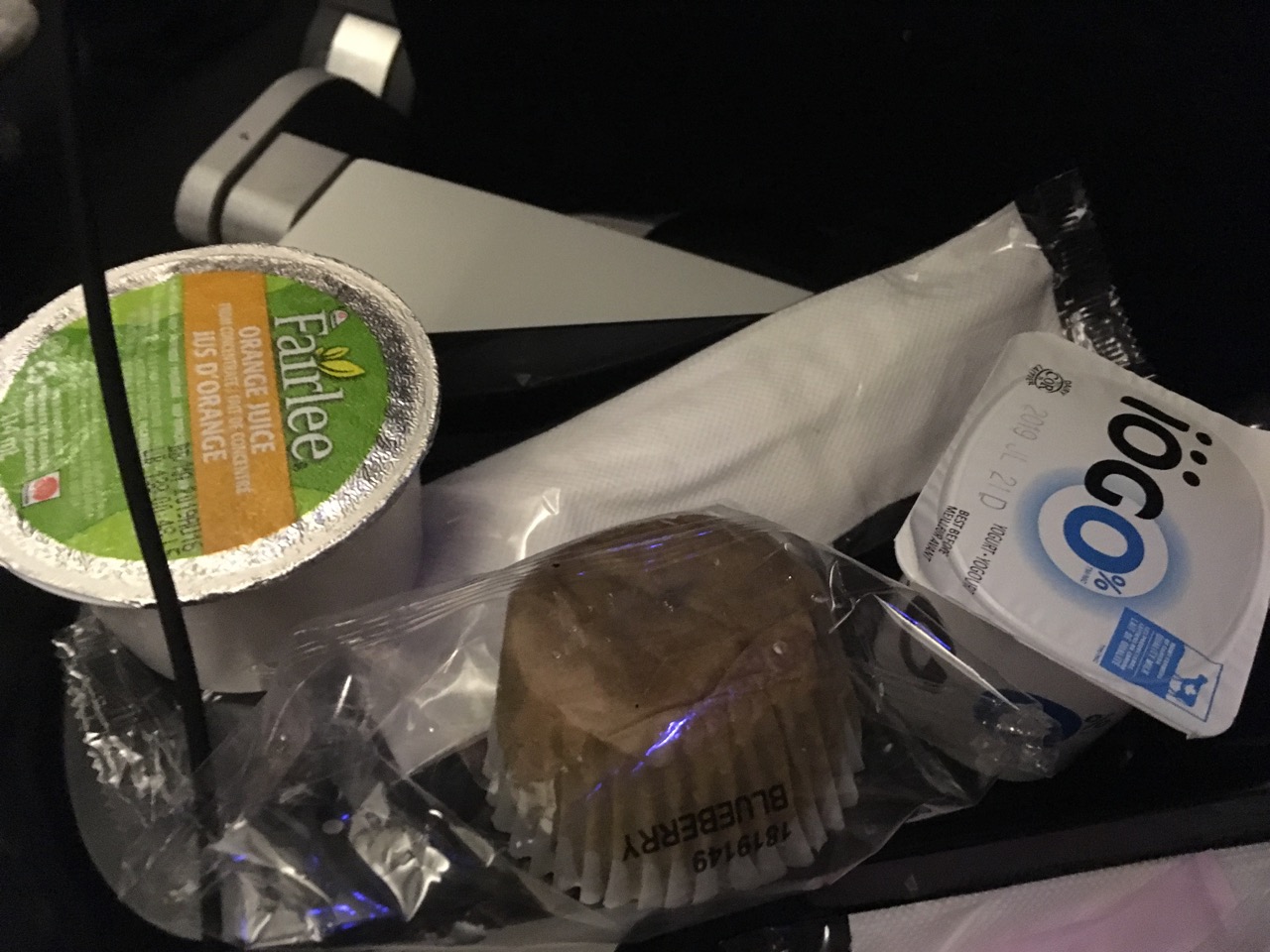 A straightforward affair of orange juice, a blueberry muffin (that was tasty!) and yogurt. Not pictured is the coffee I had when the beverage cart arrived.
Approach into CDG was smooth, and we lucked out as our approach gave us a perfect view of Paris. After landing we had the typical tour of the airport before arriving at our gate. Part of the delay was made up during the flight, however we were an hour late upon arrival.
Once through passport control, the benefit of being one of the last off the plane was that our suitcases arrived quickly after we arrived at the luggage carousel. From there we had a pre-arranged van to shuttle us to our Airbnb in the city.
And what a great Airbnb it was!
Explore other parts of this trip:
Part 1 – Air France Economy, Toronto to Paris (YYZ-CDG) – this one!
Part 2 – Overview of a Week in Paris
Part 3 – Day trip to Champagne Region, Moet and Chandon Cellar Tour
Part 4 – The food while in Paris
2019 – 24h Le Mans Pictures post
Part 8 – Augsburg to Amsterdam
Part 10 – Sheraton Schiphol Airport Hotel