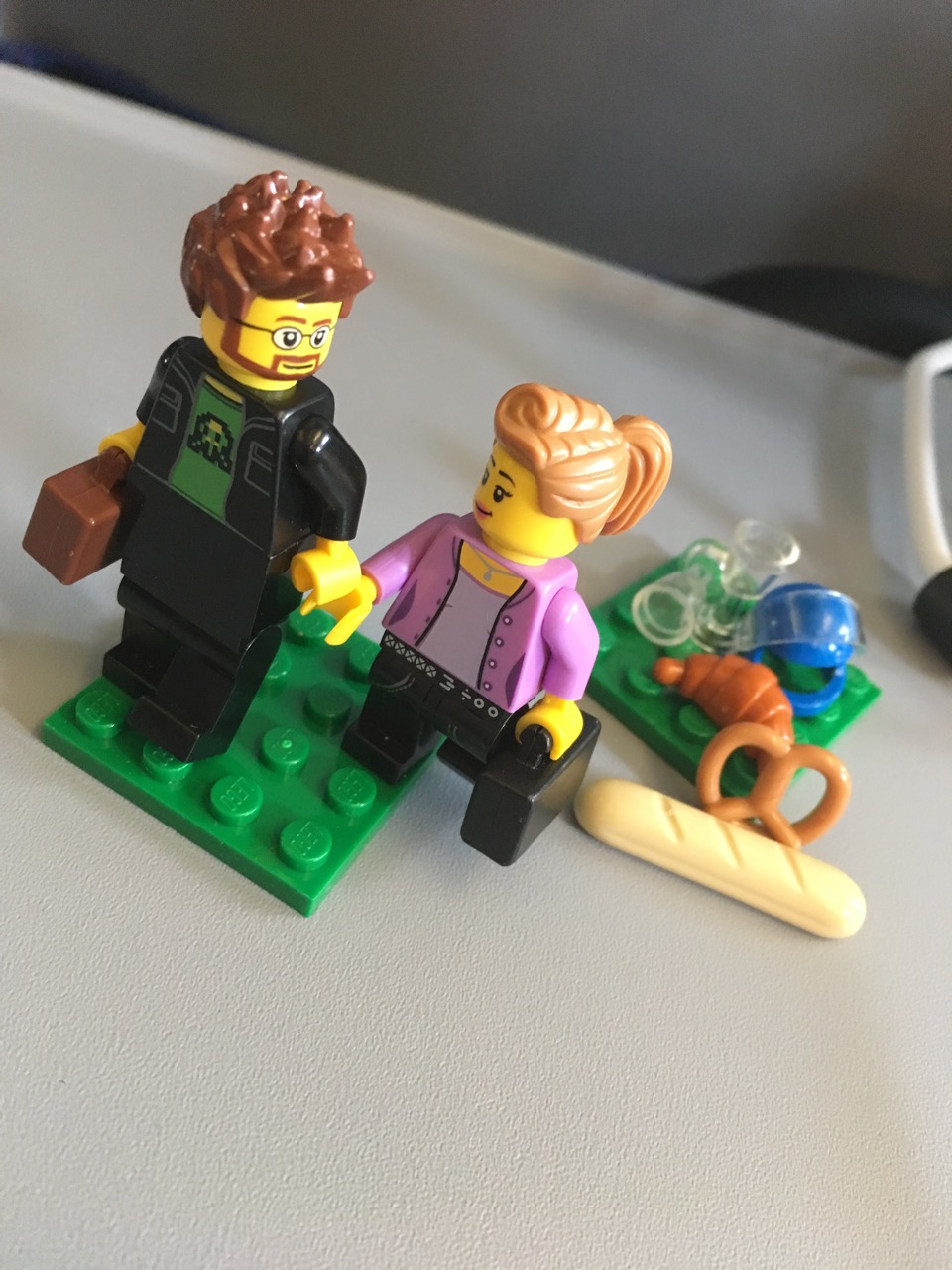 KLM flight Amsterdam to toronto
After checking out of the hotel it was a short walk to the KLM priority check-in counters for our flight back to Toronto.
schiphol
KLM's priority check-in area at Schiphol delivers passengers to automated gates that enable users to skip to the front of the security line. Although security wasn't busy, it was a nice benefit. After security was passport control, and with our exit stamp in our passport we were on the secure airport side.
A few pictures after security:
It's hard not to visit some of the many stores in the airport: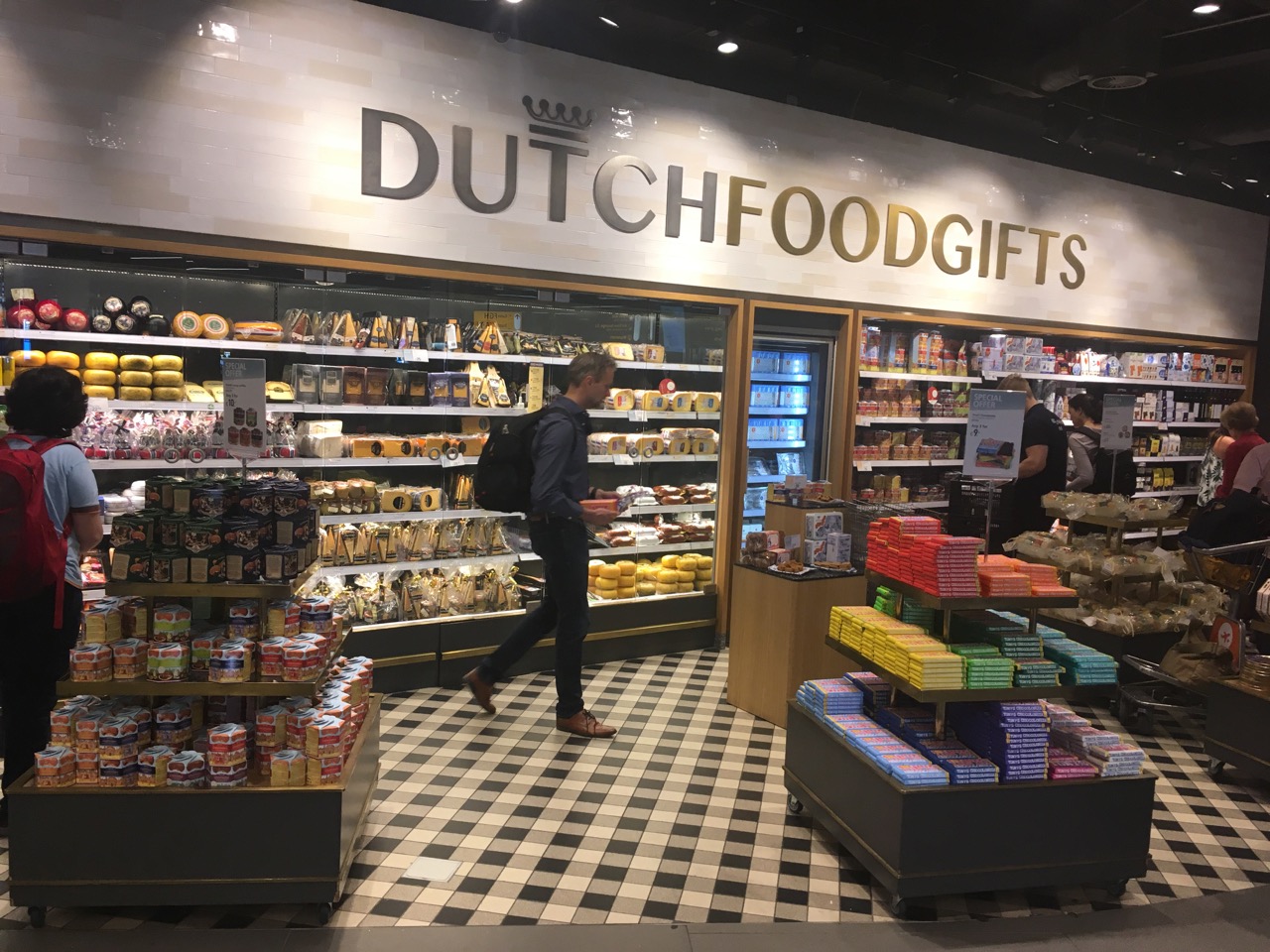 Of course with a Lego store in the airport we definitely checked it out!
Without lounge access with our ticket, and after browsing many of the stores, we eventually headed down the E pier to our gate.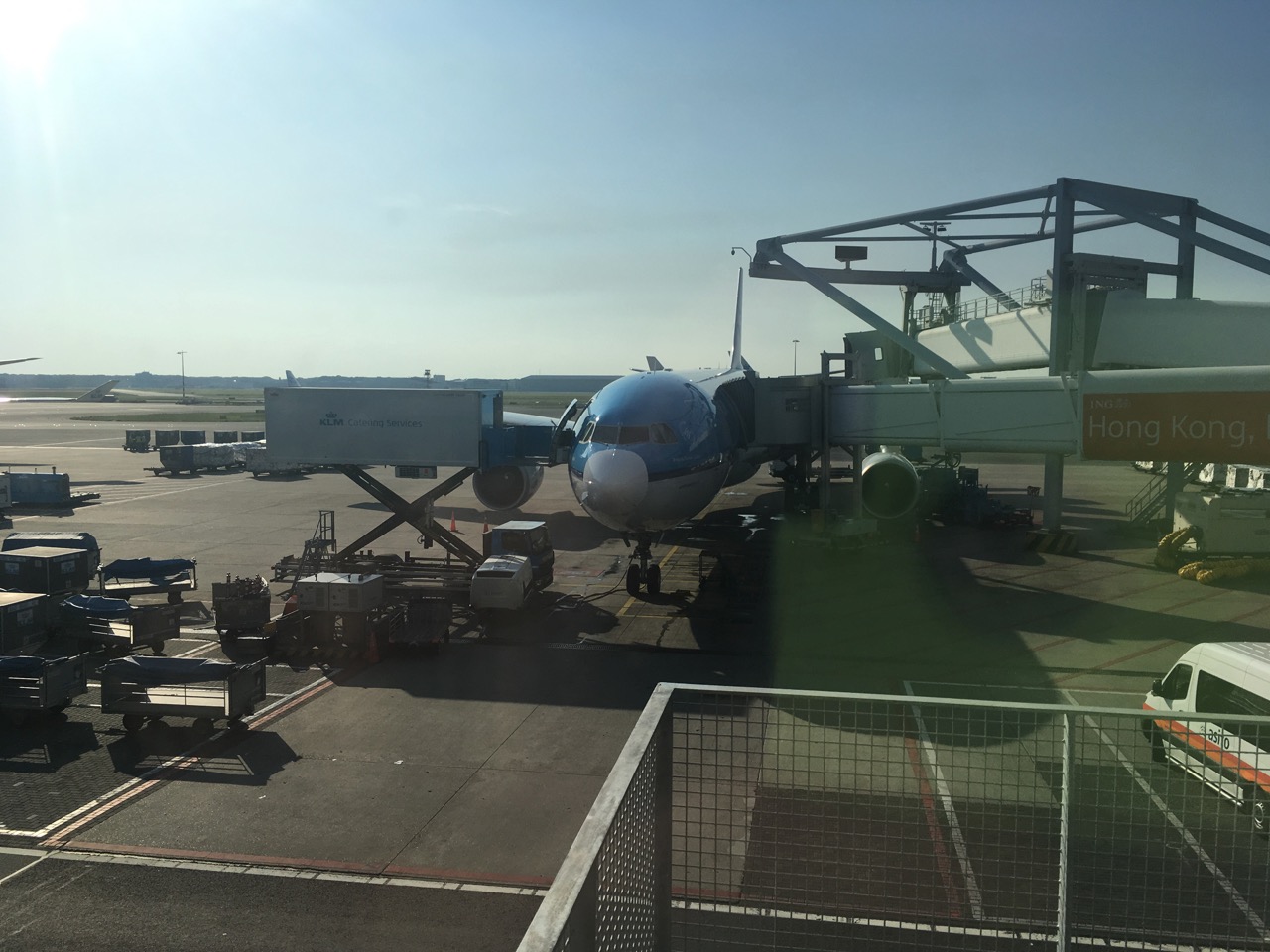 The assigned gate (E22) was at the end of the pier. The upside to being at the end was that we were able to find seats before boarding started. Boarding order started with SkyPriority ElitePlus, then, families with small children, and then it was our turn to board the plane.
Flight
Amsterdam to Toronto (AMS – YYZ)
KL691
Scheduled departure 09:45am
Scheduled arrival 11:55am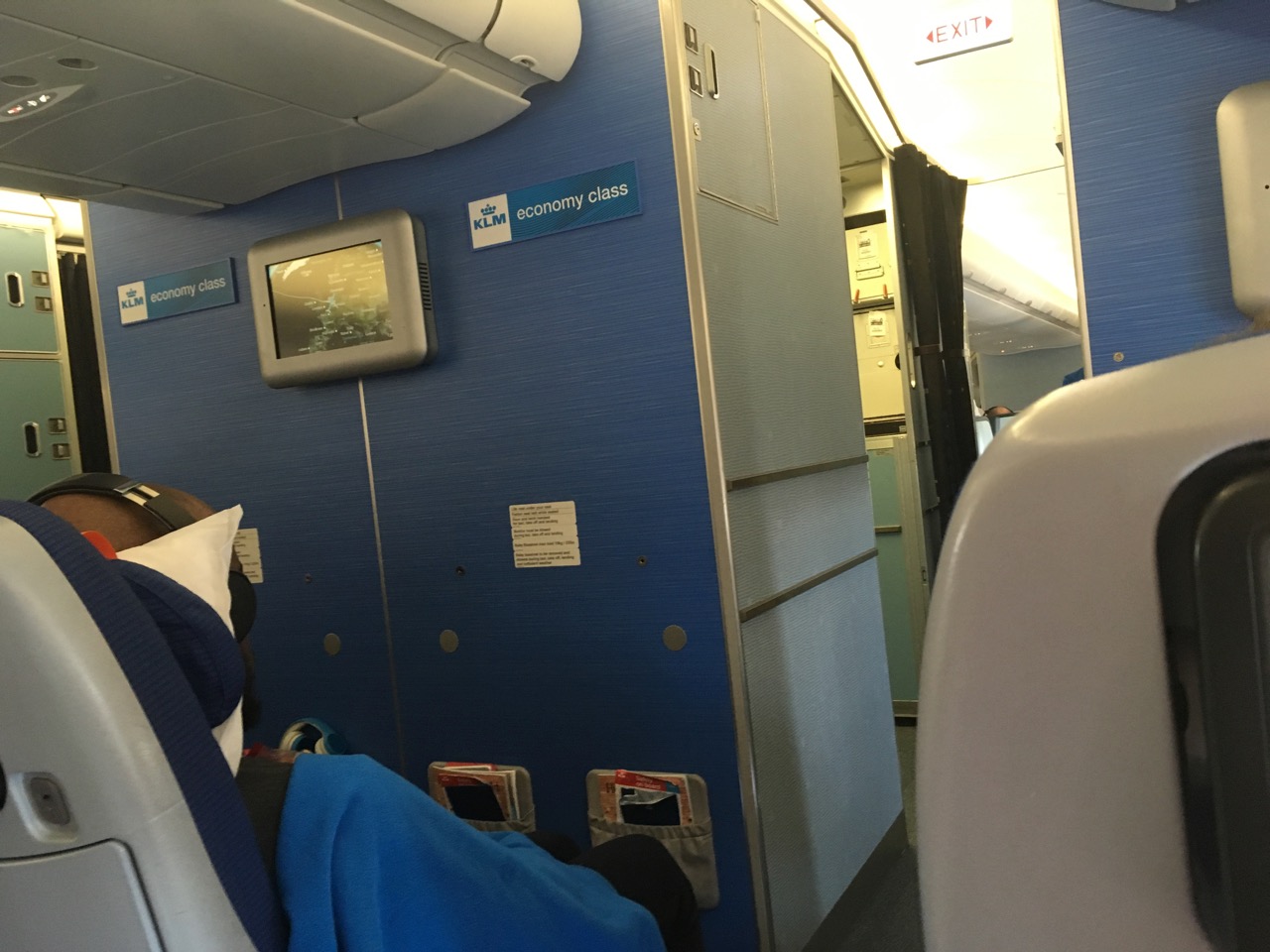 For this flight I selected Economy Comfort seats. These seats are at the front of the economy section of KLM long-haul planes in which the benefits are extra legroom and being close to the door when the plane arrives. The extra legroom helped make the flight home enjoyable. The other upside of being on an Airbus A330 is the 2-4-2 seating setup. The plane appeared pretty full and not having to share our seats with a stranger (or be stuck in a middle seat for 8 hours) was a bonus of this type of aircraft.
Push back was delayed by only a few minutes due to late arrival of baggage or cargo. Once loaded our plane was pushed back from the gate, and best of all we didn't taxi to the 3rd runway at Schiphol. (I first experienced this runway in 2005 when it felt like we had landed in Belgium and decided to taxi the remainder to Amsterdam)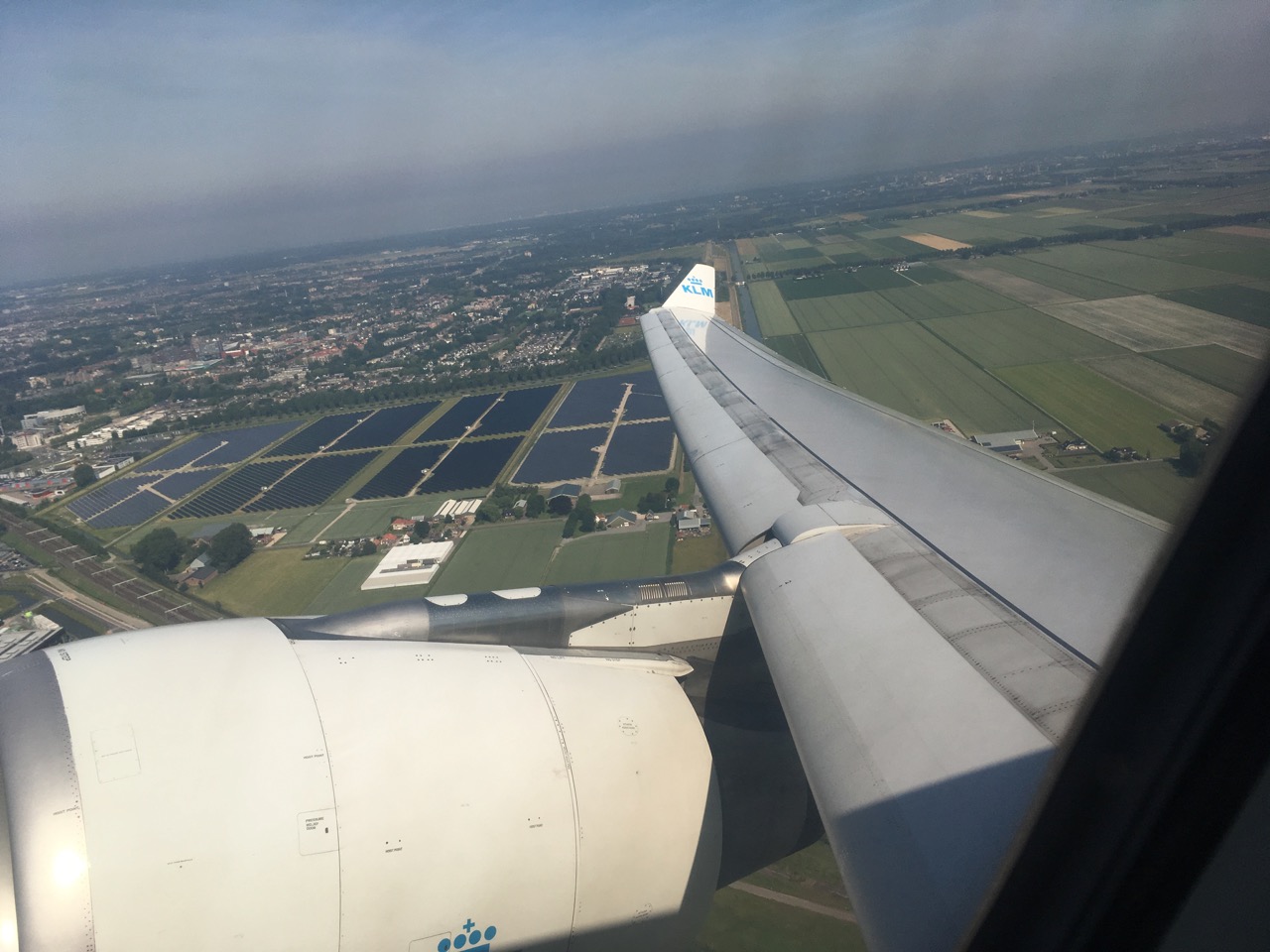 Without issue the plane was in the air, and we were headed west to Canada.
About 20 minutes after take-off, flight attendants distributed a packaged towel and a bottle of water.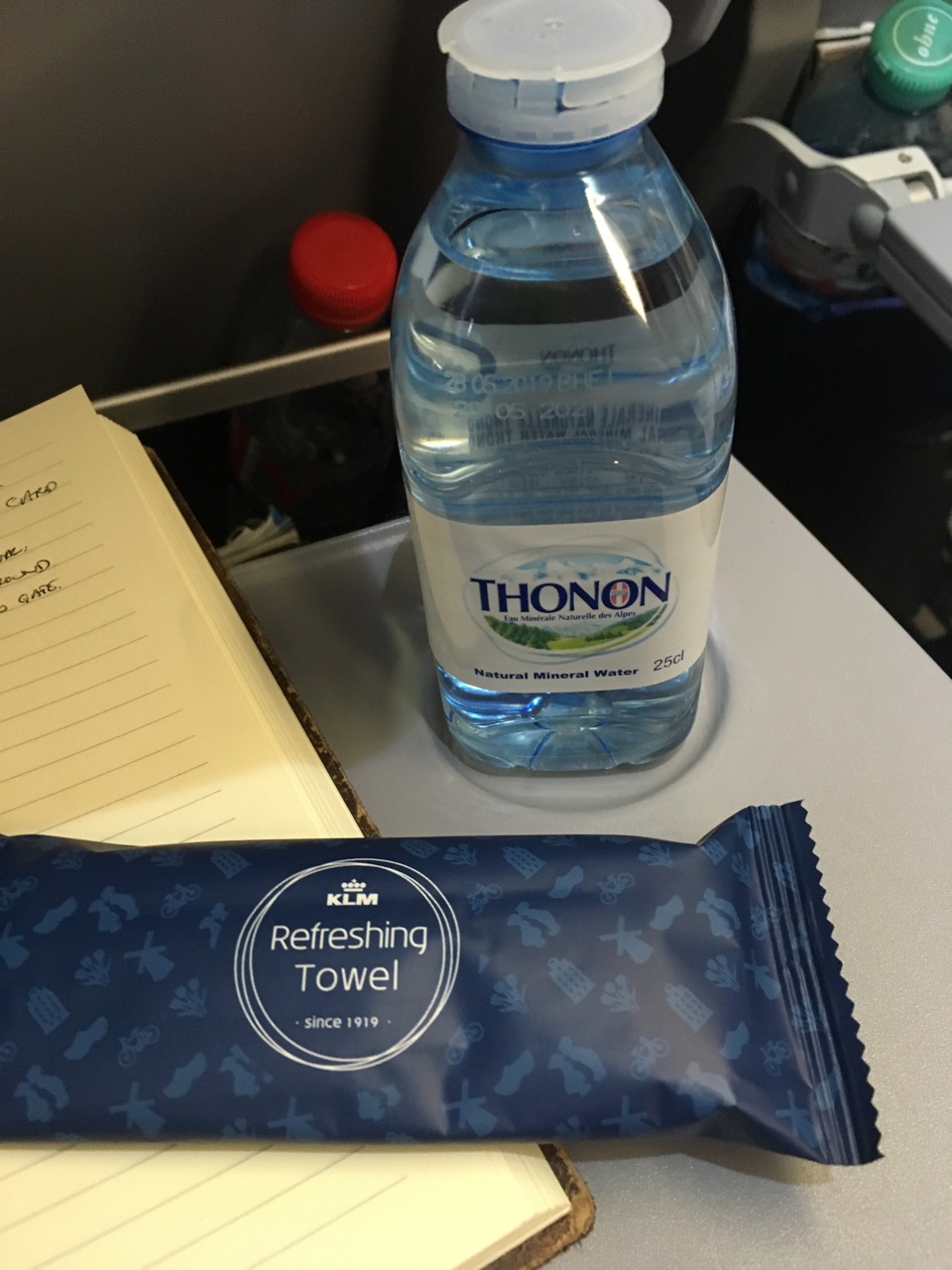 Meal service began shortly after the towel and beverages were handed out throughout economy class. I cannot recall what the options were.
Overall the meal was fine. Afterwards we were offered a digestif that both of us accepted.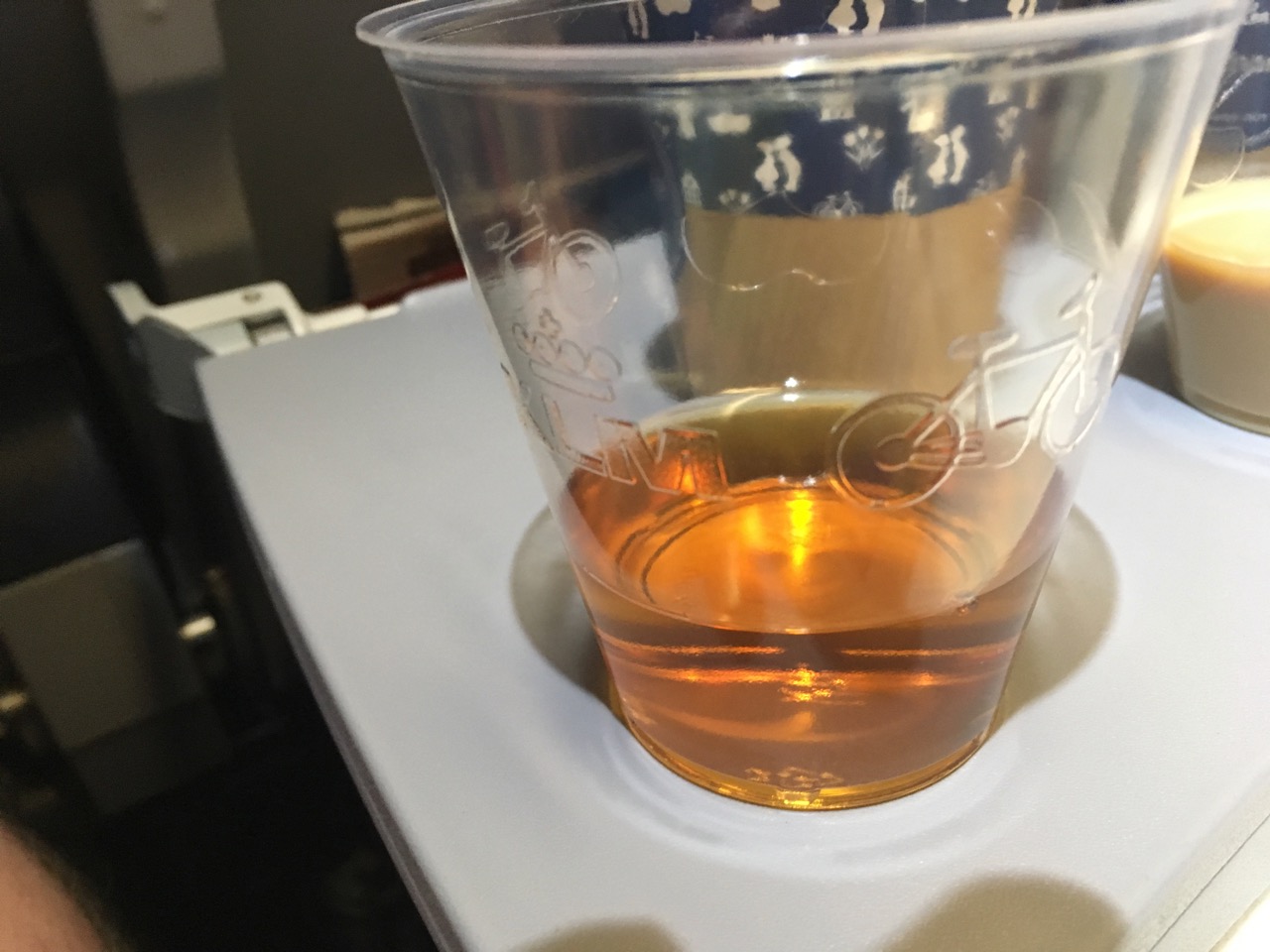 The symbols on the cup was a neat touch (bicycle, clog)
After watching two movies, and then reviewing the hundreds (almost a thousand!) of pictures from the 24 hours of Le Mans, I attempted to have a nap. Before that I did take this picture of our progress from the flight map.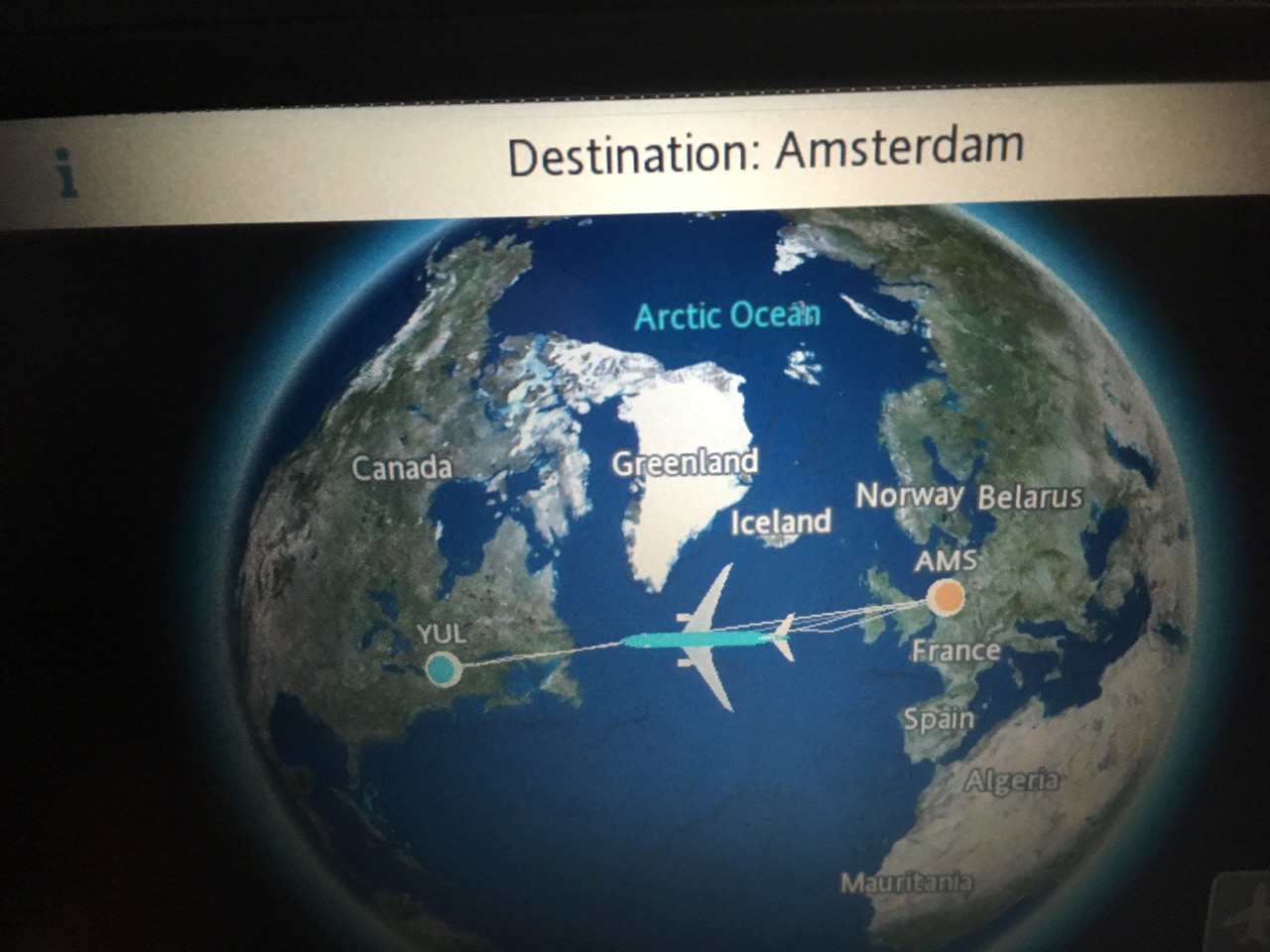 After the brief nap, I visited the galley to see if snacks and treats were available. Nothing spectacular, however I cannot recall when I've said no to chocolate.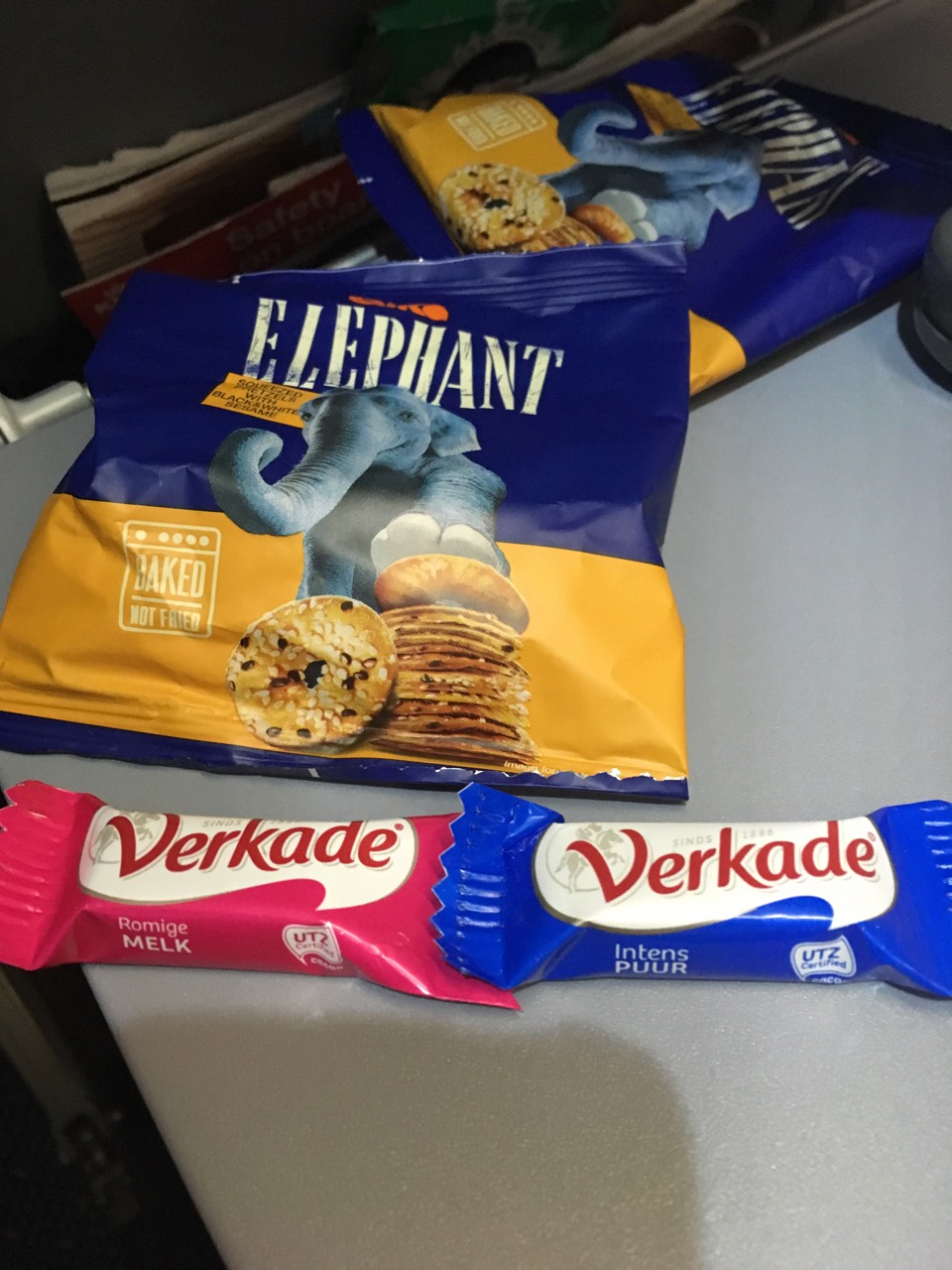 Approximately 90 minutes before arrival flight attendants arrived to distribute a snack before landing. Beverages were again offered.
The pizza was tiny, and honestly was fine. As our destination got closer the typical landing routine began approximately 30 minutes before departure: the plane starting it's descent, and the first of many rounds by the flight crew to collect containers from the snack along with any garbage. It was at this time we realized that we had a small multinational water bottle collection, from French, Swiss, and German bottling sources: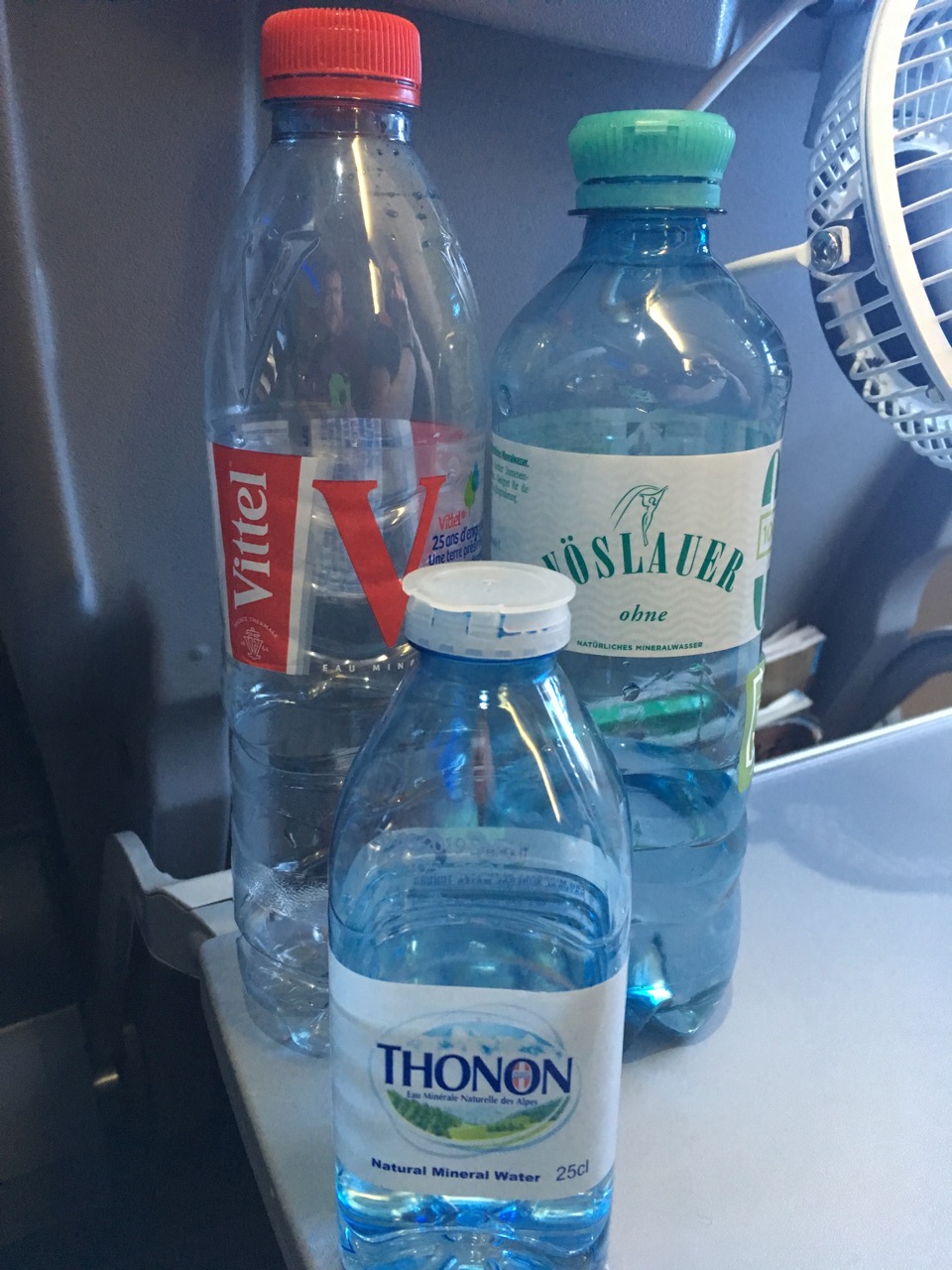 Our arrival had us fly west past Pearson International airport and then make a quick turn to land on runway 06, that had us with a relatively short taxi to terminal 3.
The door was opened quickly, and once business class passengers had left the plane we were next to disembark and begin our walk to customs. A better picture of the A330 was available as we started our walk through the terminal.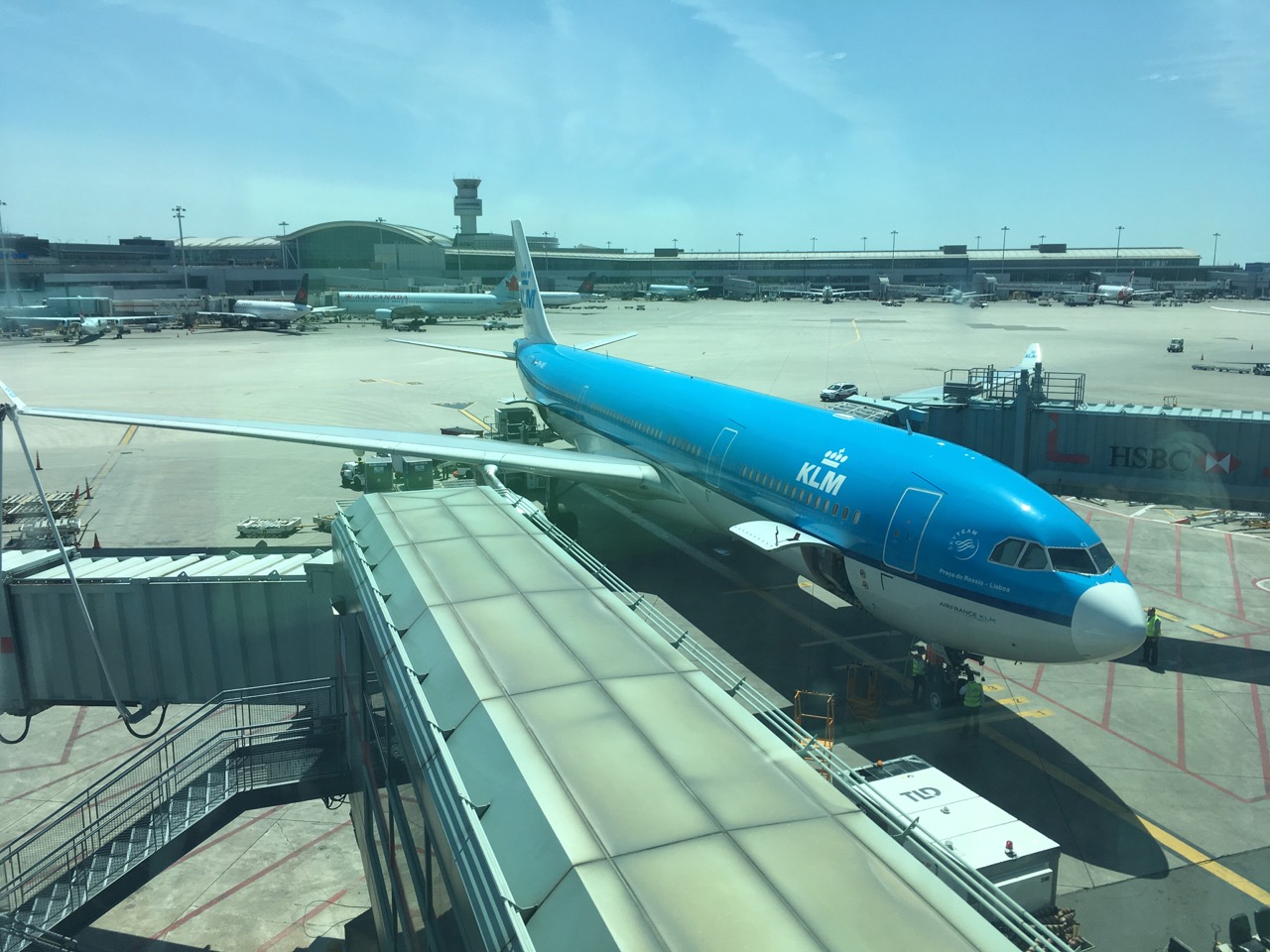 Customs declarations have finally been brought into the 21st century. An app is available where individuals can complete their declaration ahead of time, and then use the QR code at the electronic machine to speed up the process. Combined with our baggage arriving relatively quickly (for Toronto) we were home within an hour of the plane's arrival.
Explore other parts of this trip:
Part 1 – Air France Economy, Toronto to Paris (YYZ-CDG)
Part 2 – Overview of a Week in Paris
Part 3 – Day trip to Champagne Region, Moet and Chandon Cellar Tour
Part 4 – The food while in Paris
2019 – 24h Le Mans Pictures post
2019 – 24h Le Mans – Corvette Corral Corvette Pictures
Part 8 – Augsburg to Amsterdam
Part 10 – Sheraton Schiphol Airport Hotel
Part 11 – Amsterdam to Toronto – this one!