November 2018 Geneva to Lisbon TAP Portugal
My journey back to Toronto started in Geneva with a flight to Lisbon on TAP Portugal.
Geneva swiss Lounge
Check-in is handled by Swissport and was quick and efficient with only a couple passengers ahead of me. With my luggage checked I headed through security and onward to the Swiss lounge. Unfortunately, it was not to be. At the time of my visit in November, Swiss had closed its lounge at Geneva for renovation works. In lieu of the lounge I was provided with a coupon to obtain a drink and snack from a vendor at the food court. I didn't take advantage of the coupon as I walked down the mezzanine and made use of my MasterCard Lounge Key that allowed me into a contract lounge.
The lounge itself was fine as it offered a spot to grab a drink and some snacks. As well, I arrived as several passengers left for their respective flights resulting in the area by the buffet to be fairly empty.
Lounges at Geneva are all located on a mezzanine level after security. From this level it's easy to see the main departure board along with the estimated walking time to the respective gate areas.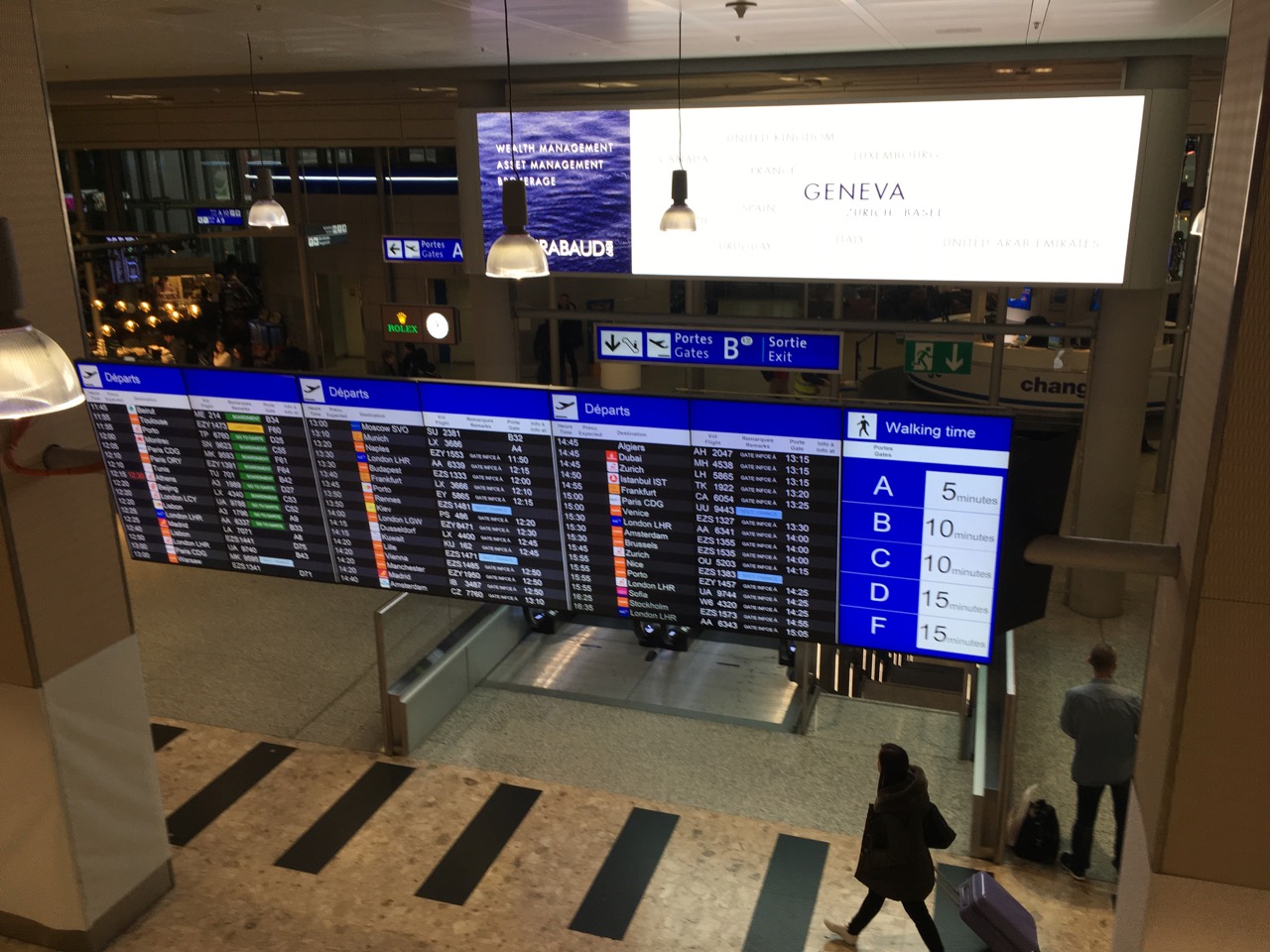 My flight departed from a nearby gate and I spent a few minutes browsing the shops before arriving at the gate for boarding to commencement.
TAP Portugal TP943, A320
Geneva to Lisbon (GVA-LIS)
Scheduled departure: 12:35pm
Scheduled arrival: 2:30pm
Seat: 2F (Business class)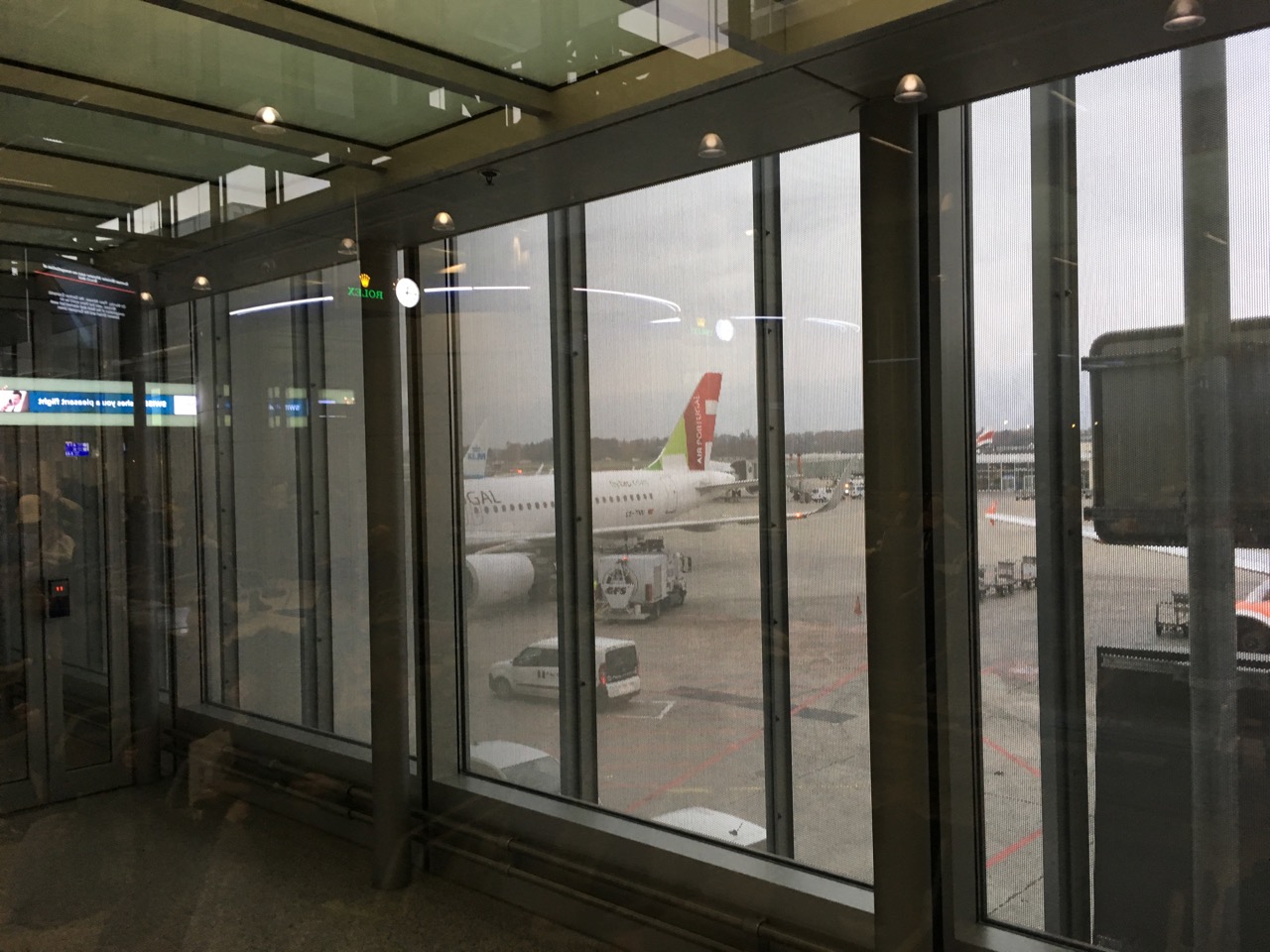 Boarding commenced on time, however the gate had a long ramp before the jetway began. This allowed the gate agents to begin boarding while the flight crew and other gate agent completed their final checks and proceeded to open the door to the jetway after a couple minutes.
Unlike my Lisbon to Geneva flight that was full, this flight was not as full. Nobody took the aisle seat on my side of the row. On the opposite side in my row was a couple, I guess were retired. In total I'd estimate that business class was 75% filled.
The flight was pushed back from the gate on time, and there was no delay in our take-off from Geneva. I thoroughly enjoyed snapping a few pictures during taxi and take-off. I never get tired of the plane breaking through the clouds into a the bright blue sky.
Seatbelt sign was turned off 5 minutes after take-off. During the flight the cloud cover that surrounded Geneva cleared during the flight and gave me an excellent opportunity to take many pictures of the French, Spanish and Portuguese countryside:
Menus were distributed for lunch. After a read my selection was for the duck.
Prior to the meal being served there was beverage service where I had a glass of wine and a small snack.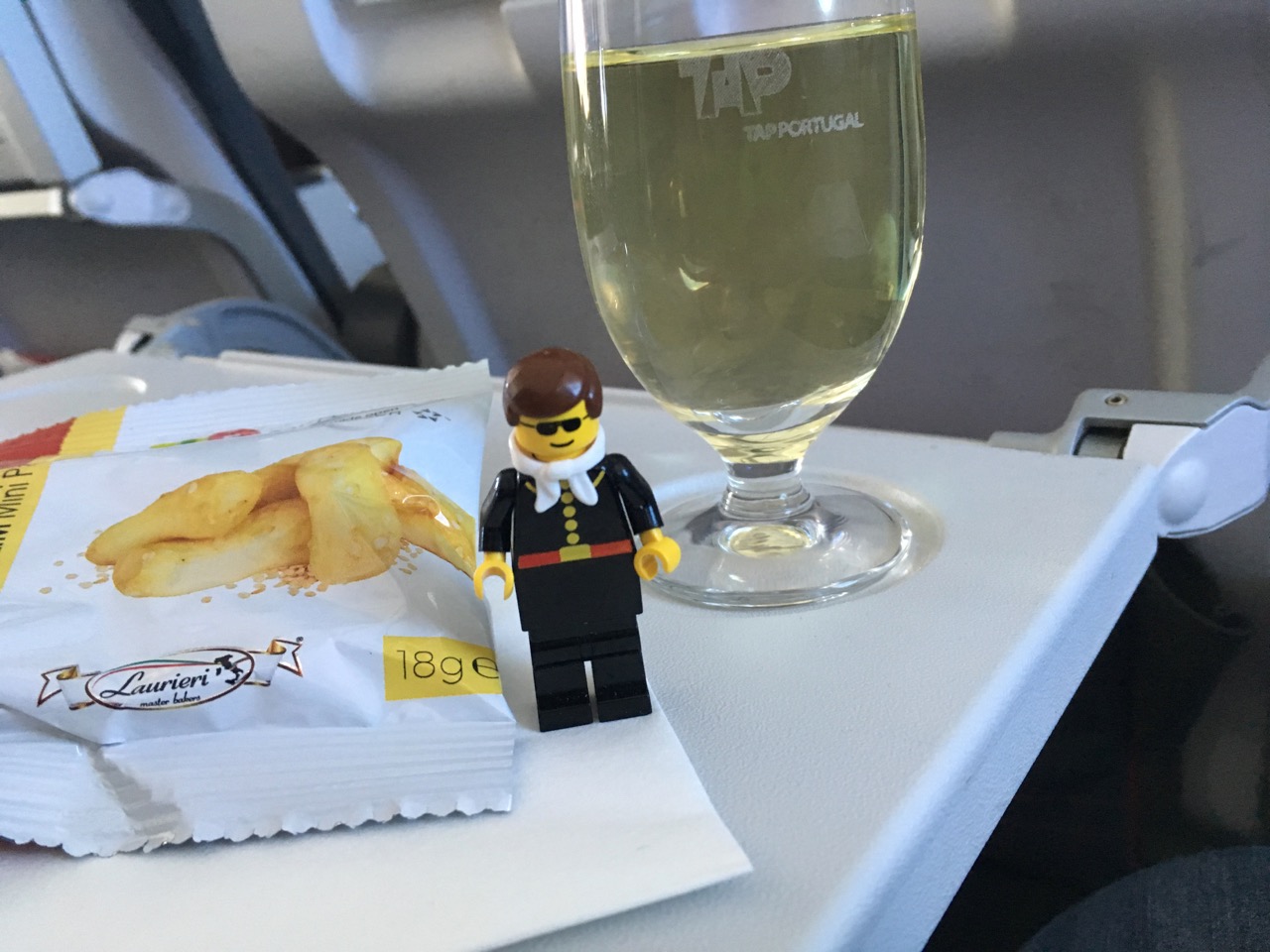 The meal was fine for me. Just like the breakfast served on the LIS-GVA flight the prior week, additional bread was offered multiple times.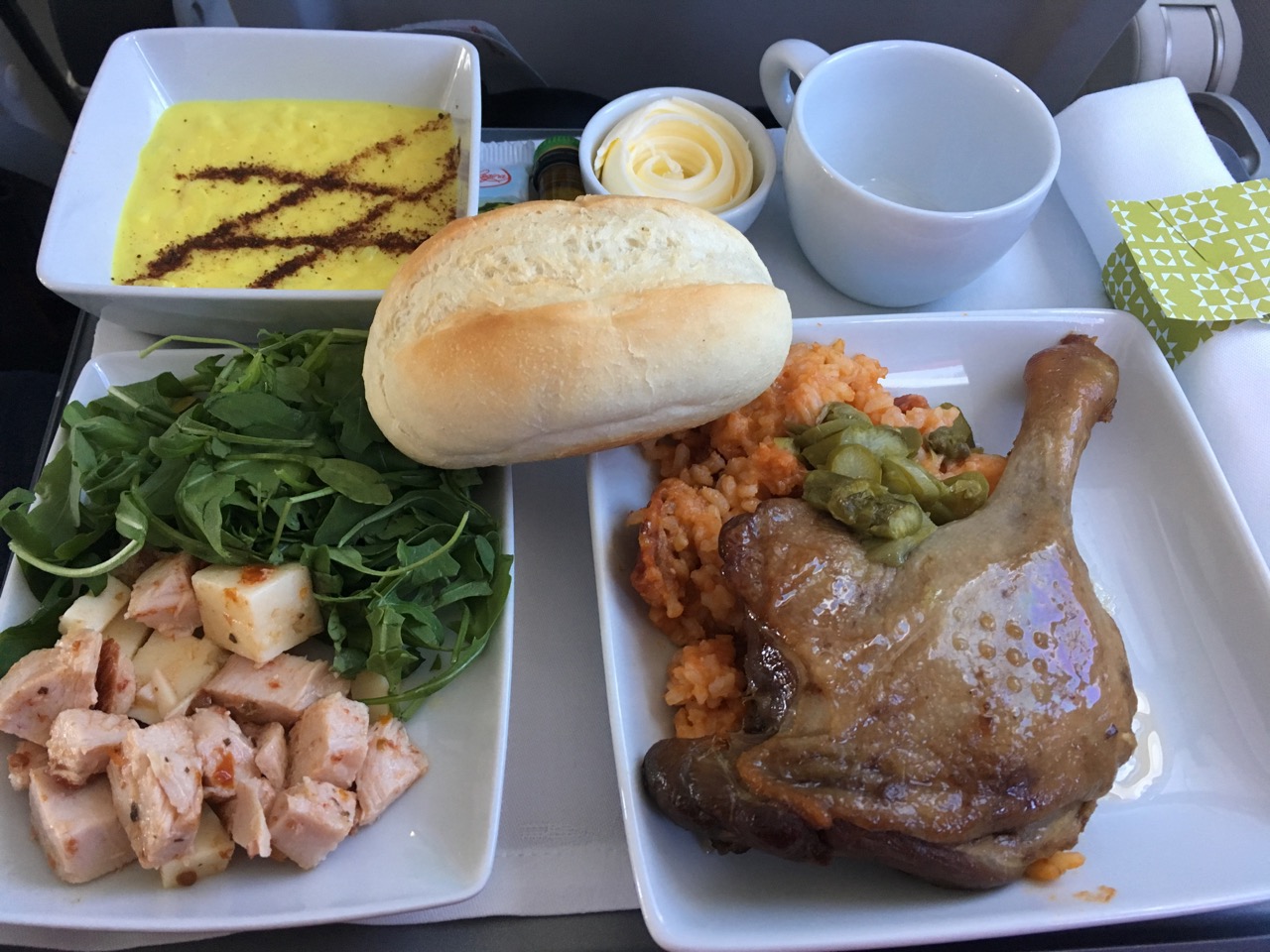 After the meal was cleared I proceeded to read and be enchanted by the scenery during the flight.
Approach and landing at Lisbon was without issue, no turbulence and no holding patterns on approach. Weather was much better than my visit last week. Clear skies provided a great view of our approach and landing.
I chuckled as we landed, as we took-off from Geneva with an Emirates 777 waiting to depart, and as we touched down in Lisbon, another Emirates 777 was waiting for take-off.
This time around our plane was assigned a gate at the terminal where we effortlessly walked off the plane and into the terminal. With several hours before my next flight I made my way to the lounge.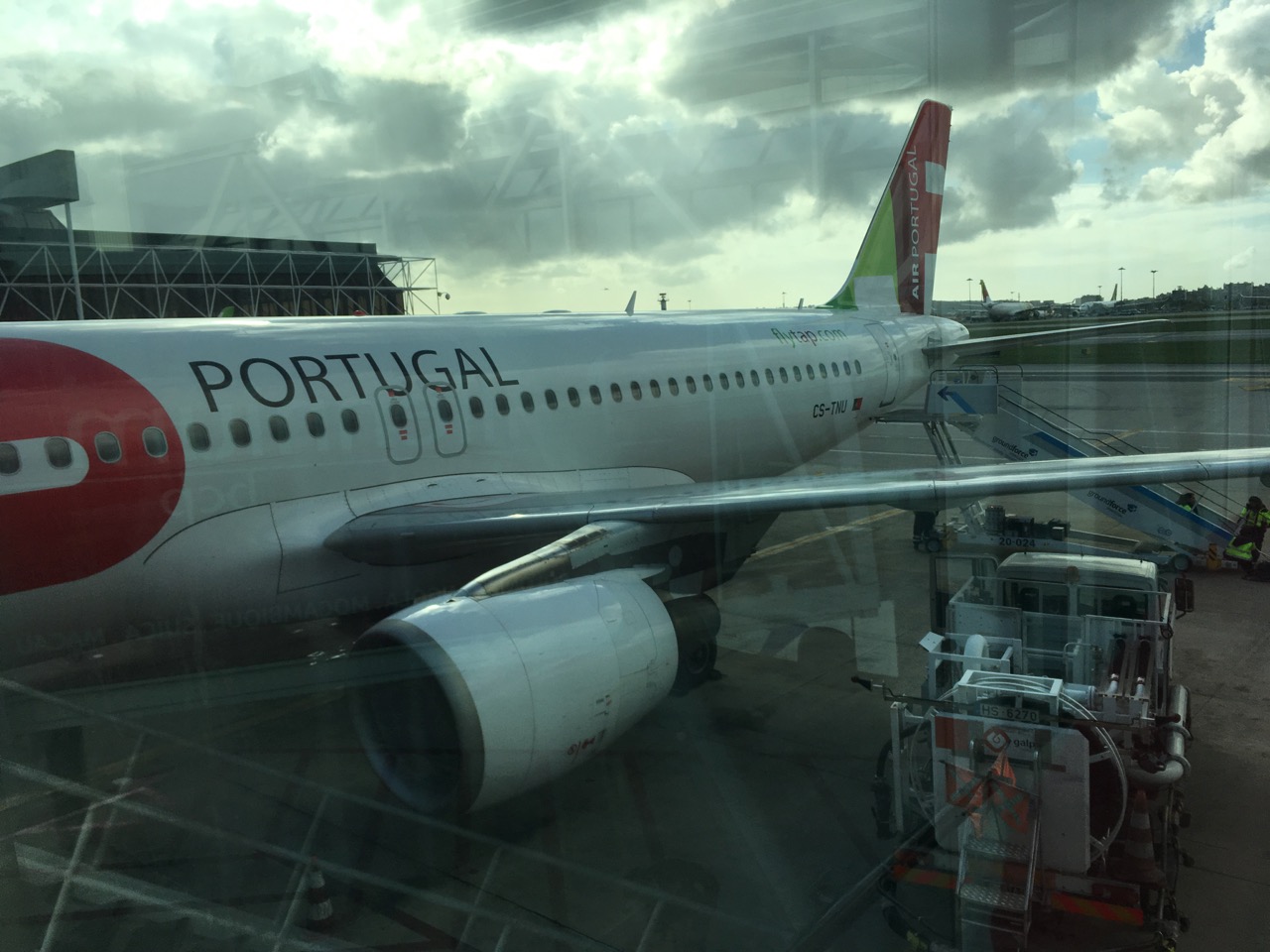 Table of Contents
TAP Portugal Toronto to Lisbon
TAP Portugal Lisbon to Geneva, attempt 1
Overnight in Lisbon, Holiday Inn Continental
Munich – BMW Welt & BMW Museum
Munich – Downtown
Augsburg – Quick walk around town
Geneva – Ibis Styles Palexpo
TAP Portugal Geneva to Lisbon (this post!)